Those are good ideas for a little more depth, like woodwork around the door, but this looks like a sheltered doorway.
Village Church
has this picture (among other)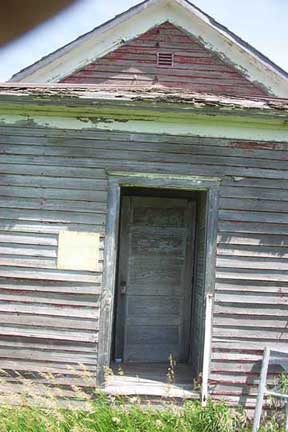 .
While the picture name says "rear of hall" the other photos seem to indicate this is the front of the hall, unless it was turned around when the buildings were moved.
Throwing some numbers at it: let's say the door (measuring the N-scale model with a model RR rule) is 33" wide (big!), and the trim totals 42" wide. The depth of the recess appears to be 66" (eyeballing the photo). Actual measurement would be about 13/32" or about 40 layers of 65# cardstock.
Thanks for the incentive to work on some numbers!
Note: If anyone read this post prior to 1712 EDT (UTC -0400) 23 August 2014, the dimensions were doubled - I mistakenly put an N-scale rule against the H0 model.