My latest model, the PzKpfw III:-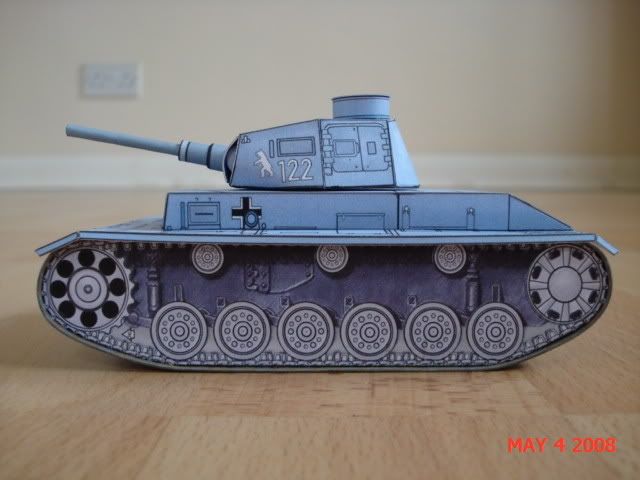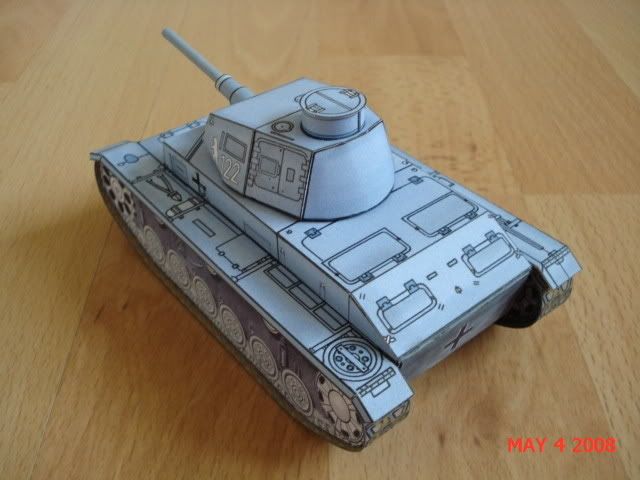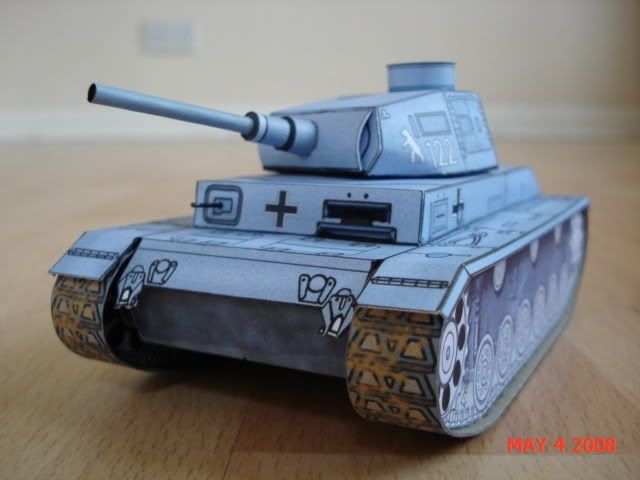 More pictures here
http://s292.photobucket.com/albums/mm32 ... pfw%20III/
.
This is just the bog standard regular version. The only minor changes were to shorten the gun barrel, as I felt it was too long; to replace the printed machine gun barrel with a length of wire coloured with a black marker pen - it looked way too thick to me when wrapped around a toothpick; and to add two lengths of 1/8 inch thick balsa spacers to the sides of the hull, in order to position the wheel assemblies far enough away from it that they could sit right in the middle of the tracks.
I
was
going to cut away the edges of each segment of track to give a sawtooth appearance, but in the end I decided that it looked perfectly ok as it is.
This was quite a nice build - reminded me of when I (briefly) used to build Tamiya 1/35 scale AFVs many years ago, actually. In fact I still have a half finished Panther tank and a pristine kit of Rommel's half-track 'Grief' in the attic somewhere! But I digress...the only slight complications I had with this PzKpfw III were the three or four attempts I needed at the gun barrel before I ended up with one I liked, and the turret, which needed coaxing into shape, the base of which also needed considerable trimming after being glued to the top. But better to have too much to work with than not enough!
It's not as nice as Tim's repainted effort with all the added extras and detailing, but I'm quite happy with it

. It also gave me the opportunity to try out my newly acquired set of watercolour pencils, which proved to be something of a success

. By the way, according to the web page, Tim's version is in the Panzer folder but I couldn't find it anywhere!?
It's a shame there are no other FG WWII AFVs to build. I wouldn't mind a nice little collection of them, say a Sherman, Grant, Tiger, Panther, PzKpfw IV, half-tracks etc.