Hi All,
As I worked my way through the Buildings Folder I made a discovery. Good old Chip was a busy guy. Not only did he give us several different periods and types of buildings to tinker around with, he even came up with his own little townships. The Western Town has its' own layout and so does the New England Village. Since I am wanting to build up buildings to help populate an N Scale Rail Road layout, seeing how he has these things laid out in his world does help. I have taken a few shots of how he has it done and decided to just start at the top and work my way down the list as it were. Here is the grand plan for the New England Village as he had it laid out in 15 pages.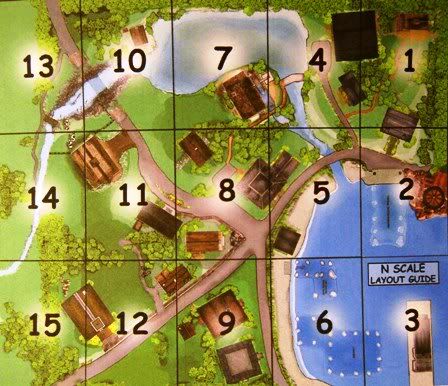 Zeroing in on the first place that interested me, the little Boot Shop or School House, it took a little detective work to figure out just where it was in the village. I finally spotted it with the aid of the distinctive flower plot that is growing in between the two doors. It sits next to the Ice House up in the corner there.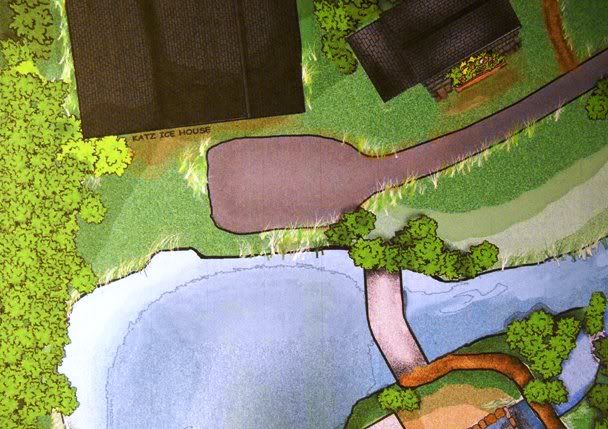 This is the basic plan that you have to work with. In addition to the main building you also get an add-on shed to the side if you want to add it. It isn't necessary, there are a pair of windows on the side of the building there if you chose not to use it. But since he did include it in the plans, I figure, why not, go for the gusto. It does have a number of additional features like extra doors, some extra battens that you can add to the corners of the building for a little more depth as well as turned down edges on the roof panels to make them look a little more 3 dimensional. The roof also sports an additional set of center boards across the peak. The chimney is open at the top so you can either cobble up your own top to it or blacken out the interior or do what I am going to do, you will have to follow along to see what that is.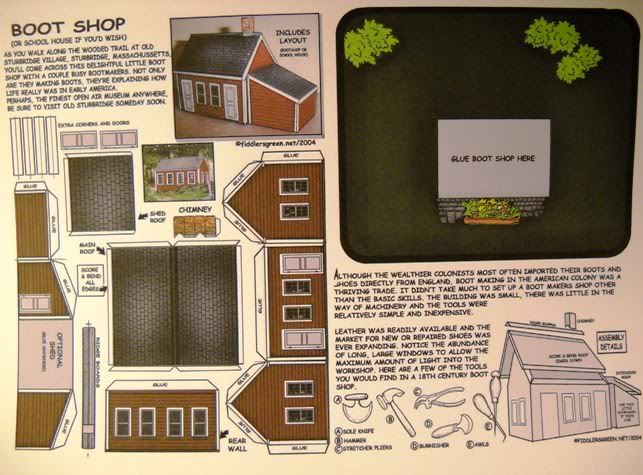 This is what I have cut out to start with. As I usually have done in the past, I make a couple of extra copies to furnish extra parts to add more depth and since I am going to use the shed that is built onto the side, I will also need some corner boards for that and an extra door as it has one on the backside. The little shed can also be used if you would like to expand on other buildings that there are in the folder.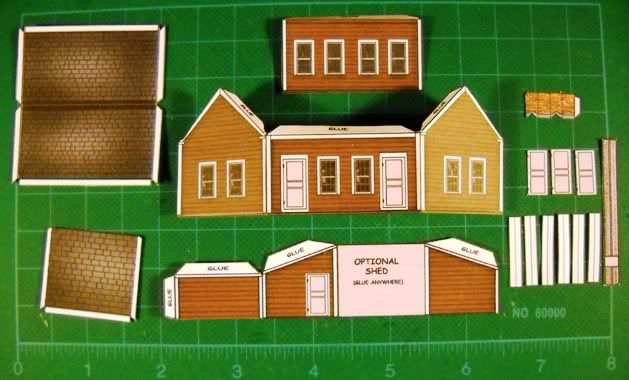 Now if anyone has any ideas of just copying the photos here, bear in mind that these are copyrighted and I have also taken the photos on a slant and with a slight curve so you would have a heck of a time using them as they are. Not to mention, the colors are slightly off. Go on, don't be cheap, go ahead and spring for them, they just aren't that expensive.


Another little part of this feature is going to be the landscaping that is just about necessary if you want to do a nice job on the little village. One of the things that jumped right out at me was the number of bushes, trees and other vegetation that is all over the place. While you could just go out and buy ready made stuff to fill in the spaces, I like making my own stuff up using the stuff that you can buy in hobby shops and model railroad outlets and online to make up my own. It is a little more cost effective that way (ie. Cheap!) and it is fun to create your own stuff. There are also a couple of other reasons that I will point out a little later.
To start out with lets take your basic tree. This is stuff that I learned from Model Rail Road Scenery manuals long ago and I have used it to make up stuff for military type dioramas in the past. Most of the inexpemsive trees you can buy ready made are either plastic trunks or cast metal ones that end in a rounded bottom base that have a batch of some sort of greenery glued on. To come up with an armature to start with I use some plain old copper wire. If you have some old speaker cable or extension cord laying about that is no longer useable for those purposes, you could also use that. The copper wire I have here is from Radio Shack and it comes in a package of 3 reels of different sizes. I just clip off a length, twist it into a rough tree shape and bend out parts of the individual wires to make branches. While twisting it together would do in a pinch, I like to solder the wires together at the trunk to anchor them for what is to follow. Using some Squadron Putty, I build up the trunk and branches first. Once these have hardened up, I add more to give it more shape and a little character. The last thing I put on is the flat base so it is more or less free standing. You could also add a longer length of wire that sticks out at the bottom to anchor them into holes in the base of your scene if you want. So this is the starting point.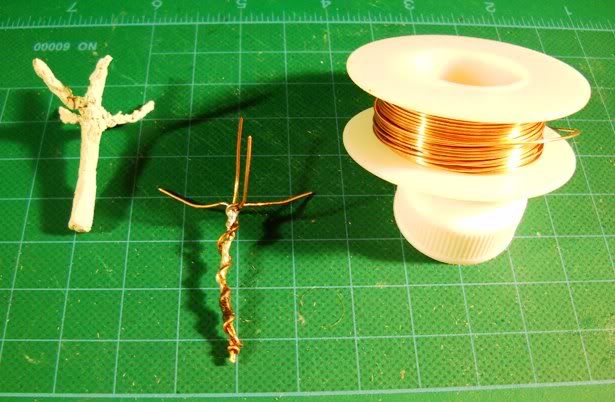 Once you have a shape that you like and have it formed so the trunk is larger at the bottom than it is at the juncture of the limbs, a natural tree shape more or less, you can call it good. I like to take a layer of plain old White Glue and go over the whole thing to add a little strength to the putty and even in a pinch add some texture to the bark. After that a paint job is required, any shade of brown, rust, or tan can be used and layered on for effect. You want to paint it first as once you cover it up with the leaves, it is sorta hard to paint any of the places that may show through the leaf cover. The next step involves some of the Clump Foliage material that is in model shops, rail road shops, and other places for foliage. It is basically made from styrofoam type material that is shredded and dyed in various colors. You can also go with some typing paper run through the printer in green or other colors for different effects and different types of trees. An ordinary paper punch can knock out a whole lot of leaves in a short time. While labor intensive, it can save you some money to spend on some more of Chips' models.

Adding the foliage is easy enough to do with an application of white glue to the tree limbs and adding the foliage of your choice. In my case I tore up some of the coarse Clump foliage into smaller bits in two shades of green. Most trees are not monochromatic, so vary the colors you use a little for that effect. Don't try to get it all on in one sitting, mostly you will wind up with chunks of stuff falling off due to the weight of it and the glue not drying that fast. Take it a little at a time and add more once the first batch had dried in place. Looking at real trees, there are bare spaces where you can see day light through, openings where you see a bit of the trunk and branches, be a little creative when you are putting the leaves on. Admittedly this is more labor intensive than plunking down some bucks but then a set of 3 or 4 trees will run you usually $10 or more. A bag of foliage or two might just cost that much but you will have enough material to make a hundred or more trees, bushes and other ground cover.
Once you are happy with your leaves and shape, let it all dry until it good and solid. I took some Clear Flat Spray can enamel and went over the whole top of the tree a couple of times to seal it all together. This helps to keep anything from coming loose as you handle it to postion it in your scene and keeps it that way for a long time. I have some in dioramas that I built years ago that look just as good now as they did when I first planted them. After all my tinkering about, this is what I wound up with for my first tree.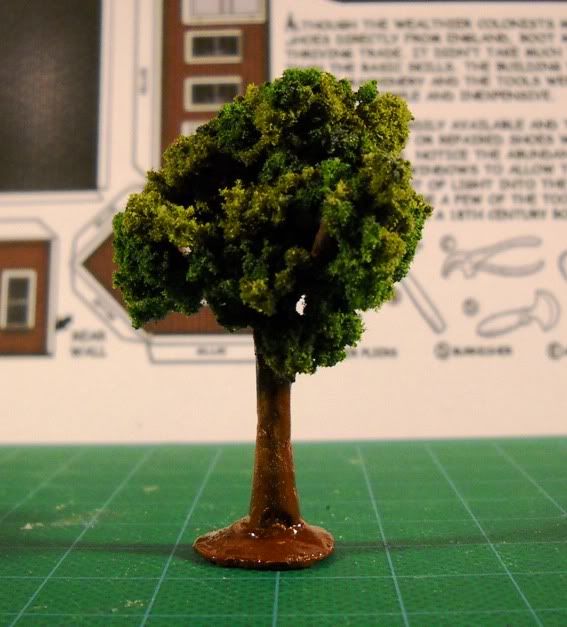 And here it is with some of its' store bought bretheren. Spot any differences? Yeah, the trunks are straight as a string, they all share a common shape and while enough of them in a group may sorta look like it, they are a far cry from a batch of home brewed custom trees that you come up with on your own. Also the colors are an either or sort of thing, no variation. If you want to buy some that have the variations, be prepared to spring for it, it will cost a lot more than my wire, putty and ground cover concoctions.