---
Today was the 2015 Omacon IPMS show at the Strategic Air and Space Museum. I was there to represent paper to the masses. I had a "vendor" table set up to show off some models, and to hand out some freebies that were generously donated by Dave Winfield (Dave's Card Creations) and Ryan Short (Lbirds.com). I also handed out some info sheets with a list of sites to visit for more information and models. Of course, FG was top of the list!



I entered three of my models into the competition. The Oddball F-105, Murph's Models B-25 Dolittle Raider, and the Thai Paperwork P-51 Mustang. I would have swept the paper subgroup of the miscellaneous category, but there was one other paper model present, and it was awesome. It was a model of the Empire State Building at the moment of the B-25 collision back in the 40's. He cut away the face of the building, custom molded some plastic to look like flames, and wired it to light up with red and orange LEDs. he also had the tiniest of B-25 models (about 3/4 inch wingspan) stuck into the side of the building. I wish I had a good picture of it. There were always people right in front of it when I had time to be up and looking at models.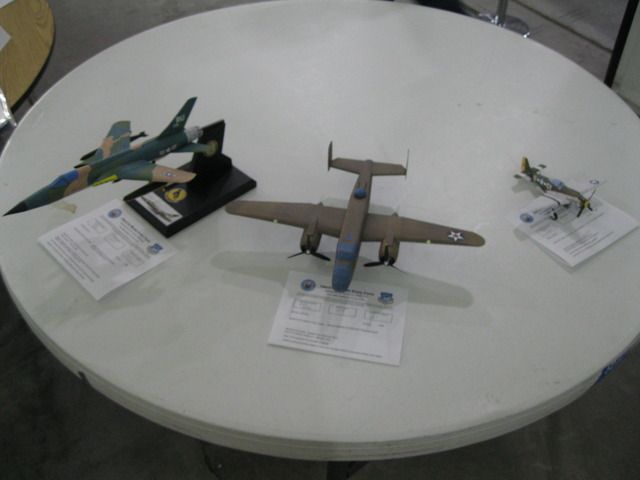 When all was said and done, I had passed out all of my freebies (about 80 copies all together). I also collected so awards. By P-51 model came in 3rd, and the F-105 was 2nd.