Hi fellas! I've been absent for a while, but checked in from time to time to admire some of your fine work. I figured the best way to wade in again would be with some pictures of my most recent build - der Kampfflieger's Miles M.20. There were a few problems with the kit which Roman has since corrected. You can dowload the updated model for free over on the papermodelers.com site.
The M.20 was an experimental fighter, designed to be built quickly, and brought into service rapidly if needed. 2 prototypes were built and tested. The airplane featured all wood contruction, and was armed with eight .50 caliber Brownings in the wings. For simplicity's sake, the landing gear was not retractable, but was enclosed in streamlined spats. The protoype was faster than the Hurricane, had a greater range than the Spitfire, and could carry more ammunition than either.
The build was very straightforward. Based on photos of the actual airplane, and my 3-way drawing,
I believe that the vertical stabilizer is placed too far aft on the model.
Roman designed the model from a different 3-way drawing, and his model is correct according to it. The wings don't quite meet up on the underside,
and my version of the model is missing the port wing aileron outline, since corrected.
The spinner came out particularly good on this model: the petals formed perfectly, and then I flowed a couple of coats of watery CA Glue on, and sanded lightly. A quick coat of flat black acrylic paint finished the job.
Despite my disappointment with the model after discovering the missing aileron, I decided to take the time to do a little extra detailing anyway. Paper exhaust pipes, air scoops, and an antenna and mast were added. I coated the opaque bubble canopy with a few coats of acrylic gloss for an improved look. Because of all the compound curves, the most difficult part of the build was the spats. It's pretty hard to hide all those little notches, and I'm not really happy with the way they look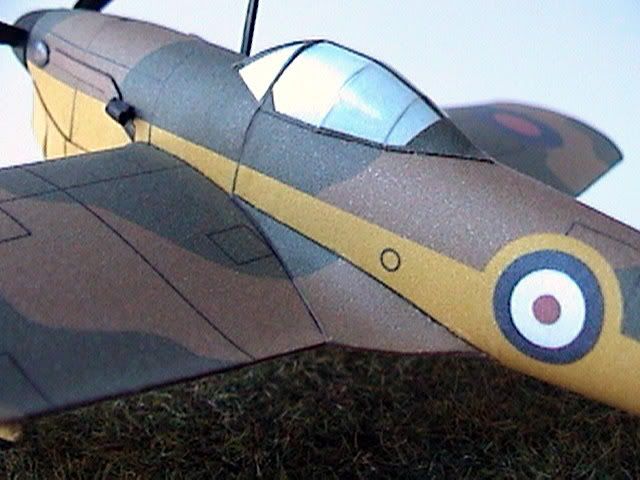 I printed out one of my display bases to sit the finished model on. Hopefully the missing aileron won't be too obvious to the viewer.
I hope you enjoyed the pics.