Here are a few photos of my FG Military Piper Cub. You'll notice it isn't an L4 Grasshopper. I'm annoyed with myself because I downloaded and nearly finished building the free Piper Cub dressed in military colors before looking into my FG WWII folder first to see if
that
Piper Cub (which really is a Grasshopper) was different from the one in the light aircraft folder. Oh well, live and learn. I enjoyed the build regardless, and I'm really happy with the way it turned out. Except for that whole "it's not really a Grasshopper" thing.
I would imagine that most of you have probably already built this fun little airplane. Mine is a 1/72 scale version printed on 110 lb cardstock. I had some problems forming the cowl properly: the underside isn't supposed to hang down below the fuselage so much, but that thick ol' paper just wouldn't cooperate. I also found that the wing struts were too short to reach the black locating dots on the underside of the wing by more than a mm. Other than those two issues, everything else went together just fine. I packed the fuselage with toilet tissue during the build process so it wouldn't deform from all the handling.
I added a little extra detailing to the airplane: The exhaust pipes are made of 1mm cardboard stiffened with Crazy glue and filed to shape. I also added those "scoopy" looking things that sit atop the cylinders out of regular bond paper, painted black. The propeller is made from a wood coffee stirrer and dyed olive drab.
Inspired by jzman, I applied my meager design skills to create a paper base using MS Paint. I decided to do a little rudimentary ground work, and made a field refueling scene to show off the airplane. The pork chop shaped groundwork is made of 1mm cardboard textured with some fine grit, then painted brown and drybushed with a khaki shade. I glued down some static grass, a bit of root to represent a fallen tree branch, and some tiny natural plant bits. I designed the 55 gallon drum myself using MS Paint again. The hand pumpis made of paper, and the hose is a piece of fine wire with black insulation.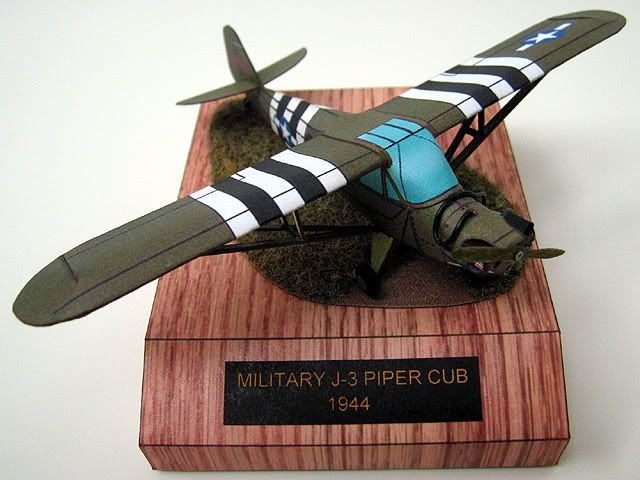 Taken with my daughter's camera. Nicer quality, but somewhat distorted.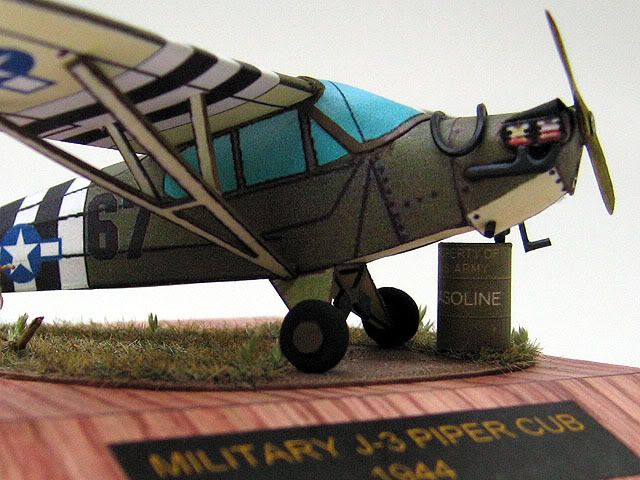 Another one with my daughter's camera