After finishing my FG buzz bomb I was still in the mood to to tackle another "wonder weapon", so I decided to build FG's He-162 A2 "Salamander". As always I used 110 lb cardstock, and reduced the printer setting to yield a 1/72 scale model. In this small scale I was able to cut off the glue tabs and butt joined each fuselage section, a cleaner method than overlapping, I think. Since this airplane has a tricycle landing gear, I epoxied a small weight inside ahead of the cockpit so it wouldn't be tail heavy.
The build was straight forward with a few exceptions: Before cutting out the fillet that joins the engine to the fuselage, I added a couple of thin strips of clear packing tape on the backside to reinforce where it gets real narrow. I didn't see a need to make all the recommended slits on this part either. It was easy to form a hollow well all along its length (before joining the ends) without them. I didn't cut holes from the fuelage for the wings either. Instead I cut out and formed each wing seperately and then trimmed them a little at a time until they fit snuggly against the fuselage. Nearly all the trimming was made on the underside. Topside I only had to round the front off a tiny bit. When I was satisfied with the fit, I glued a shaped piece of 1mm card into the opening in each wing, and then glued them to the fuselage.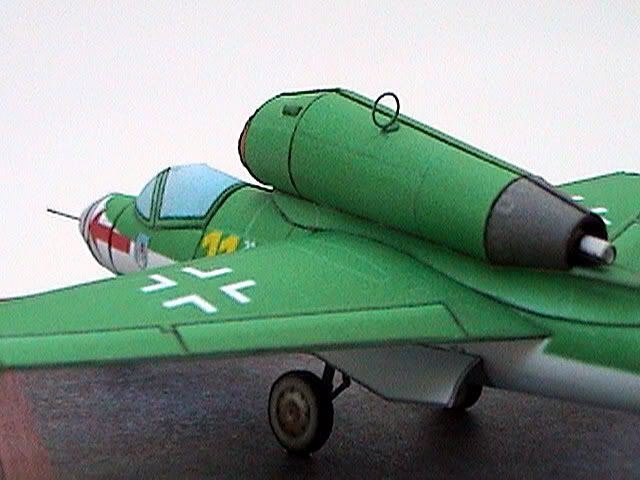 I was happy with the way the nose cone turned out. . I cut off the glue tab and butt joined the edges. I had my doubts about the petals, but they closed up very neatly. Then I coated it with a few coats of crazy glue, and sanded it lightly to remove the gloss. I repainted the tip with red acrylic paint. Looking at it head on, it should be egg shaped with the wide end down, not circular like a propeller spinner. Mine should still be a little taller and narrower I think.
I made more detailed landing gear out of fine brass wire wrapped with paper, and epoxied them into the fuselage. Comparing them to pictures and drawings of the Salamander, they could have been a little taller.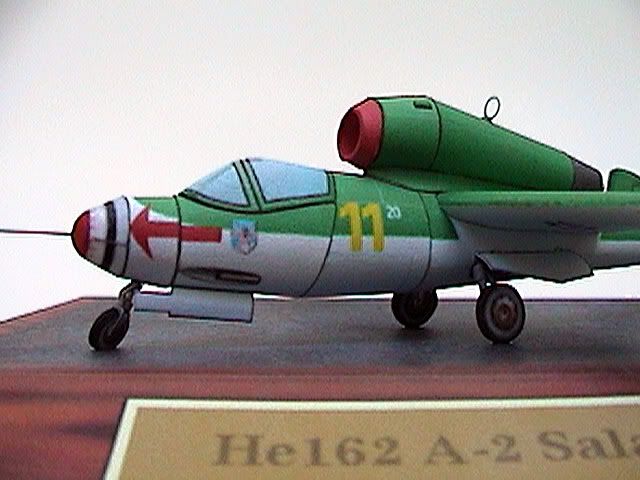 I turned the nose gear slightly to add a bit more interest.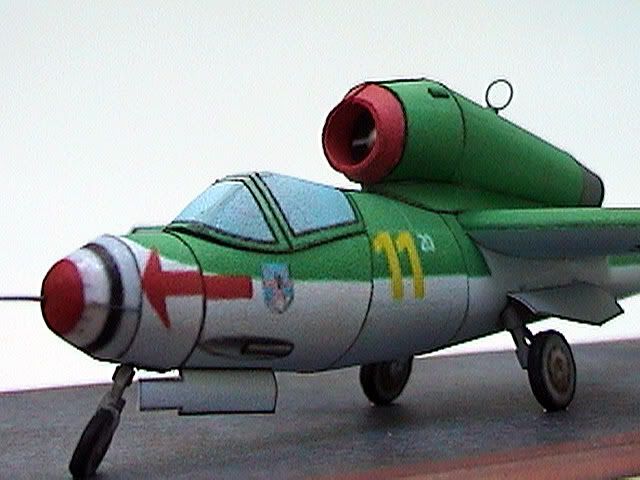 The pitot tube is thin plastic rod painted gray and black. The hoop antenna is made of fine lead wire. I wanted to display my Salamander sitting on the tarmac rather than in flight, so a display base was called for. I lengthened the base that I had previously designed in MSPaint for my Piper Cub, and textured it with a walnut woodgrain this time. Then I added a dark rectangular texture to the top, and designed and centered a brass look name plaque on the front to finish it off. After printing, I reinforced the top and angled front section with 1mm cardboard, and glued it all together.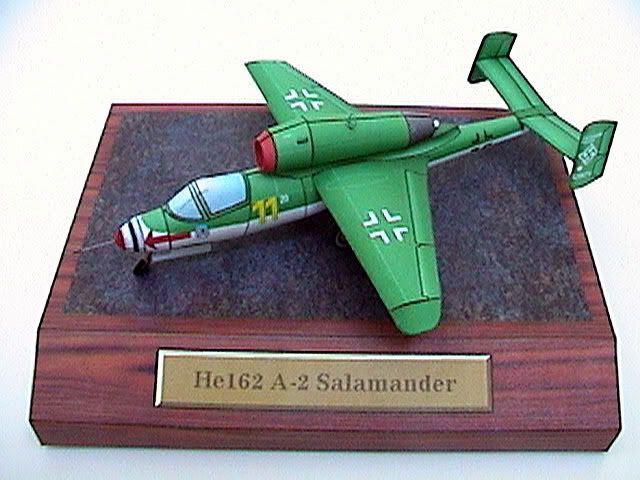 I would have liked to have done something a little more interesting in the way of groundwork, but I really couldn't think of anything. Besides, I'm anxious to get on with the next model, so I'm declaring this one done.