I've been away from the forum (and modeling) for a while due to a family injury: my mom fell resulting in 2 compression fractures in her lower spine. She's got osteoporosis, and at 84 years old, I'm afraid she's looking at a long, painful recovery. I've been pretty busy helping out my folks for the past 6 weeks, and modeling has had to take a back seat. I
did
manage to finally finish the 1/72 scale FG pre war Vought SB2U Vindicator that I started back in early November.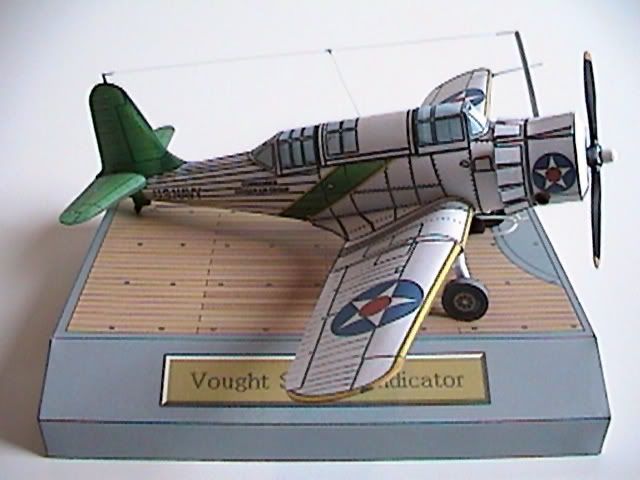 I wound up with a slight banana the first time I built the fuselage, so I had to make another. On the second attempt I made my own alternating side fuselage glue tabs. I find that this technique helps keeps everything straighter than when all the glue tabs are lined up on the same side. I packed the fuselage with toilet tissue for strength before sealing up the front with the engine disc. The cowl ring was too small (the only fit problem), so I had to print another, cutting a bit outside the lines the 2nd time around.
While searching for images of the Vindicator to get some detail shots of the bomb rack, I came across a color photo of a plastic model of the very same airplane (Commander, Ranger Air Group) with the pre-war paint scheme. It had yellow upper wing surfaces, from the skid panels to the wingtips, whereas the FG model is all white except for the leading edge. I wonder which is accurate? The yellow wing is certainly more eye catching, and now I wish I did my research first, as I would have taken the time to repaint the wings in Photoshop. Oh, well. Woulda, coulda, shoulda.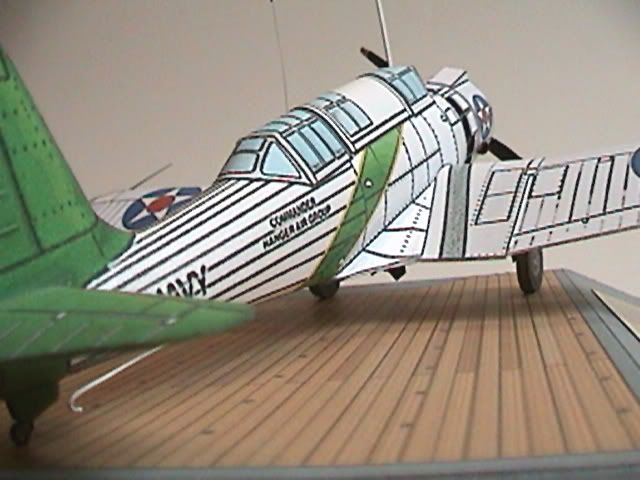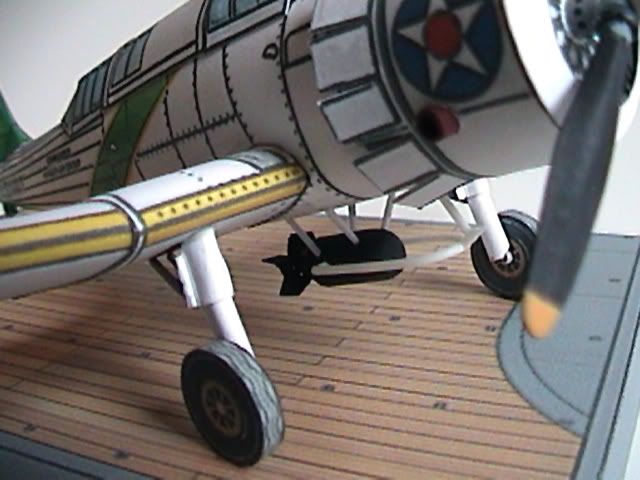 Added details include a cowl air scoop, exhaust pipes made of rolled paper, extended landing gear, a bomb rack made of thin plastic rod and card, airportkid's awesome scaleable bomb (thank you very much), a tail hook, monofilament antenna wire and a pitot tube. I made a battleship grey version of my larger sized paper display base to fit this baby on, and textured the surface with an aircraft carrier flight deck. A brass look name plate completes the model. It's not my favorite FG model, but I think it came out pretty good.