I thought I'd take a crack at building Fiddler's Green F4U Corsair. I was really impressed with the artwork on the Ira Kepford version so I decided to build that one. Kepford was one of the US Navy's top aces during WWII. He flew with VF-17, the famous "Jolly Rogers", a land based squadron operating out of the Solomon Islands, originally assigned to the USS Bunker Hill.
WSAM (1/60) called for a 60% reduction, so to make a 1/72 scale model I printed the file at 50%. After it was half built, I thought it looked awfully small, and it is - based on the final wingspan/length it's more like 1/95 scale. I don't know if my math was wrong or if the WSAM recommendation was incorrect to begin with. I'm bummed because it came out pretty good, but it doesn't match up with the other models in my 1/72 scale aircraft collection, and I seriously doubt that I'll build another one. Oh well.
I thought it would be nice to create a kind of tribute model to Ira Kepford, so I poked around on the net to see what was out there. I had a lot of different ideas, but I decided to make the autographed photograph of Kepford posed in front of his fighter an integral part of the overall display. Using MS Paint, I stretched out my small base, gave it an oak texture, and topped it off with the photo of Kepford. I didn't like the way my usual brass name plate looked against the oak base, so I made one using shades of blue. The pedestal that supports the plane is made of 1mm card clad in the same oak texture as the base. Even though the plane is in flight, I used the kit propeller, detailed a bit, rather than a prop disk. A pitot tube and exhausts are the only extra detailing I did on this one. The few actual photos of Kepford's plane show that it did not have antenna masts, so I left them off. Here's what the finished model looks like. Photos are of the usual crappy quality - sorry about that.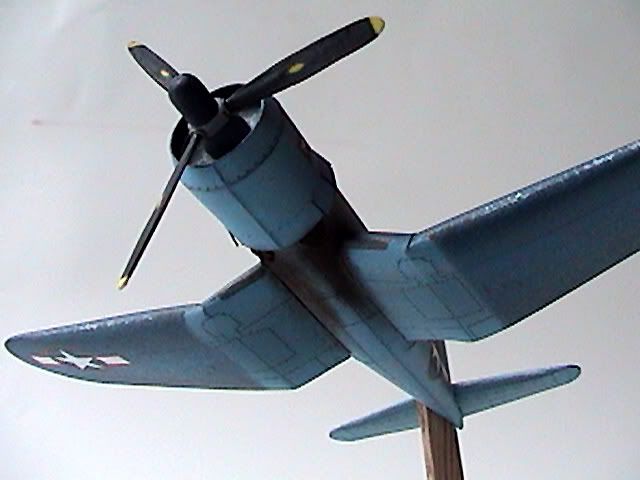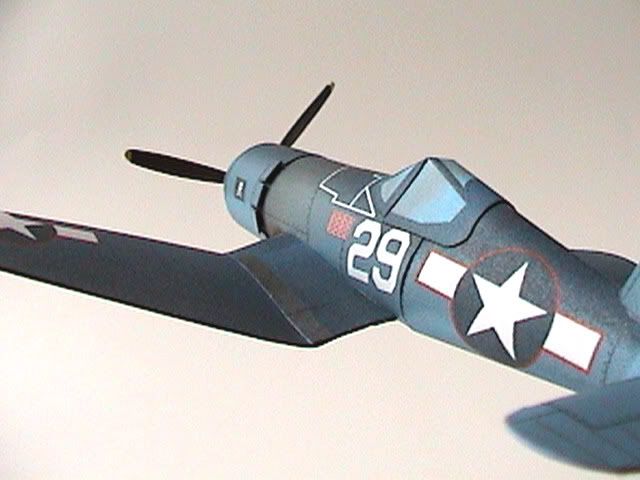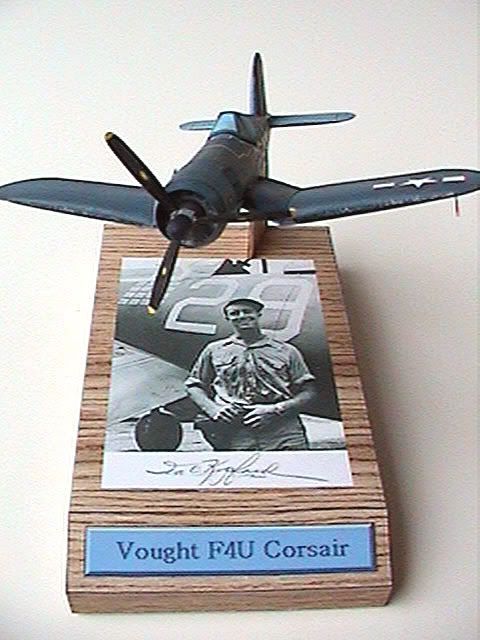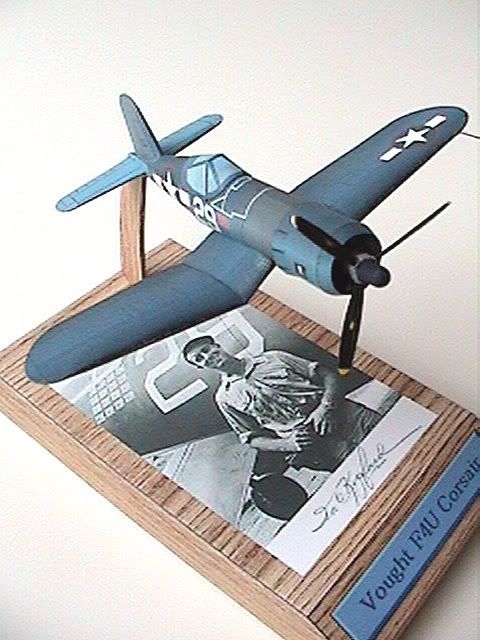 I like it a lot, but I just wish it was 1/72 scale.