There's a download section?
Anyhoo, I decided to take a little break from the San Salvador and built one of my all time favorite little airplanes. Drum role please..... The Flying Flea. I actually started this the week before it was released as a model of the week, I think I purchased it when I first subscribed to Fiddlers Green, and now I finally got around to building it.
I converted it to 1/33 which makes it kinda itsy bitsy, but it all went together well. I put on a custom propeller (Lief Ohlson's design which I altered for my Fokker EV) this was really tiny but it worked, I also rigged it to spin freely. I cut the top of the wing sections completely apart and put them together with joining strips which makes the curve form easily. The bottoms of the wings are laminated with a second piece of card stock with a spar to line up with each section on the top. I pre-curved the bottom of the wings. I also altered the rudder by making the hinge post separate from the stabilizer and the fuselage. I laminated a couple extra pieces of card stock to build up the rear wheels, these apparently are quite thin on the actual plane. I put hub caps on the outsides of the front wheels and put a shaped layers on the outsides of the tires. The fuselage also has a laminated layer on the sides and bottom (I glad I did this because I ended up handling this thing a lot, and that kept me from collapsing it when doing the wires). The engine mounts are tubes with thin floral wires in the centers, which made them easier to glue in place and shape. The wiring was quite a feat, the pictures show them but not clearly, but luckily I took pictures of an actual flea when I was in Denmark for a Rotary Convention which helped me figure it out. The actual wires on a flea are connected like "Y's" to a single wire to the tie locations, I was going to try to do this with thread, but the top wing was a little to difficult for me to work with, so all flying wires are simplified with thin floral wire. And last but not least I put in a scale pilot so you can get a feel for the actual size of the plane. I really haven't figured out how the pilot gets in there, but I am sure at 6'3" I wouldn't fit, lol.
Here it is.....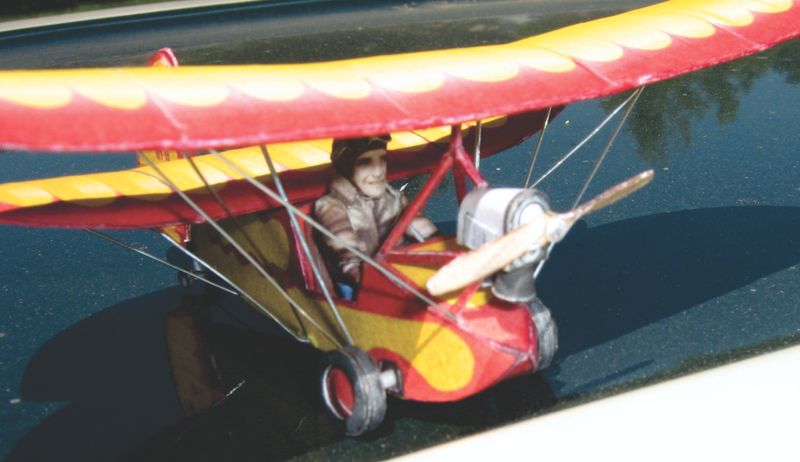 From the bottom.....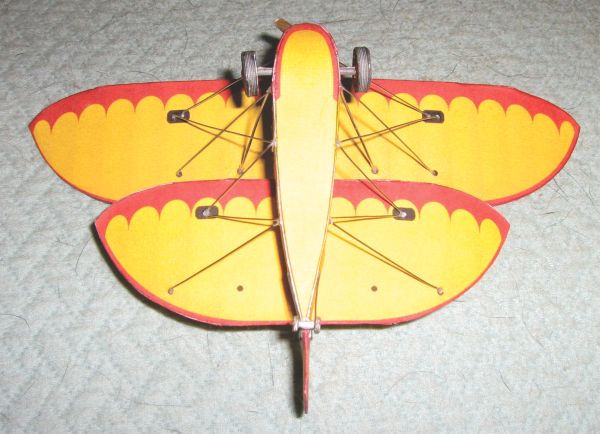 A size comparison with two different FG planes (A12 Shrike and the PT16)...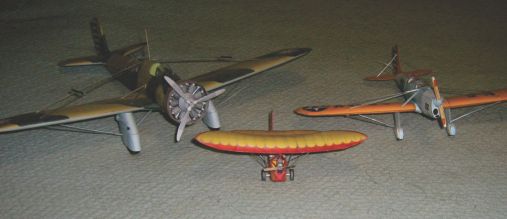 Another cause I like the way the Shrike's engine looks....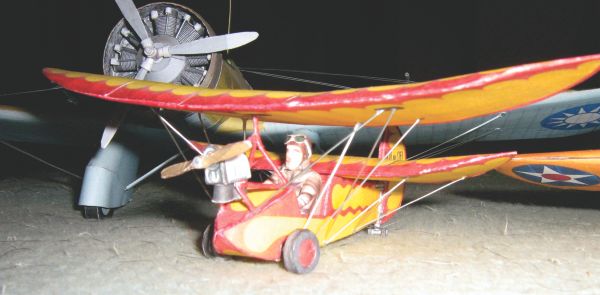 This one shows off the rudder...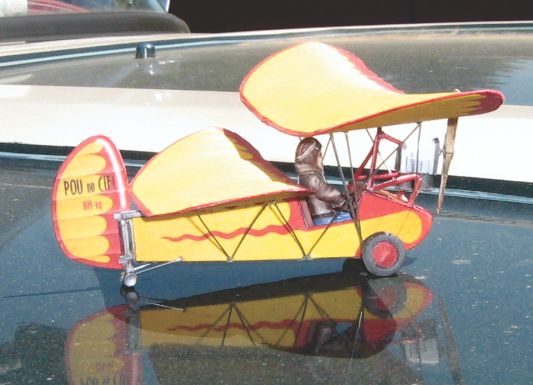 That's all folks, lol.
Beard