Hi Guys,
We all enjoy this hobby,
and we all enjoy sharing our models with other folks and kids.
(I recently had an oportunity to do something from the heart.)
I have a friend that has been into aviation since he was a kid.
His Father owned and flew a Stearman PT-17 when he was a kid.
I told him if he wanted me to, I would try (with my limited knowlege of computers and using an old computer) to do
a re-paint of the F.G. Stearman to try to match the one his dad owned and flew.
So my friend e-mailed me a couple pictures of his Dad with his Stearman, and I went to work.
I colored the aircraft and added his numbers to it the best I knew how, Built one for him,,, and even took his Dad and made
a cutout of him to have with the airplane to match the picture he sent me.
When he came to our house to pick up the model it brought a tear to his eye.
He liked it so much that he asked me to build another like it for his brother who is comming to visit him from out of state in a couple weeks.
I should be able to have it done for him to surprise his brother with.
The following three pictures are what I wound up with.
The original with his Dad.
The model and cutout standing with the model.
And the model and cutout gimped into a picture at the
local air strip.
For all you technical guys,,, NOTE,,, he said I did not need to do the wire rigging as I reinforce the struts with florist wire to make the wings and landing gear extra solid. And,,, the yellow tail feathers were OK with him as he said his dad painted the stearman different colors all the time.
Hope you all enjoy the pictures.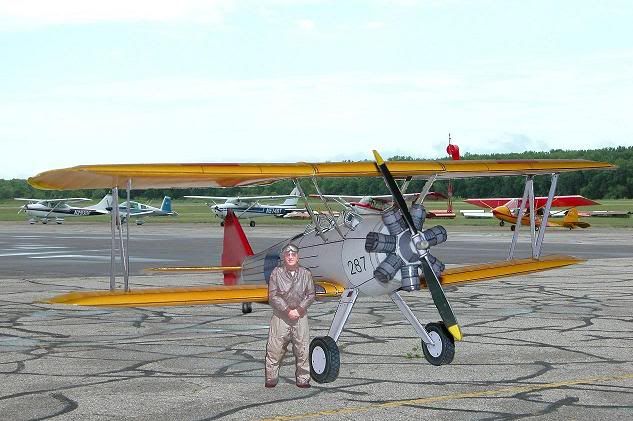 A happy result,,,
Thought I would add the final picture.
My friend's brother came to visit him last week and he gave him the second
Stearman model I made for him.
Then they took a picture together with the Stearmans and e-mailed it to me with
their thanks for doing this project in their Dad's memory for them.
It's nice to know that as paper modelers we can do things like this with our
models for folks out there.
Anything is possible with paper.
Hope you enjoy the picture, my friend is the one on the left.