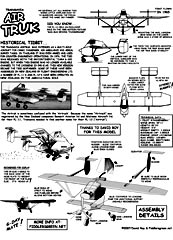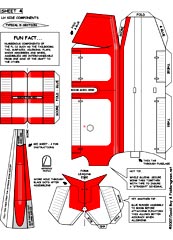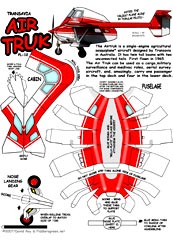 Transavia PL-12 Airtruk (Air Truk)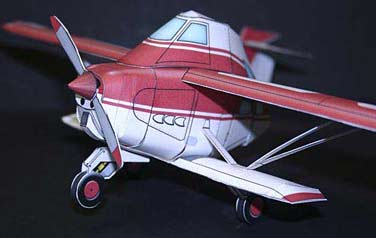 Transavia PL-12 Airtruk is a single-engine agricultural sesquiplane* aircraft designed by Transavia in Australia. The Airtruk cockpit is mounted above a tractor engine and short pod fuselage with rear doors. It has twin tail booms with two unconnected tails. Its first flight was in 1965.
*A variation on the biplane was the sesquiplane, where one wing (usually the lower) was significantly smaller than the other, either in span, chord, or both. On occasion, the lower wing was only large enough to support the bracing struts for the upper wing. The name means "one-and-a-half wings
---
What people say...
They made about 118 of them but only a few are still flying. They made excellent crop sprayers/dusters etc.. Examples in Denmark,France, Serbia etc. Kelly
---
Fiddlers Green folks, you out did yourselves again !! Awesome !! And a giant welcome to David. Harold
---
mmmmmm......Sir Chip, if I saw that thing coming down the road here in my home town of Stanley, I know it would fit right in! Looks like an Italian in New Zealand designed it according to the write-up. Certainly must have been built for practicality and not aesthetics! I had a concern that the elevators weren't large enough to give it "up" and "down" but I guess they worked just fine. Seems as if I remember an Italian WWII experimental jet where the pilot sat way on top of the fuselage similar to the Truk........I don't guess Peterbilt or Freightliner will have any copyright concerns! heh......Duck
---
Latest model looks weird and wonderful, might give it a try, as break from work and sailing ship model I found on japanese site. The rigging is making me wonky. David b
---
Hey Chipperoo--
Good on you mate! I saw one of these things in the Powerhouse Museum in Sydney Oz a few years ago. Keep those weirdo's coming! John Freeman
---
Really cool. I've always liked the AirTruk in a weird kind of way. TW
---
Ya know, all this time I never knew the Mad Max plane was a REAL plane...I'm duly impressed with the model as well as being forced to learn yet something else... Z (Zawali du sable)
---
Just had the chance to look the model over. Great work Dave! Tobi Wan
---
hey from the land down under
I'm really into planes but as a teenager, never had the money to really get lots of plastic kits... time was an issue 2 . but then i discovered u guys and now iv built every free plane and am still convincing my dad that the internet is fine to buy things off and u guys aren't credit card frauds or whatever, so i can buy 2 of my fav. planes tiger moth and beaver, even better a yellow tiger moth, yay.
---
On the airtruk, when my dad was an aero he went to testing of the airtruk, and it was really primitive, they piled sandbags on the wingtips until something broke, strengthened it then started again with the piling. So yes, that's about it oh and could u guys do a beaufort because my grandfather flew them and it would be cool to give him 1 and my computer was running low on ink so i have a pink geebee woohoo
cya.. Robert from Australia
---
Transavia PL-12 Airtruk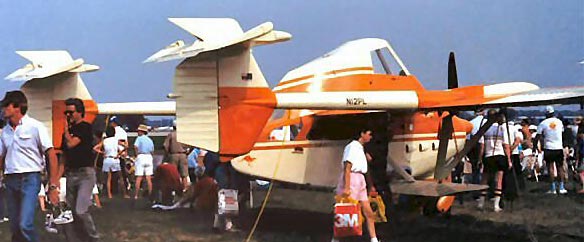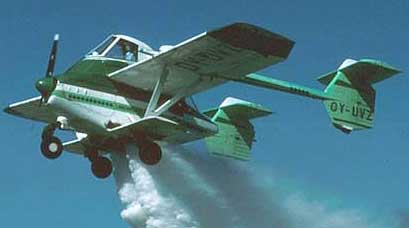 Transavia PL-12 Airtruk was developed from the Bennett Airtruck designed in New Zealand by Luigi Pellarini. It has a 2200 lb capacity hopper. Initially designed as a specialized agricultural aircraft, it was refined over the years and used for many purposes. The Air Truk can be used as a cargo, military surveillance and medivac roles, aerial survey aircraft, and, amazingly, carry one passenger in the top deck and four in the lower deck. Many were exported to countries such as Denmark, Yugoslavia, Spain, Africa, China and New Zealand. The Airtruk is still in use as an agricultural aircraft.

The Airtruk is also sometimes known as the Airtruck. Because the name "Airtruck" was registered by the New Zealand companies Bennett Aviation ltd and Waitomo Aircraft ltd, for their PL-11, Transavia found another name for their PL-12 ("Airtruk").

July 1971 saw the first flight of an improved model, the T300 Skyfarmer, which was powered by a Textron Lycoming 10540 engine. This was followed in 1981 by the T300A with improved aerodynamics. The PL-12 was featured in the 1985 movie "Mad Max Beyond Thunderdome."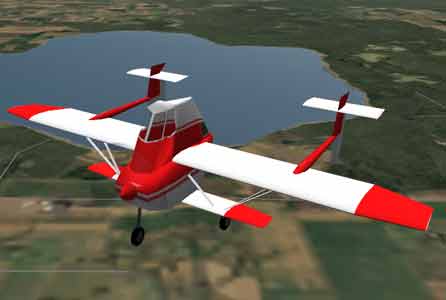 ---
| | |
| --- | --- |
| A few views of the actual Airtruk model designed and built by David Roy. This is his second model ever. His first one was the MiG-3 | |
| | |
---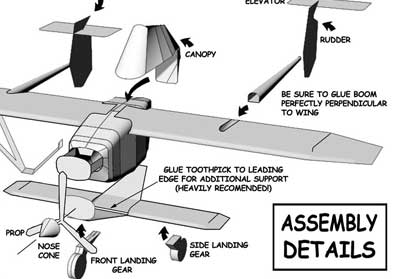 Specifications for the Transavia PL-12 Airtruk (Air Truk)
Crew: 1
Capacity: 2,000 lb dry chemicals
or 216 US Gallons liquids.
Two passengers.
Length: 20 ft 10 in
Wingspan: 39 ft 3.5 in
Height: 9 ft 2 in
Wing area: 264 ft²
Airfoil: NACA 23012
Empty weight: 2,242 lb
Max takeoff weight: 4,244 lb
Powerplant: 1× Textron Lycoming
IO-540-K1A5 flat-six piston
engine, 300 hp

Performance
Never exceed speed: 170 mph
Maximum speed: 122 mph at 3,000 ft
Cruise speed: 117 mph (max cruise -75% power)
Stall speed: 45 mph
Range: 806 mi
Service ceiling: 22,600 ft
Rate of climb: 1,500 ft/min
Wing loading: 16.1 lb/ft²
Power/mass: 0.071 hp/lb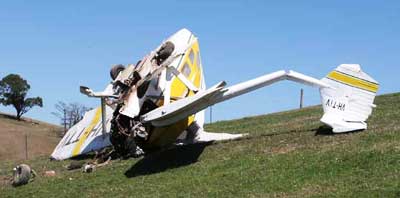 Transavia PL-12 Airtruk crashed while trying to land on a small airstrip at Mardan last March 2, 2010. The pilot walked away uninjured, but the plane was destroyed.