Fiddlers Green Clear Plastic Propeller Discs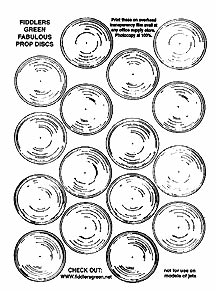 Do you REALLY want to display your fabulous little FG model flying through the air with a prop stuck onto the nose..I don't think so :-)

This is our fabulous plastic prop disc printout... A click will take you to the folder where it waits to be printed...
If you have a laser printer, no problem... Just print it on clear overhead projector acetate plastic..
If you have an inkjet printer, you'll need that special ink jet printable plastic which is not too easy to find... Your best bet is to just print this on white paper and bring it into Staples or any Office Supply and let them deal with it..
It's worth the effort to get your models looking like they're doing aviation..
Click to download the page
Return to Home Page