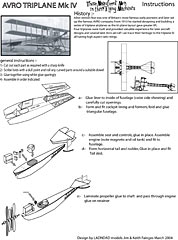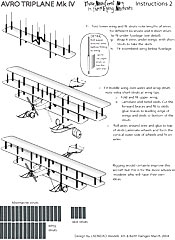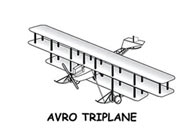 Avro Triplane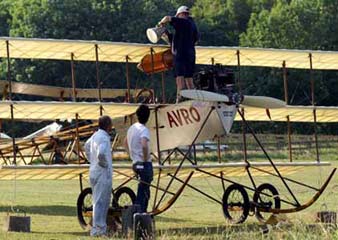 Alliot Verdon Roe designed and built the first all British designed and built aircraft to fly in Britain on 8th July 1908 at Brooklands. The next year he built his first triplane which was constructed mainly of steel and covered in oiled paper. It weighed 250lbs. It had triplane wings and tailplane and was grossly underpowered by a 9hp JAP engine driving a 9ft, 4 blade propeller via a belt reduction. Its longest flight was 900ft at an average height of 10ft. The original aircraft is in the London Science Museum.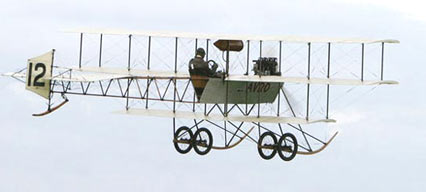 A.V. Roe designed and built several other versions of the triplane. The final version was a Triplane 4, completed in September 1910 powered by a 35hp, 4 cylinder, water cooled, Green engine. This was used almost exclusively for instructional work at the Avro flying School at Brooklands. It crashed many times.
---

Specifications:

Engine: 4 cyl. 35hp Green
Wingspan: 20ft
Length: 23ft
Height: 11ft
Empty Weight: 300lb
Max Weight: 450lb
Speed: 25mph
---
These images of the Avro Triplane were submitted by Bob Martin. Thanks Bob!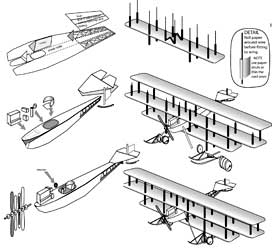 Shown above is the exploded view of the Avro Triplane
This Model is included on the
"Those Magnificent Men in Their Flying Machines"
CD by LadnDad
---