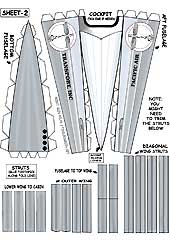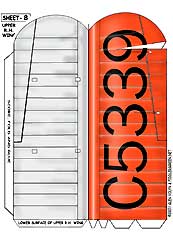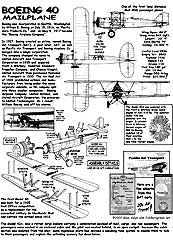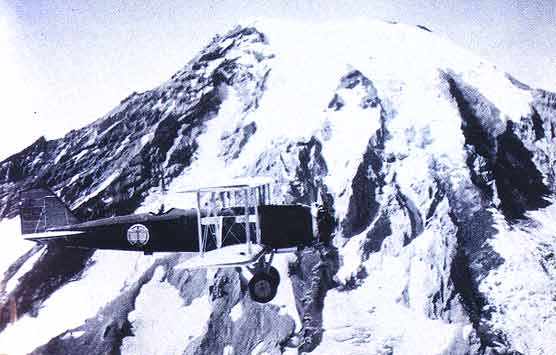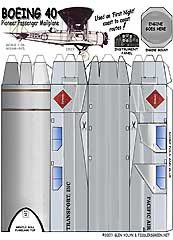 Boeing Model 40 Bi-plane Mailplane of the 1920s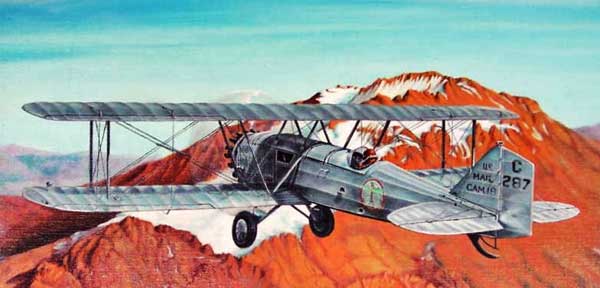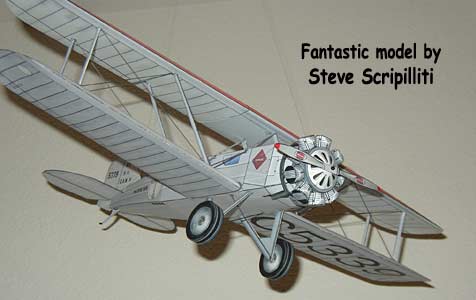 The first Model 40 was built for a 1925 U.S. Post Office competition as a replacement for the converted military de Havillands that had carried the airmail since 1918. The Model 40 used steel tubing for the nose and curved wood-veneer laminate for the middle of the fuselage. The wings were wood and fabric. The plane was hampered by the antiquated water-cooled Liberty engine, required by the government in order to use up large stocks of surplus war equipment.
---
What People Say...
I have a pdf version of an early design of the Boeing for you to check out tell me what you think. It has been now improved with a western air express version and working on the Henry Ford version. Boeing 40, the one being built here in Spokane by Addison Pemberton is a 40D4, and will be flying in about 2 years. Glen
---
I think the EAA museum just restored a Pitcarin Mailwing to a beautiful show/flying condition. I love those old planes. TW
---
I say onward and upward for Nick! Two nice ones Sir Chip! Duck of the Ardennes....
---
Chip, the zip files are great. They solve the problem of downloading more than one sheet-1.pdf.
A great idea. Pat Voce
---
When airlines flew passengers, and had US mail contracts, the 2 were often carried on the same plane. But, if there was more than the usual amount of mail, a paying passenger could be bumped and replaced with mail: it seems an equal weight of mail was more profitable than a passenger. George Stahlberg
---
The Boeing 40 went together pretty well except that the firewall at the front of the fuselage is printed too small and not the same cross section as the finished fuselage. Other than that, no problems. Note that wing and LG struts are four layers of paper instead of two. Dave

B-40 model by Jim Zotz. Thanks Jim !! Got any Chevy parts?
The Boeing Model 40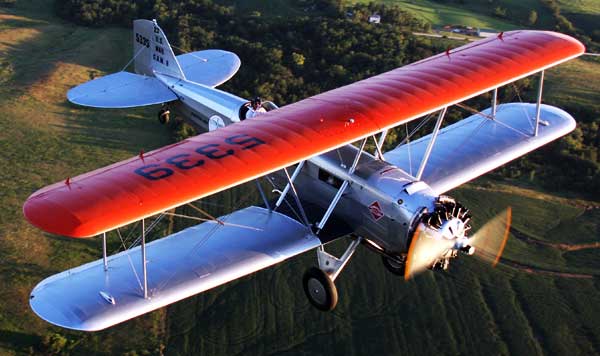 The Boeing Model 40A, which first flew May 20, 1927, used an air-cooled Pratt & Whitney Wasp engine that was about 200 pounds lighter than the water-cooled engines used to power its competitors. The biplane used welded-steel tubing throughout its fuselage but could still carry a heavier load and was less expensive to operate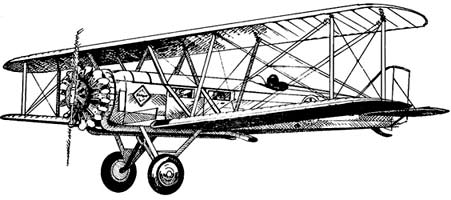 The Model 40A was the first Boeing airplane to carry passengers, with room for two people in a tiny cabin, as well as cargo space for mail. Twenty-four of the Model 40A mail planes were ready to fly July 1, 1927, for their first day of airmail service between San Francisco, Calif., and Chicago, Ill. The 25th was delivered to Pratt & Whitney as a flying testbed.

The Model 40B-4, which first flew Oct. 5, 1928, was the major production model of the mail plane series. It used the larger Hornet engine and carried four passengers and 500 pounds of mail. Including the first Model 40, 77 Model 40s were built between 1925 and 1932.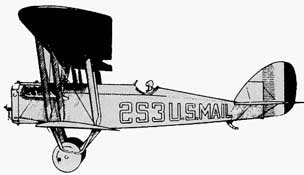 The Post Office used a wide assortment of aircraft, but most of the work was undertaken by US-built D.H.4 single-engine open-cockpit biplanes.The continuing development of airmail led to Boeing's first transport, the Boeing Model 40 biplane of 1925, to replace the DH-4 (left). The Post Office had solicited bids for a new plane that would use the Liberty engine and be able to carry 1,000 pounds of mail.
---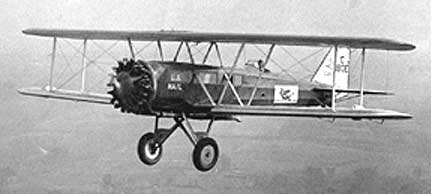 In the United States the main consideration was given to carriage of mail, rather than passengers, by air, and the primary aim was the creation of a transcontinental mail service with all initial operations actually undertaken by the Post Office.

On 15 May 1918. a Washington-Philadelphia-New York mail service was begun and this continued, as an isolated operation, until the end of May 1921. Exactly a year after the inauguration of the Washington-New York service, the first sector of the transcontinental route was opened, between Chicago and Cleveland, and on July 1, 1919 this was extended to New York.
The short sector between San Francisco and Sacramento was opened on 31 July 1919, and the Chicago-Omaha portion came into being on 15 May 1920. The trans-continental air mail route was completed with the opening of the Omaha-Sacramento sector on 8 September 1920, but because flying was restricted to daylight some sections were worked by train. The US Post Office also opened, in 1920, two short-lived spur mail routes, Chicago-St Louis and Chicago-Minneapolis/St Paul.
In February 1921 experimental day and night flights were made over the entire transcontinental route, with the San Francisco-New York journey taking 33 hr 20 min. In order to speed up the service a lighted airway was installed between Chicago and Cheyenne in 1923, and on July 1, 1924 regular night flying was introduced over the entire route.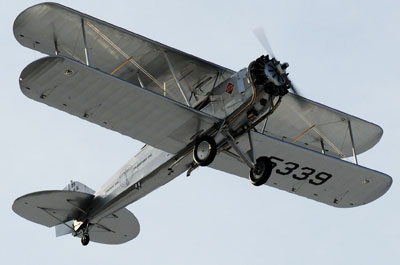 In 1926 private airlines began to operate mail services under contract to the Post Office and at least II routes were being flown by the end of the year, with passengers being carried on some of them. Then in 1927 Boeing Air Transport was awarded the mail contract for the San Francisco-Salt Lake City-Omaha-Chicago route, which was worked from July 1, 1927 with Boeing 40s and carried some passengers. At that time the Chicago-New York sector mails were taken by train, but from September 1,1927 National Air Transport worked the Chicago-New York sector and the coast-to-coast time was cut to 32 hr.

From those first commercial mail services of 1926 and 1927 evolved some of today's largest airlines, including United Air Lines (as the successor to Boeing Air Transport and others). TWA, Western Airlines and Northwest Orient Airlines. In addition, the modern Boeing family of jet airliners stems from the early experience gained by Boeing in designing aircraft for the mail routes and the operation of those pioneer biplanes.
---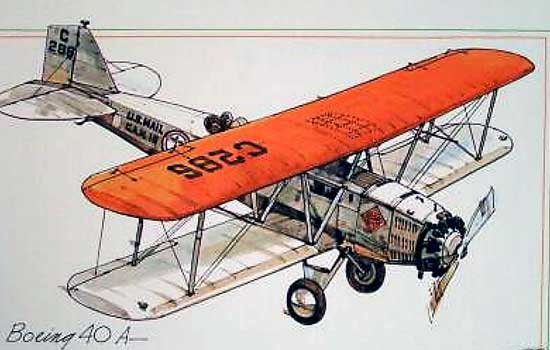 The steady and relatively methodical growth of United States foreign airmail routes contrasted sharply with the character and rhythm of air mail expansion at home. To be sure the early years of air mail's contract era saw steady growth, statistics of the period reflecting almost an annual doubling of mail poundage carried. However, this exciting growth in volume came during the formative years of the present airline system and hardly suggests the confusing array of interwoven threads that comprise the early history of domestic air transport in the United States.

By the end of 1926, the first year of contract air mail flights, there were fifteen different operators carrying or about to carry mail for the Post Office Department. By the end of 1928, twenty one companies held air mail contracts, and the United States had become the world's leader in commercial air traffic.
This sudden burst of activity in the air transport field was encouraged by the nature of the first air mail contracts. Those contracts called for bids on a handful of short, geographically dispersed feeder routes that connected with the great central route between San Francisco and New York. It was only when the government followed through on its intention to turn over its transcontinental air mail service to private operation, removing itself entirely from the business of air transportation, that the end of a confused beginning of airline growth began to occur.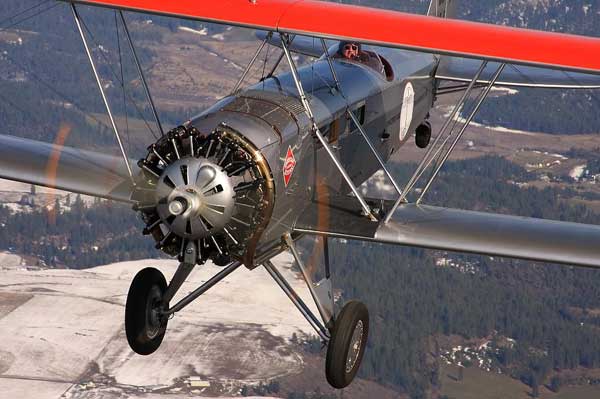 The call for bids on the transcontinental route, advertised between November 15, 1926, and January 15, 1927, indicated that the Post Office Department had decided to carve the long route into two sections: New York to Chicago and Chicago to San Francisco. Such a move had one pronounced intention-to trigger the kind of bigness in operators that was deemed essential to handle an extended route on a regular basis.
The long western stretch of the transcontinental route, designated CAM 18, was awarded to Boeing Air Transport (BAT) on January 15, 1927. In anticipation of winning the 1,918 mile route, the Boeing Airplane Company of Seattle's W. E. Boeing had hurriedly organized the Boeing Air Transport Company with headquarters in Salt Lake City. Under the leadership of Phil G. Johnson, the new airline also hired Edward Hubbard, contractor and pilot of the earliest official FAM flight in United States history, as its vice president of operations.

Word of the new air mail contracts had instigated a chain of reactions at the parent Boeing Company in Seattle, the most important of which involved reviving the manufacture of its Model 40 biplane. This plane, capable of carrying two passengers and a substantial mail load, had been shown to the Post Office Department in 1925 but had never elicited any purchase contracts. Boeing's attorney, Bill Allen, drew up an agreement wherein BAT (Boeing Air Transport) was to purchase twenty five of a Model 40A version from Boeing Airplane Company. To fly and maintain these planes, Hubbard later signed-on Post Office pilots and mechanics who had been employed on government routes.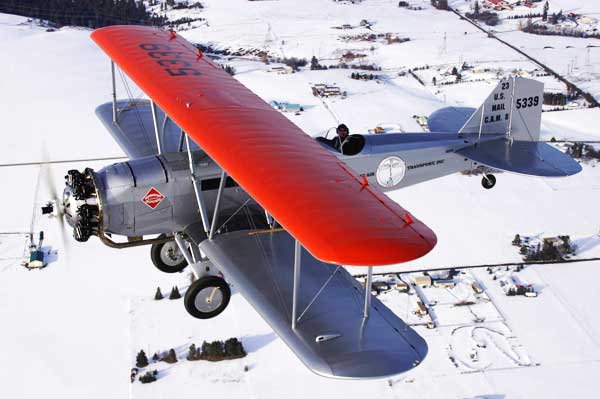 ---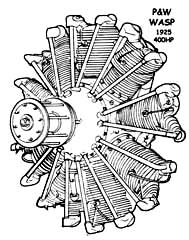 The most noteworthy feature of the Boeing 40A plane was its power plant, the Pratt and Whitney Wasp engine. A 420 hp uncowled radial engine unit, the Wasp was developed by Frederick Rentschler, whose name in the aviation world is as closely linked to the Boeing name as Hugo Eckener's is to von Zeppelin.
I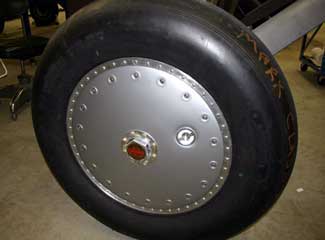 n 1920, after having worked on 150 hp Hispano-Suiza and 400 hp Liberty engines at the Wright-Martin Engine Company during the war, Rentschler and others bought out a Manhattan firm that made the country's only air-cooled engine. With some difficulty, he soon developed a 500-pound engine capable of turning out 200 hp. This became the famous Wright Whirlwind. Rentschler left this firm, however, when his board refused to back him in developing a more powerful radial engine.
Deciding to establish his own company in direct competition to other engine producers, Rentsuhler was told by his aircraft designer friend, Chance Vought, that if he could produce a 400 hp engine weighing less than 650 pounds, he, Vought, had a carrier-type aircraft in mind that could win them both contracts.
Working out an arrangement with Colonel Edward A. Deeds, formerly of the Aircraft Production Board in Washington, Rentschler and his brother formed Pratt & Whitney Aircraft, and Deeds took the helm as the Hartford-based company's first chairman. Within six months of its initial conception, on December 29, 1925, P & W's first radial engine was ready for testing.
---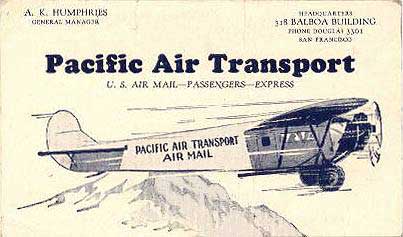 William Boeing and Rentschler had known each other from the early days when Boeing aircraft used engines manufactured by Wright-Martin or Wright Aeronautical, the very companies with which Rentschler had been associated. Because of their close friendship, Boeing stayed with Rentschler's engines when Rentschler established Pratt & Whitney Aircraft. In 1928 they decided to combine their companies into a single holding company for diverse aviation enterprises, which became United Aircraft and Transport Company early in 1929.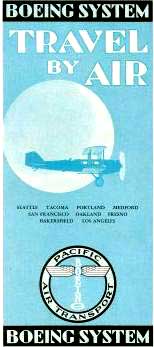 Boeing Air Transport and Pratt & Whitney Aircraft were the principal shareholders. Also becoming part of this corporation were Chance Vought, the Hamilton Aero Manufacturing Company, and Standard Steel Propeller, the latter two designing the variable-pitch Hamilton-Standard propellers. A few small manufacturers like Sikorsky Aviation Company, Northrop, and later Stearman were eventually included in the amalgamation as was Stout Airlines on June 30, 1929.
Returning to the early formation of Boeing Air Transport, it can be seen that by having a monopoly on the only radial engine available commercially, Boeing was able to gain extra revenue by replacing unneeded water-filled radiators with mail cargo space. His airline was additionally successful because he accommodated his aircraft designs for passengers as well as mail. At first passengers were a less welcome addition to the carriers' loads, since they earned more money per pound carrying mail than with passengers filling comparable space. However, passengers would soon become the prime revenue source for commercial airlines and the Boeing Model 80-successor to the famed Model 40-was one key factor in this transition.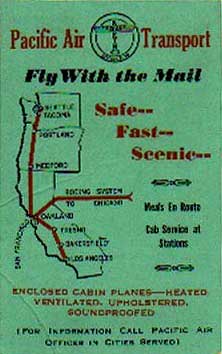 The government relinquished operations between Chicago and San Francisco at midnight of June 30, 1927, and BAT commenced service under contract the next day. Nine Post Office Department pilots effected the final government flights over the route, including veteran Jack Knight, and the very next day several BAT pilots inaugurated the long route in four sections. The pilot roster of Boeing clearly had a Post Office Department flavor, listing such stalwarts as Ernie Allison, Ira Biffle, H. A. Collison, and Frank Yager.
As of July 1, 1927, other changes relating to the air mail service had been or were about to be made. The complicated rate-based-on-zone system that was born when the contract routes were set up was abandoned, and a flat rate of ten cents per half ounce for air mail between any two points in the country came into being-a valuable step in increasing usage of air mail. Also, the lighted airway and ground radio systems were removed from Post Office Department supervision, both networks being transferred to control and operation by the Department of Commerce.
All through the early years of commercial aviation formation in the United States the emphasis among pioneer airlines had been upon mail. However, the revenue figures of one major airline clearly show an expected trend as early air mail contracts eased their holder's growing pains. In 1926, mail pay made up 95 percent of the revenues received by those companies that later were joined together by Frederick Rentschler to form United Air Lines.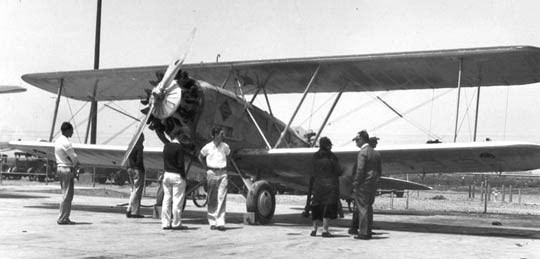 By 1935, this line's passenger revenues exceeded those provided by mail contracts for the first time, and by 1950 only 8 percent of United's revenues related to the carriage of mail.
These figures fail to describe, of course, the setback in passenger revenues caused by the Great Depression, a period when the fortunate holders of air mail contracts were again made acutely aware of just how important to their survival the air mail subsidies were. The setback to profitability generated by the lack of passengers in 1929 and 1930, however, proved temporary.
---
Not until early 1927, when the Post Office began turning airmail service over to private industry, did a modified Model 40, called the 40A, win another competition. This plane was redesigned for a lighter, air-cooled Pratt & Whitney Wasp radial engine; used a steel tube and fabric-covered structure; and had a redesigned fuselage that could carry two passengers. It was the first Boeing plane to carry passengers.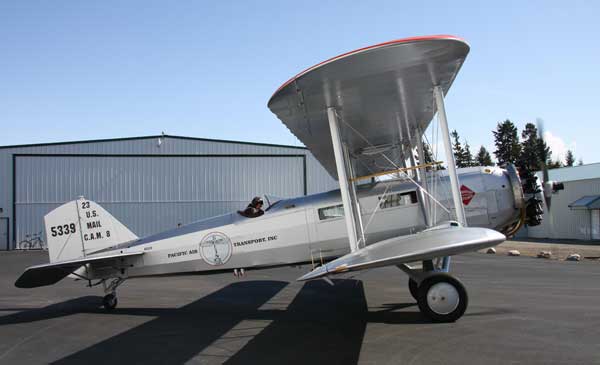 Although an initial investment of $750,000 would be needed for the 25 new aircraft, Boeing was able to submit a low bid for the San Francisco-Chicago airmail route partly because it could take advantage of the income that two passengers would provide. Boeing Air Transport (BAT) was formed as a subsidiary to Boeing Airplane Company to handle the route. The decision was right—it proved to be a profitable venture. In its first year, BAT carried 837,211 pounds of mail, 148,068 pounds of express packages, and 1,863 passengers.
---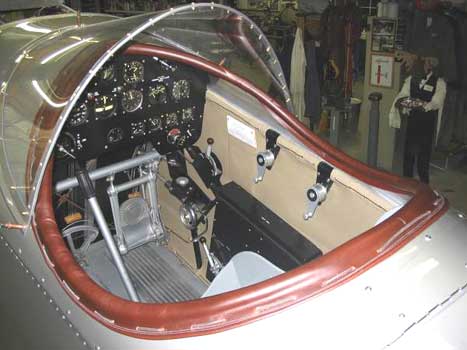 Cockpit of the Boeing Model 40 Mailplane.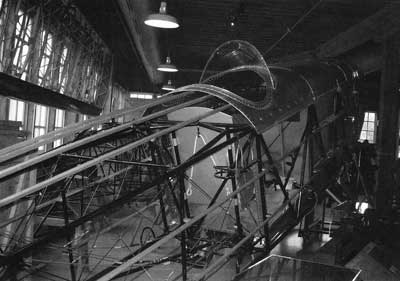 Boeing Model 40 Frame.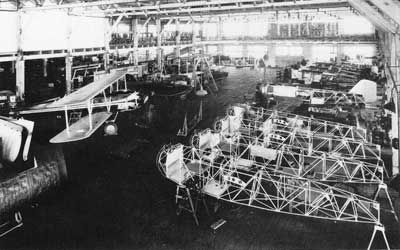 Boeing Model 40 Factory.
Specifications
First flight: May 20, 1927
Model number: 40A
Span: 44 feet 2 inches
Length: 33 feet 2 inches
Gross weight: 6,000 pounds
Top speed: 128 mph
Cruising speed: 105 mph
Range: 650 miles
Ceiling: 14,500 feet
Power: 420-horsepower
P&W Wasp
Accommodation:
Pilot, 2 passengers,
1,200 pounds of mail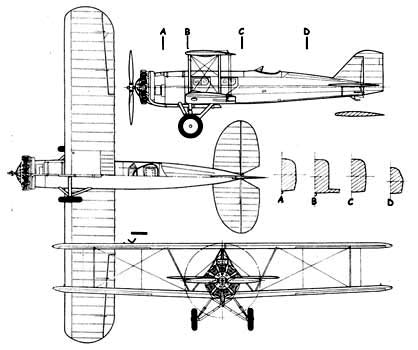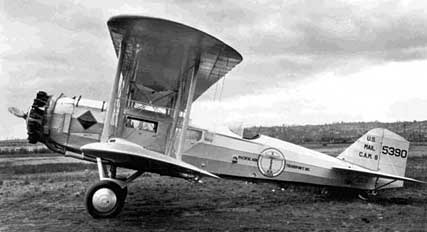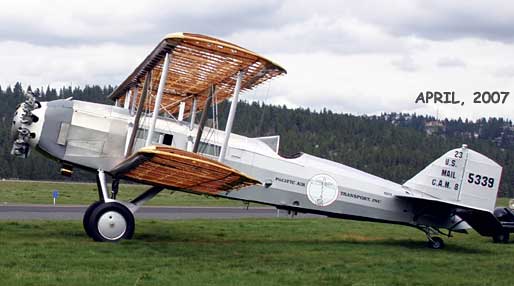 Talk about living a dream..
Pemberton & Sons Aviation in Spokane, Washington, is an organization that restores and fly's mostly antique aircraft, and some modern aircraft. Pemberton and Sons Aviation has been responsible for the restoration and/or extensive renovation of more than 16 aircraft and are based at Spokane's Felts Field.
About the Boeing Model 40..... I had a chance to ride in this very airplane.! I'm still smiling!!! I'm the one with the handle bar mustache... the nice lady is, Jane Roberts, her dad was a waist gunner on a B-17.......Robert H. Spielman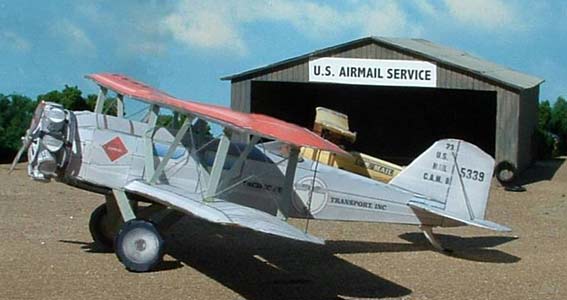 Here's the Boeing Mail plane getting ready for it's next run. See the Jenny Mail at the hanger? (that hanger sure gets a lot of mileage!) Dick Doll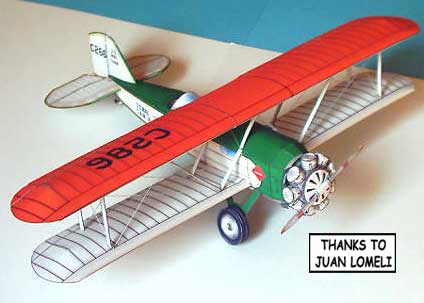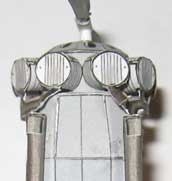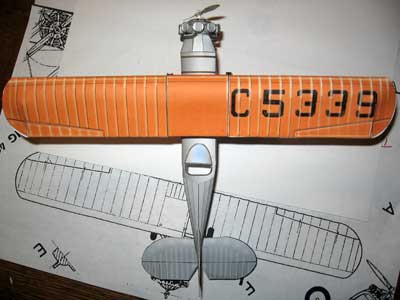 Chip, this is what I've been doing, if it meets with your approval you will have to thank Aaron, cause he helped me to learn how to do this..glenv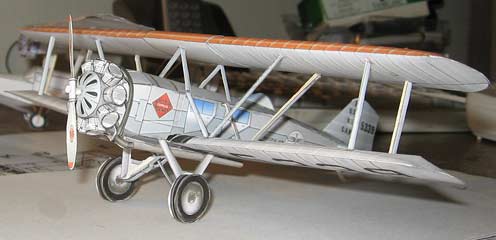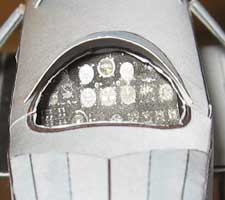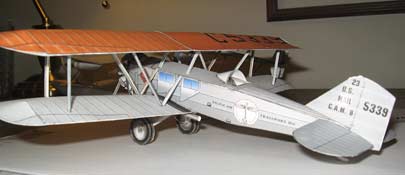 Chip, here's some pics and info you asked. I'm a family practice MD Loma Linda U '88. Personal interests Windsurfing the Columbia river, aviation history, Biology, bird watching, art in various media.




I think I'll do a Staggerwing next since I've started one, but another mailplane would be on my list, too. I owe some of my aviation interest to you, Chip, and my inspiration to Addison Pemberton here in Spokane. Addison's love for aircraft and history is infectious, and he entertains those less knowledgeable with great patience and humor. He loves to give Sawyer rides, which usually means I get to tag along, too. Somebody's got to do it...
ymp GlenV

(left) View from Glen's house..


Glen with son Sawyer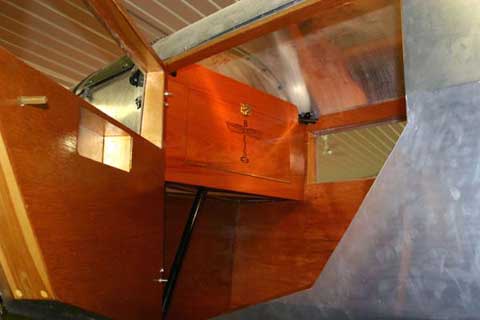 This is a photo of the interior of the Boeing 40 Mailplane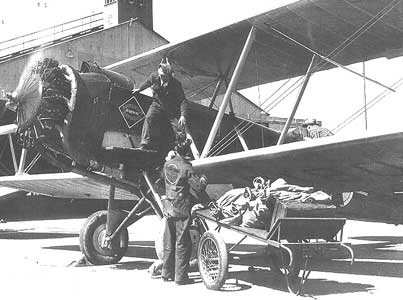 Loading the mailbags into the Boeing 40 mailplane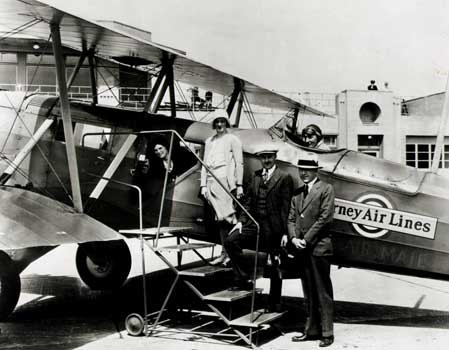 The passengers posing before climbing into the Boeing 40 Mailplane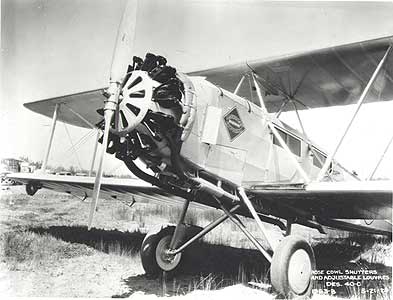 The Wasp engine of the Boeing 40 Mailplane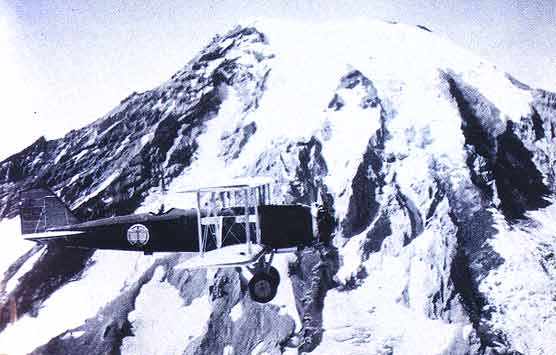 Boeing 40 Mailplane navigating the mountains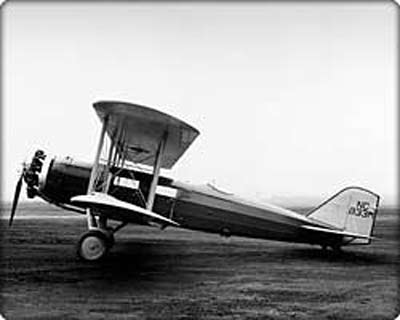 No nonsense lines of the Boeing 40 Mailplane