Bombardier - Learjet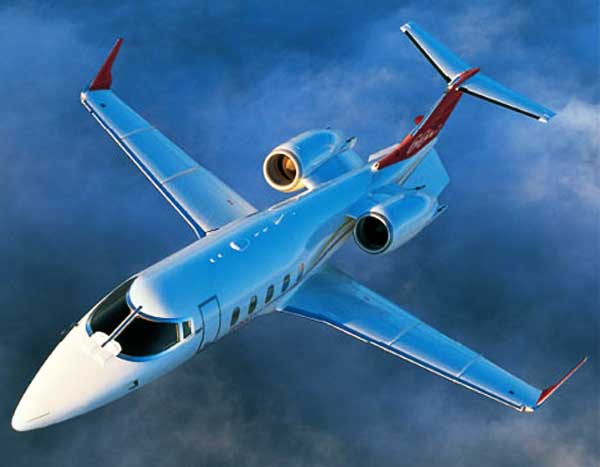 A sports coupe of the skies, the Learjet handles like a fighter (indeed, its sleek design is based on that of a Swiss fighter) and gives speed and luxury to business travelers. One of the most streamlined aircraft ever, the Learjet flies today in dozens of countries, not solely as an executive jet but also on military and scientific assignments. The Learjet is economical as well as speedy in getting small numbers of people quickly from one location to another.
The Learjet is one of the few aircraft named after a man, William Lear, who recruited designers to try features of a Swiss fighter on a revolutionary business jet. The goal was speed and luxury in business travel, and Lear achieved it. The aircraft provides the very best for hundreds of corporate jet owners.
A super ship to fly, the Learjet boasts pilot comfort, simple controls and easy handling. This familiar aircraft has a razor-like wing and twin engines out back; some models use winglets which poke up to improve the flow of air, affording better fuel consumption. Although it is small enough to be very personal and can fly to and from the shortest of runways, the Learjet has global reach, able to cross oceans and cruise at high altitude.
A few nations adapted this corporate jet for military work, giving the Lear patrol duties. But to most users Learjet means civilian journeys with speed, luxury and convenience.
---
Learjet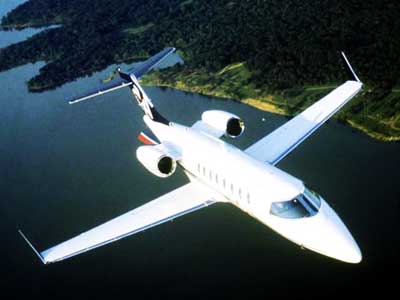 During the late1950s, William Powell Lear, Sr., started working on the idea of a personal jet aircraft for business travelers that would equal the performance of commercial jetliners. He was impressed with the Swiss fighter known as the P-16 and set up a team of engineers in Switzerland to design what later became the Learjet 23 aircraft, the first in a series of highly successful business jets. Lear established his company in Wichita, Kansas, in 1962, and the Learjet 23 first flew on October 7, 1963-nine months to the day after work commenced in the Wichita plant.
In 1966, the Learjet 23 was succeeded by the similar but improved Learjet 24, which firmly established the Learjet tradition. It had a wingspan of 35 feet 7 inches and was 43 feet 3 inches long. It had a gross weight of 13,500 pounds and carried six passengers at a cruising speed of 534 miles per hour. It was powered by two General Electric CJ610-6 turbojets, each delivering 2,950 pounds of thrust. In 1967, Lear sold the company to Gates Rubber Company in Denver, and the name was changed to Gates Learjet Corporation. Since 1990 the company has been owned by Bombardier Inc. of Montreal, Canada, and operates under the name of Learjet Inc.
By that time, the Learjet "family" included the successful Learjet 31A light jet and the Learjet 60 midsize jet, the leader in the midsize business jet category. In 1989, initial design studies for the advanced Learjet 45 aircraft were launched with what was perhaps the most extensive market research effort ever conducted for a new business aircraft.
Based on this research, Learjet decided to establish the aircraft cabin configuration first before the performance parameters and the rest of the aircraft configuration. In the final configuration, the cabin was 2 inches wider and 7 inches taller than those of previous light jets, necessitating an entirely new fuselage design with a noncircular cross section developed to provide greater headroom and shoulderroom. Cabin length was set at slightly more than 19 feet, longer than the cabins of a number of mid-size jets, so as to permit individual seats for eight passengers.
Taking advantage of the fact that the Learjet 45 was to be a 100 percent new aircraft, Learjet decided to design it entirely on computer and build it largely with the use of computer-automated manufacturing equipment. Using three-dimensional, "solid-modeling" techniques, engineers could, in essence, put the aircraft together on-screen, allowing them to check fit and identify any interferences. Problems were thus identified early, in the ''digital preassembly" phase, rather than on a hand-built mock-up or prototype aircraft.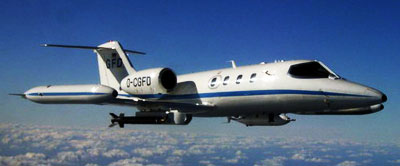 In June 1995, the first completed Learjet 45 aircraft was turned over to Learjet's experimental flight test organization for installation of flight test equipment and for final checks. The Learjet 45 made its first flight in October 1995, powered by two Allied Signal TFE 731-20 turbofan engines.
As the Learjet 45 entered service in 1997, over 1,800 Learjet aircraft, notably the Learjet 24 and Learjet 31, were delivered to customers in the United States and 40 countries since 1964. Most of the Learjets were standard business transports, but the aircraft were also used for such diverse military, as well as civilian, operations as electronic warfare simulation, aerial photography, airways calibration, air ambulance, target towing, radar training, fire-control radar, and electronic countermeasures operations.

---
| | |
| --- | --- |
| The Luxurious cabin of the Learjet. | Cockpit of the Learjet 31a. |
Specifications for the Learjet 60
Crew: 2
Capacity: 6+1 to
8+1 passengers (with belted toilet)
Length: 58 ft 7 in
Wingspan: 43 ft 9 in
Height: 14 ft 6 in
Wing area: 264.8 ft²
Empty weight: 14,640 lb
Max takeoff weight: 23,500 lb
Powerplant: 2× Pratt & Whitney
305A , 4,600 lbf each

Performance
Maximum speed: 534 mph
Cruise speed: 514 mph
Range: 2,691 mi
Service ceiling: 51,000 ft
Rate of climb: 2,158 ft/min
Wing loading: 88.7 lb/ft²
Thrust/weight: 0.39

A:

Despite all the changes that have occurred to the shape of the Learjet over the years, its long, slender nose has remained a constant trademark.

B:

The Learjet 55 was powered by Garrett TFE-731 turbofans. This very versatile engine could also be found on many other 'biz-jets'.

C: Production of the Learjet 55 ended in 1992 after 147 had been delivered. It has been succeeded by the even larger Learjet 60, and 85.
D: The Learjet 55 'Longhorn' was introduced in 1979. It was not the greatest selling Learjet version, but paved the way for even more advanced designs.
E: Wing lets - developed by a NASA engineer named Richard Whitcomb - are now found on many aircraft, but when they first appeared on the Learjet 'Longhorn' they were revolutionary.
F: 'V' -shaped ventral fins were first seen on the Learjet 55C. They helped make the aircraft more stable in flight and have since been added to all subsequent Learjet designs.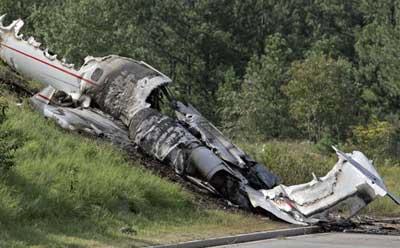 The wreckage of the Learjet carrying former Blink 182 drummer Travis Barker, Adam Goldstein, also known as DJ AM, and four others rests on an embankment near the Columbia Metropolitan Airport in Columbia, S.C. 9/21/08.