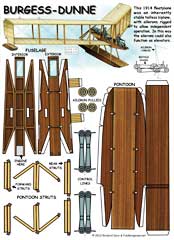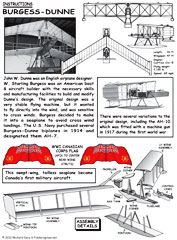 Span:45 ft
Length: 26 ft
Height:10 ft 11 in
T.O Wt: 2,140 lb
Max Speed: 75 mph


---

Engine:135 hp Salmson M9 nine-cylinder radial

W. Starling Burgess was a noted American yacht and speed boat designer and developed then built this Burgess-Dunne hydro-aeroplane- an innovative tailless pusher with swept-back wings.

(Model and kit by Richard Dery FG designer)
Burgess-Dunne Flying Wing

---
What People Say:


From Scott Fyn (9/19/2020): Back in the 1970's this was little more than some charcoal scratchings on what looked like a napkin. As a do-it-yourself-er, this was something Dad kinda wanted to do, so we progressed down that avenue until we found ourselves on Dillan Beach near Frisco with a hang glider neither of us knew how to fly. It was a two-person Seagull, as I recall. Gorgeous bird. He traded a wood carving for it. Serendipitously, there was a hang glider instructor who seemed undertasked. Dad offered him 50 bucks (half priced for two students) to take us through his practiced procedure and we were both immediately immersed in pre-crash flight procedure for crash test dummies. Don't be alarmed. Dillan Beach is a huge sand dune facing the ocean, and there is little to crash into. I couldn't get enough of it. I hiked up that dune without incident 29 times, but on my 30th flight I caught a killer updraft under my left wingtip and fought hard to lean into it. Within less than a couple seconds I was headed the wrong way into the dune. That darn left wingtip created an audible thud against the back of a particular cranium belonging to very large guy who was hiking up the hill. He was stunned but permanantly unhurt as far as I could tell. Now, and I apologize for going down memory lane here, but Vi (who was his most awesome gal at the time) had a young daughter that I was particularly fond of. She was my age. I still dream of her. She accidentally put a cigarette butt into my Coke can that weekend and we kissed not long after that. Even her little sister could see there was something going on there. I didn't know she was pregnant, but I would have loved to raise her child. Less than nine months later I had some awesome chicken cacciatore that Vi served up to us after a long day at work. She accidentally left it in to oven at 250 degrees (F) for many hours. The event was like an after-the-fact wedding shower, or an informal reception, and the guy her daughter was getting married to was okay, but I just somehow felt that she should be getting married to me instead. Oh gosh, I digress. Going back to the beach, we all wanted to see Vi fly that thing, and she was a little uneasy about it, but Dad could talk folks into stuff. We strapped her in, and although the wind had declined from a perfect 10 knots to almost nothing, and the sun was already setting, we all grabbed the wingtips of that glider and ran downhill with her hanging from that thing barely scraping the ground.
Just wanted to say: Our dreams get realized in unexpected ways. You can have a great day and wish it could have been better, but if it is among the best days you can recall, then just be glad you hurt nobody and smile back on it.
In addition to all that, Burgess was turning his talents to the manufacture of pontoons and seaplane hulls. He was already building, under license, Wright-type airplanes for the Army, and was planning to develop a tractor biplane ain addition. He was experimenting with a flying boat dubbed the 'Flying Fish', with an eye for sales with the Canadian Navy. He also took on, under license from its inventor, an inherently stable tailless airplane by constructing a pusher biplane with extreme swept-back wings and short nacelle-configured like an arrowhead, minus it's shaft in appearance.
Mounted on wheels, this unusual airplane met with an indifferent reception by the British war office, and faired little better when produced under franchise in France by the Nieuport company. In the United States, however, it aroused considerable interest, especially when fitted with a single float developed by Burgess for over water flights.
Flying over water, according to the hydro-airplane enthusiasts, had numerous advantages over land as a base for flying operations. They theorized that water represented a nearly limitless natural aerodrome and that there were more numerous "air pockets" over water than over land; and that water was "softer" to fall into water than the hard and unyielding. ground.
Thank you. I teach Canadian aviation history to our version of the Civil Air Patrol. This model will be a great teaching aid. James
Way to go Chip! You've done it again...another fine model and background information. Bud
---
This is the American version, Dunne D.8, designed for the US Navy

These are views of Richard's Burgess-Dunne D.8 Beta model. Note that all struts now require flat toothpicks for additional strength. Use #110 cardstock for this large version and #67 for the smaller size


Of course, your Burgess comes with
unflappable instructions and TWO tiny Canadian flags. Best to print on #110 cardstock (available from Wal-Mart). Print engine parts on #67 paper
---
Burgess-Dunne Flying Wing photo gallery

| | |
| --- | --- |
| Early 20th Century artists were also fascinated by the Burgess-Dunne D.8 Flying Wing | A nicely built wooden Burgess-Dunne Flying Wing model |
| Burgess-Dunne pilot waving 'hello' while passenger holds on for dear life ! | Burgess-Dunne D.8Flying wing just before taking off. Note the three bladed prop |
| Burgess-Dunne FLying wing pulled up onto a dock in the city. | You can almost hear the engine roaring as this Burgess-Dunne flying wing leaps into the air |
| Flying over the sea, the Burgess-Dunne D.8 Flying wing can land anywhere | Burgess-Dunne D.8 with anti nose-over framework attached to its nose |
| Burgess-Dunne Flying Wing drawings | Burgess-Dunne plan views. Note how the upper wing curves downward towards the tip. This is called 'washout' and is critical for stability. Also note the machine gun on the nose. |
| Canada even issued a postage stamp commemorating the Burgess-Dunne | |
| The Burgess-Dunne Flying Wing always attracted lots of attention | |
| | |
| --- | --- |
| | |



Look familiar?? This is the Easy Riser ultralilght airplane made from a kit and available.

Link



The Kiceniuk Icarus I was a revolutionary hang glider designed, built and flown by Taras Kiceniuk, Jr. in the early 1970s. Link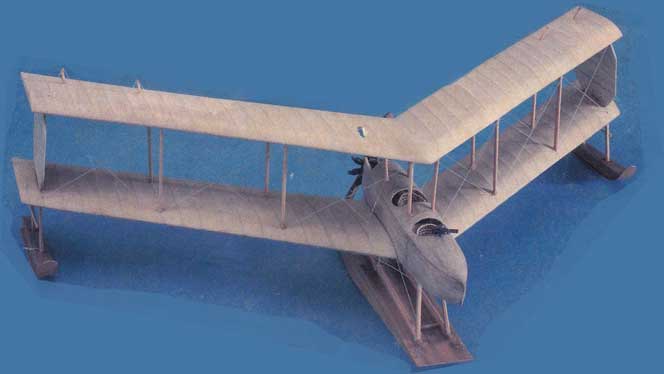 Burgess-Dunne wooden model from an old Fine Scale Modeler magazine