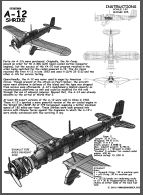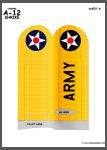 Curtiss A-12 Shrike
Curtiss A-12 - The aircraft
The Model 60 (also called the A-12), was the superlative development the Curtiss A-8. Among the biggest differences, besides a complete redesign of the canopy, is the adoption of a radial engine to replace the heavy and complicated Curtiss Conqueror inline engine of the A-8. The predilection for radial engines by the U.S. military primarily for attack aircraft was justified by the small size (harder to get hit by anti-aircraft fire) and a much simpler cooling system.

The new version was called the A-12. It had a little more success and the production was slightly larger than the previous version. It was soon supplanted by other more modern aircraft and a change in the mindset of the USAAC strategists who preferred the attack profile of twin-engine aircraft.


A small batch was sent to the Chinese Nationalists in 1936 and were used in their attack profile. They achieved some success against the Japanese naval aviation forces as fighter vectors, but in its original function as attack aircraft, the Shrike proved slow and vulnerable which caused it to be considered somewhat of a failure. The Koumitang Air Force simply relegated them to training.

In the U.S. the A-12 was never used in combat, although several of them were stationed at Wheeler Field in Hawaii at the time of the Pearl Harbor attack. The last were withdrawn from service in 1942.
---
Curtiss A-12 Shrike Tutorial and Build Instructions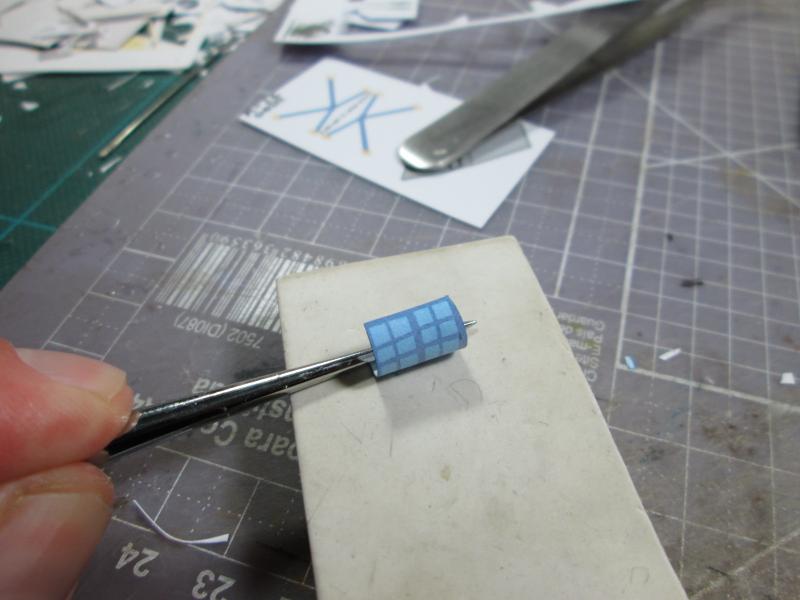 If you plan to build this model, you might like to follow along with the steps that were taken by Pericles, who does a splendid job of documenting his builds. This particular tutorial includes 80 color pictures with lots of great tips and procedures that are often used by expert paper model builders. Click Here to see the tutorial.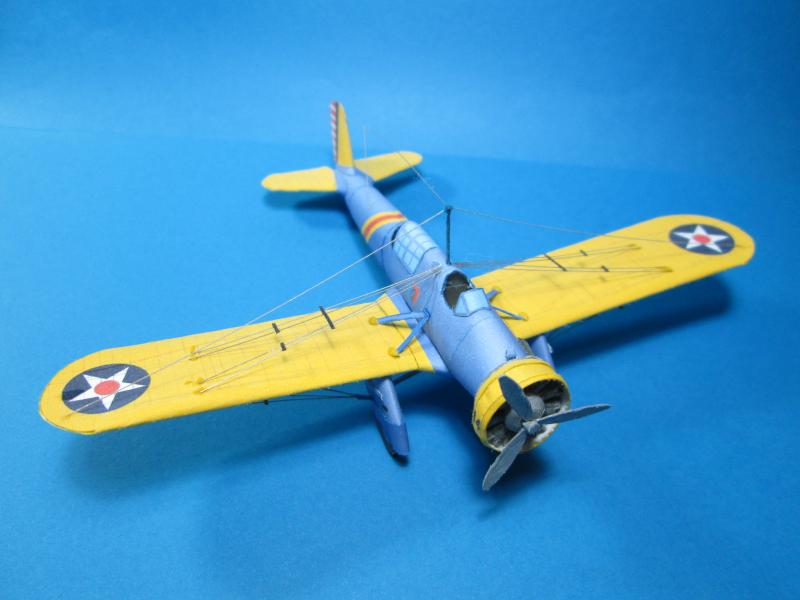 ---
For more information on the A-12 Shrike, you can visit the National Museum of the US Air Force Click here for that.
Due to cutbacks in Uncle Sam funds, that website might not be avaiable much longer, so I'm going to include some of that content here.

CURTISS A-12

The A-12 was the production version of the Curtiss YA-10. The YA-10 was converted from the first YA-8 (S/N 32-344) and was primarily designed to test the feasibility of a radial engine version of the Curtiss Shrike. Beginning in the early 1930s, the Army Air Corps General Staff began to favor the air-cooled radial engine over the liquid cooled "V" engine. The two primary reasons for this change of thinking were: 1) the liquid-cooling system was very vulnerable to ground fire damage during low-level attack missions, and 2) the radial engine was simpler to maintain and cheaper to operate than a comparable liquid-cooled engine.

Forty-six A-12s were purchased. Originally, the Air Corps placed an order for 46 A-8Bs (with liquid-cooled Curtiss Conqueror engines), but the success of the YA-10 test program resulted in the order being switched for the radial powered A-12. The Air Corps received the first A-12 in late 1933 and used it (S/N 33-212) and two other A-12s for service testing.

The A-12 also incorporated some design changes. The most notable was the spacing of the two cockpits. All previous Shrike models had widely spaced cockpits; however, this hampered cooperation between the pilot and observer/gunner, so the rear cockpit was moved forward.

The A-12 served mainly with the 3rd Attack Group and the 37th Attack Squadron of the 8th Pursuit Group. In 1936, some A-12s were transferred to Wheeler Field, Hawaii, and later reassigned to Hickam Field, Hawaii. The commander of the 3rd Attack Group at this time was Lt. Col. Horace Meek Hickam, who was killed on Nov. 5, 1934, when the A-12 he was piloting crashed while landing at Fort Crockett, Texas. Hickam Field was named in his honor. Some A-12s were still at Hickam Field on Dec. 7, 1941, when the Japanese attacked; however, none of the aircraft saw any combat. The A-12 was withdrawn from service soon after. 

Special Projects
The first three A-12s (S/N 33-212, -213 and -214) were retained for service testing; however, other aircraft were involved in test and modification programs during their service lives.

One of the simplest modifications involved adapting the aircraft for operating on snow. The main landing gear wheel covers were removed and F-1 skis were added. The F-1 ski had a slot in its center to allow the tire to pass through. With the F-1 skis added, the A-12 could operate on regular runways, grass and dirt fields, as well as on snow and ice.

After the 26th Attack Squadron was formed at Wheeler Field, Hawaii, the Air Corps conducted a test program to analyze an emergency flotation system. The program, which reached the test phase, involved adding an overwing streamlined structure just outboard on the struts. Each 'box' contained an inflatable air bladder that could be used in an emergency to keep the aircraft floating in case of a forced water landing.

The A-12 was never used in combat, but could carry a variety of light bomb loads. The maximum external load was 488 pounds (four 122-pound bombs) carried on external underwing racks. Internally, the A-12 could carry up to 10 30-pound bombs in a small bomb bay located behind the pilot's cockpit. The bombs were carried vertically, five on each side on the main fuel tank. The main fuel tank could be jettisoned in flight in an emergency.

The A-12 also had limited reconnaissance capability with observer operated cameras mounted. The A-12 could carry parachute flares for illuminating battle areas at night either for reconnaissance or attack.




Type
Number built/
converted
Remarks
A-12
46
Production YA-10



TECHNICAL NOTES:
Armament: Four forward-firing .30-cal. machine guns and one flexible .30-cal. machine gun for the rear gunner, plus provisions for up to 488 lbs. (4x122 lbs.) of bombs mounted on wing racks
Engine: Wright R-1820-21 Cyclone of 690 hp
Maximum speed: 177 mph
Cruising speed: 151 mph
Range: 521 miles (without external 52-gallon belly tank)
Service ceiling: 15,150 ft.
Span: 44 ft. 0 in.
Length: 32 ft. 3 in.
Height: 9 ft. 0 in.
Weight: 5,756 lbs. gross takeoff weight
Crew: Two (pilot and observer/rear gunner)
Serial numbers: 33-312 to 33-257; Curtiss Model 60