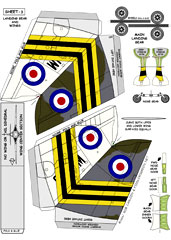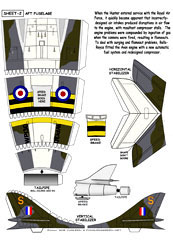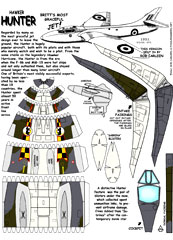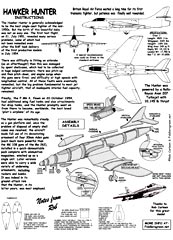 Hawker-Hunter - $$4.95
The Hawker Hunter is generally acknowledged to be the best single-seat fighter of the mid-1950s. But the birth of this beautiful baby was not an easy one. The first test flight, on 21 July 1951 made it obvious that a few problems needed to fixed. Eventually the Hunter went on to become, arguably, the best loved airplane of its age. Prolific designer Rob Carleen created this fine Hawker Hunter cardmodel. The folder comes with two sizes of Hunter and no fewer than FIVE versions.

Hawker Hunter Jet Fighter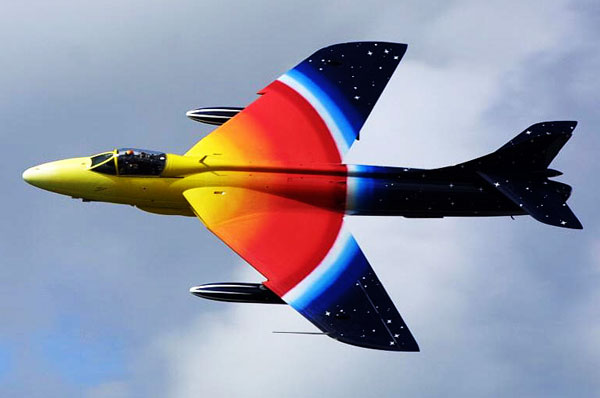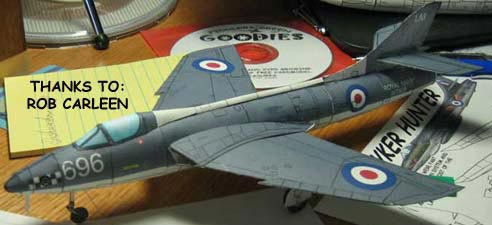 Designed to a 1948 requirement, the Hunter was a major British success in the 1950s. Production totalled 1,985 aircraft, including 445 made under license in Belgium and the Netherlands. The prototype flew in July 1951 with a 6,500lb thrust Avon 100 series turbojet, and was supersonic in a shallow dive. The Hunter F.Mk 1 entered production in 1953.
Britain's Royal Air Force waited a long time for its first native transonic aircraft, but patience - or rather impatience - was finally well rewarded. The Hawker Hunter is generally acknowledged to be the best single-seat fighter of the mid-1950s.
But the birth of this beautiful baby was not an easy one. The first test flight of the Hunter was, on 21 July 1951, revealed many serious problems, some of which had not been remedied even after the RAE took delivery of the first production Hunters in July 1954. There was difficulty in fitting an airbrake (as an afterthought); then this was damaged by spent shell cases, which had to be collected in huge bulged containers; there was pitch-up and then pitch-down, and engine surge when the guns were fired; and difficulty at high speeds with longitudinal control. All of these faults were eventually remedied, but the big problem fundamental to most jet fighter aircraft, that of inadequate internal fuel capacity, remained unsolved.
However, the F.Mk 4, flown on 20 October 1954, had additional wing fuel tanks and also attachments for drop tanks, and the Hunter promptly went on from there to become, worldwide, the best loved 'pilot's aeroplane' of its age. It could tolerate almost any abuse, it was close to perfection in handling, It had no flight limitations, it was virtually unbreakable and it had excellent engines. These and numerous other outstanding qualities endowed the Hunter with a reputation that was second to none. It was very handsome in appearance, and a marvelous airplane to fly.
---
This is the Hawker Hunter model that won the FG Modeling Madness (FGMM) 2010 best in class prize.
Thanks to Péricles Lopes Gomide Filho for his entry !!
What people say...
Thank you so much for the hunter. What an amazing jet and an amazing model (I built Rob's pre release). I have been waiting for this jet for ages. Don't you just love weekends? Nikki (8/06)
---
Just wanted to say thanks for the Hunter. The colorings are fantastic. Nice to see a Brit plane added to the jet group. Maybe we'll see a Vulcan some day? (hint hint) BB
---
Thank you so much for the hunter. What an amazing jet and an amazing model (I built Rob's pre release). I have been waiting for this jet for ages. Don't you just love weekends?
---
Thanks all, for your positive words about my latest endeavor. Hope you like the DC-9 as much. Rob Carleen
---
Now this is weird,
Yesterday the Hunter Family went to an air show. Young Miss Hunter, 3 and a 1/2 years, was most confused to learn there was a Hawker Hunter. By the end of the day names had been transposed and she was the Hawker Hunter and the fighter was Georgia... (Mk 1 obviously). This dad was very pleased. Thanks guys, there will be a fleet or squadron building for Miss H's ceiling... Tally-Ho!
David Hunter
---
Cool model man, the curves are realistic. I cant wait till Friday to see your next model! Modeler Pal... Modee
---
Hello, Everybody !
Those blisters on the bottom of the Hunter's fuselage used to catch the links holding the cartridges together in the ammunition storage, called "Sabrina's" were aptly named for an English pin-up model/aspiring actress from the 'fifties and early 'sixties whose real name is Norma Sykes, who adopted the nom de entertainment of "Sabrina" because she did not like her given name. Sabrina's claim to fame was her "fuselage" of 40DD - 18 - 35. Guess that 'bout 'splains it all. Except . . . that she is still alive and living in retirement in North Hollywood, CA. When she could not find work in Hollywood, she married a physician and retired from the public eye. There is a nice article about her in www.Wikipedia.com under "Norma Skyes". She may be 80 years old, . . . but she's still Sabrina !! Go ahead and have a peek. And to keep Mama' off your case, you can call in "Research" (wink-wink-nudge-nudge).

Remember, she was in competition against Marilyn Monroe, Mamie Van Doren, and a half a dozen other of the same ilk. Those boys in the RAF knew exactly what they were defending, yessiree. Is this a great hobby or what????? -john
---
---
| | |
| --- | --- |
| | We spend just about as much time on the informative and easy to follow instructions as we do on the model itself. Please email us if you find any errors. |
---
F.1 Hawker Hunter British Jet Fighter

The Hunter design, embarked upon as early as 1948 by a team led by Hawker's Sir Sydney Camm, introduced several new features in its cockpit arrangement, being the first-ever British layout to provide from the start of design for the fitting of an ejection seat. All instruments and controls fell readily in sight or to hand, an invaluable aid to pilot efficiency, especially when maneuvering at high speeds.
Later Hunters were capable of level flight at Mach 0.95. and supersonic speed was easily reached in all versions by putting the aeroplane into a 30° dive from heights above 30,000ft. Recovering was equally simple: the pilot merely needed to throttle back as he eased out of the dive and, if necessary, use the airbrake. The Hunter was remarkably steady as a gun platform and, once the problem of disposal of empty shell cases was resolved, the aircraft made full use of its devastating armament of four 30mm Aden guns (each much more powerful than the MK 108 guns of the Me 262), installed in a quick-de mountable pack complete with ammunition magazines, winched up as a single unit. Later versions were able to carry a wide variety of under wing armaments, including rockets and bombs. It was indeed in its ground-attack role that the Hunter, in its latter years, was most employed.
In 1953 the next stage was to be a Hunter with an afterburner, but Camm did not like this. He preferred to use a more powerful basic engine, and Rolls-Royce had produced one: the 10,000 lb thrust Avon 203. The result was the Hunter F.6, and it had an all-flying tailplane, and wings with a dogtooth leading edge (retrofitted to earlier versions). It was different from its predecessors not so much in appearance as in performance. So much so, in fact, that it was adopted by the famous Black Arrow aerobatic display team of the RAF's No III Squadron, and also by the rival Blue Diamonds team of No 92 Squadron. In its more practical application, the E.6 as a fighting machine was fitted to carry a formidable array of weapons - two 1000 lb bombs and two 100-gallon tanks, or 2in rocket batteries on the under wing inner pylons and 3in batteries on the outers, or various retarded bombs and other stores. Each of these variations was additional to the removable pack of four 30mm Adens.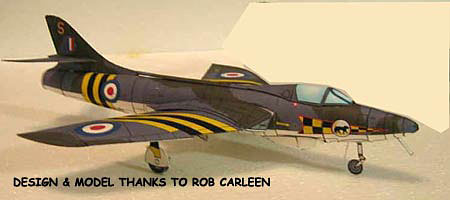 This assortment of devastating firepower was developed further in the FGA.9 (fighter, ground attack), with a strengthened airframe for sustained high-weight operations carrying increased under wing loads, and with a braking parachute above the jet pipe. This reached the RAF in October 1959, with No 8 Squadron based at Khormaksar, Aden.
When in April 1968 Fighter Command effectively became Strike Command, Britain's tactical support and strike force was mainly represented by two FAC.9 squadrons, Nos I and 54. The last of this type was flown by No 8 Squadron, disbanded on its return from the Far East at the end of 1971. A few went on for use as trainers at RAE Valley, and with the Tactical Weapons Unit at Chivenor and Brawdy.
Fighter and attack Hunters served with over a dozen air forces scattered all over the world, In its final form for export, the Hunter could carry eight 500lb bombs and two Sidewinders. The Hunter was such a wonderfully 'easy' aircraft that, even in the hands of an inexperienced pilot, it could be flown at near-optimum performance. Piloted by an expert, it was one of the most deadly aerial weapons of its day, and it is fortunate that its full operational capacity was seldom exercised. RAE Hunters based in Cyprus and Malta were engaged in limited operations during the Suez crisis of 1956, and Hunters later saw some action in Aden. Basically, however, this most potent of Britain's fighting aircraft of the pre-1970 period was never deployed in anger. Some foreign air forces, though, made intensive use of its potential in both air/air and air/surface roles, notably during the wars between India and Pakistan, and with Jordan in the Middle East - but most of the Hunters then flying the world over were effective only as an ominous deterrent. The biggest fleet has been that of Switzerland.


Perhaps the most astonishing feature of this thoroughbred airplane is the fact that total production of Hunter, including those built under licence in Belgium and Holland, did not even reach 2000. However, the 1,972 that were manufactured remained in worldwide service over a period of very many years, being sold over and over, refurbished and sold yet again. Demand remained insatiable well into the 1970s and British Aerospace Kingston bitterly regretted that many had foolishly been scrapped.
It would seem that Hawker's decision to terminate production in 1966 was more than a trifle premature. Indeed, the company has profited considerably more from the overhaul and refurbishing of Hunters than it ever did from original sales.
---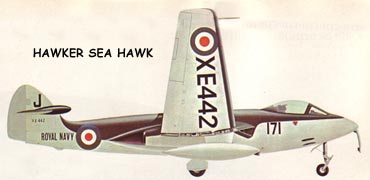 The origins of the Hunter trace back to the Hawker Sea Hawk straight-wing carrier-based fighter.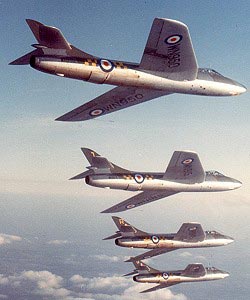 The Hunter deserves the term 'thoroughbred'. It was an outstanding export and military success for many years. Early production Hunters were specifically transonic day fighters. The Hunter F.Mk 1 entered production in 1953, and entered RAF service in July 1954, enjoying a length of service equaled by few aircraft.
The The Avon-engine F.Mk I was succeeded by the Hunter EMk 4 with greater fuel capacity and provision for under wing stores, while a parallel series with the Armstrong Siddeley Sapphire turbojet comprised the Hunter F.Mk 2 and F.Mk 5. Next came the Hunter F.Mk 6 with the 10,000lb thrust Avon 200 series engine and dog toothed wing leading edges. The Hunter FGA.Mk 9 was the ultimate operational variant, recast for the ground-attack role. There were also trainer, reconnaissance and many export variants.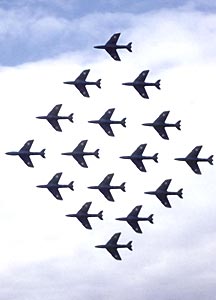 In 1946, the Air Ministry issued Specification F.43/46 for a daytime jet-powered interceptor. Hawker chief designer Sidney Camm took the basic P.1052 design and adopted it for the upcoming Rolls-Royce Avon turbojet. The Avon's major advantage over the Rolls-Royce Nene, used in the Sea Hawk, was the axial compressor, which resulted in a much smaller engine diameter and better thrust.
In March 1948, the Air Ministry issued Specification F.3/48, to cover development of the project. Initially fitted with a single air intake in the nose and a T-tail, the project rapidly evolved to the more familiar shape. The intakes were moved to the wing roots, to make room for weapons and radar in the nose. A more conventional tail arrangement was devised, as a result of stability concerns.
The P.1067 first flew from MoD Boscombe Down on 1951-07-20, powered by a 6,500 lb thrust Avon 103 engine from an English Electric Canberra bomber. The second prototype was fitted with production avionics, armament and a 7,550 lb thrust Avon 107 turbojet. It first flew in May 1952.
As a back-up, Hawker was asked to adapt the new fighter to another British axial turbojet. The third prototype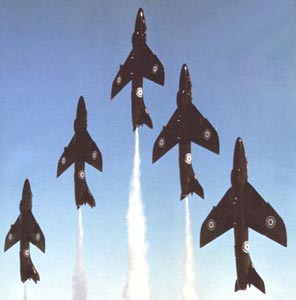 with an 8,000 lb thrust Armstrong-Siddeley Sapphire 101 flew in November 1952. The two Avon-engine aircraft were duck-egg green in color, while the Sapphire prototype was speed silver.

The Ministry of Supply ordered the Hunter into production, in March 1950, a year before the first flight.

Its short range was crippling for the new British fighter, with a maximum flight endurance of about an hour. On 1956-02-08, a flight of eight Hunters was redirected to another airfield, due to inclement weather. Six aircraft ran out of fuel and crashed, with one pilot killed. one of the aircraft that landed ran out of fuel while taxiing.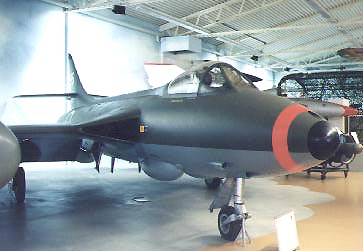 On the positive side, the aircraft possessed good handling characteristics; but it was nearly impossible to exceed Mach 1, even in a dive. Neil Williams, former British test-pilot and once vice-world aerobatics champion (Killed in an accident with a Spanish Heinkel), relates in his book how his repeated attempts to break the sound-barrier all failed, even after diving the aircraft, full throttle and 'full vertical', from over 35,000 ft.
The first Hunter prototype was fitted with an after burning Avon RA.7R with 9,600 lbf of thrust and other aerodynamic refinements (most noticeably a pointed nose). Dubbed Hunter F.3, it set a speed record of 722.2 mph over a 1.86 mile course on September 09, 1953.
To address the problem of range, a production Hunter F.1 was fitted with a new wing, with fuel bladders in the leading edge and 'wet' hard points. Thus, the internal fuel capacity rose from 404 to 497 US gallons. In addition, a single 120 US gallon external fuel tank could be carried under each wing. The resulting Hunter F.4 first flew in October 1954, entering service in March 1955.
The Hunter F.6 was retired from its fighter role in the RAF, in 1963, being replaced by the English Electric Lightning. The ground attack variants served until 1970. Some aircraft remained in use for training and secondary roles, up to the early 1990s.
---

A couple photos of Rob's beta versions.
---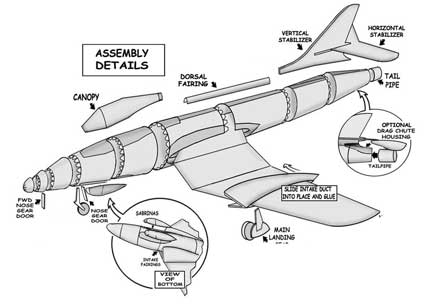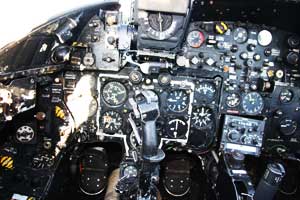 Cockpit of the Hawker Hunter.
Specifications for the Hawker Hunter F.6
Length: 45 ft 11 in
Wingspan: 33 ft 8 in
Height: 13 ft 2 in
Wing area: 349 ft²
Empty weight: 14,122 lb
Loaded weight: 17,750 lb
Max takeoff weight: 24,600 lb
Powerplant: 1× Rolls-Royce Avon 207
turbojet, 10,145 lbf

Performance
Maximum speed: 715 mph at sea level
Combat range: 445 mi
Ferry range: 1,900 mi with external fuel
Service ceiling: 50,000 ft
Rate of climb: 17,200 ft/min
Wing loading: 51.6 lb/ft²
Thrust/weight: 0.56

Armament
Guns:
4× 30 mm (1.18 in) ADEN cannons
in a removable gun pack with 150 rpg
Rockets:
4× Matra rocket pods (each with
18 × SNEB 68 mm (2.68 in) rockets) or
24× Hispano SURA R80 80 mm
(3.15 in) rockets
Missiles:
Air-to-air missile: 4× AIM-9 Sidewinder
Air-to-surface missile: 4× AGM-65 Maverick
Bombs: 7,400 lb (3,357 kg) of payload on
4× under-wing hardpoints (upgraded Singapore
Hunters had 1× centerline & 6× under-wing
hardpoints), including a variety of unguided iron
bombs and drop tanks for extended range.
Different versions of the Hawker Hunter (below)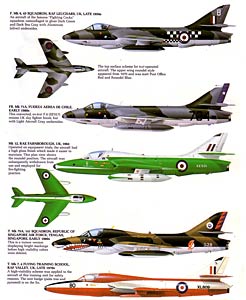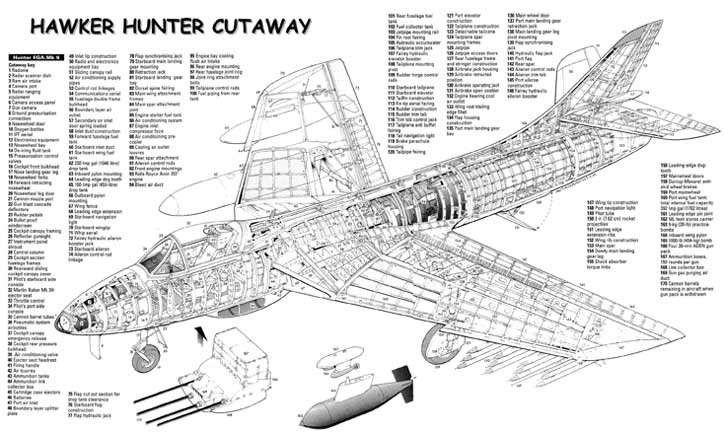 This beautiful Hawker Hunter Cutaway comes in Full size 8.5x11 PDF for FREE in your MyModels Folder.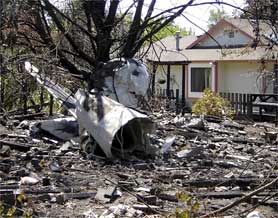 The wreckage of a 1951 Hawker Hunter jet sits in Hillsboro's Sunset Downs neighborhood after crashing, killing 73 year old pilot Robert Guilford.