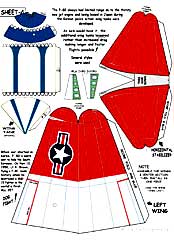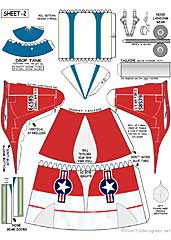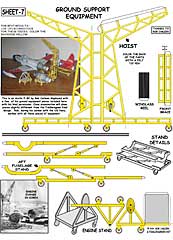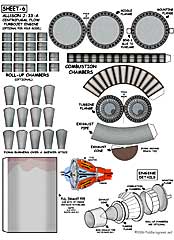 P-80 Shooting Star - $$8.50
Long awaited !! This was the first jet to tangle with a MIG 15 that was to become the first jet dog-fight ever! Rob has included a little model of the Allison J-33 Turbine that sets into the aft fuselage AND Ground Support Equipment to lift it out. Two sizes with the larger having a wing span of 15 inches. BW, Silver and Red Arctic versions included at release.

The Lockheed P-80 (F-80) Shooting Star and T-33 Jet Trainer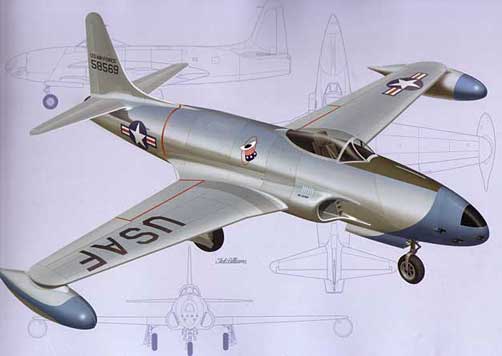 A "Hat in the Ring' similar version of the Lockheed P-80 is included in P-80 My Models folder
The P-80/F-80 Lockheed Shooting Star first saw battle in Korea and stayed in first-line service until the arrival of the more modern F-84 and F-86. It was an F-80 Shooting Star on 8th November 1950 which took part in the first battle between jet fighters in the history of aviation.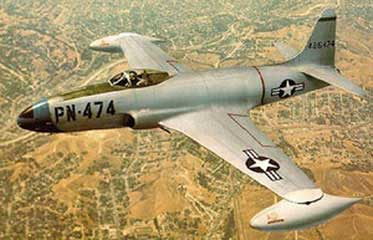 The Lockheed P-80 Shooting Star design (the letter 'F' was adopted in 1948) came to life in June 1943 when Lockheed received a request from the technical branch of the USAAF to design and build a single-seat jet fighter which could replace the P-59 Airacomet, which at that time, was still encountering difficulties in its development.
Lockheed's chief designer, Clarence "Kelly" Johnson, got a rough design ready in one week and asked for six months in which to complete a prototype. The time limit was met with time to spare when the XP-80 had its maiden flight in the following June. The first of these aircraft reached units in December 1945.
---
What people say...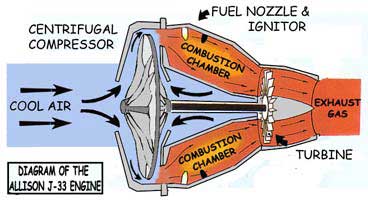 Guess I just spent too much time around jet engines and jets in general. You can see why centrifugal flow engines quickly lost favor with the industry--they were very fat and heavy, compared to the axial flow engines. The main benefit was they were nearly impervious to FOD. You could throw a brick down the intake and it wouldn't be injested--with an axial flow--a quarter inch nut could cause the engine to self destruct.. We actually used to crawl down the intakes on the F9's while they were running, to conduct leak checks and make adjustments. Actually crawl is a bit of a stretch--we just got into the intake and let the suction pull us down into the plenum chamber. Crawling back out was a bit harder..but not terribly difficult once you got the knack of it...but then I was young, flexible and about 100 lbs lighter. Rob
---
Sooper! Brings back memories of childhood...Remember those cheap plastic airplane castings? They were one piece and came in a bag...Cost like 50 cents for a bag of like fifty? The F-80 was always the most numerous one in the bag and was my personal favorite...It being, at the time, one of the "hottest" birds around...Lookin' good...Z
---
Yeah,,The P-80 kinda has a Corvette styling about it. Everything seems to have been worked THEN reworked till perfection. Mudget
---
Yes—the early '53-'55 'Vettes must have been influenced by the Lockheed design. There's a similar fluidity in the lines. I remember reading once that the old (late forties—early fifties) Cadillac fins sere a result of a GM stylist's enchantment with the look of the P-38. Rob
---
This one should be a winner. Maybe someday, I'll get the F-80's immediate successor, the XF-90 finished. Although it was horribly underpowered—it looked like it was the fastest thing on wings. All I've built is one prototype…a bit too complex for a FG model—needs internal bulkheads to effect the transitions in the fuselage shape—more like a Kancho design. Also has full cockpit and wheel wells. Just need to design some landing gear—good clear pictures of that are hard to find. Rob
---
You could always tell which kids were "flying" p-80s because their hands were fists at the ends of their "wings"
Matt S
---
The P-80 is a magnificent model Chip! Thanks for putting it up for us. Looking forward to building this one for a long time. Hope you are getting things organized the way you want them to be. I know it must be a lot of work and you are doing a great job! We appreciate it! Bob Dennison
---
Thanks for the Shooting Star, I had a Scorpion model which was somewhat similar in appearance as a kid and really liked it, and always wanted to do another. This is close enough to keep me happy, though a scorpion with neat red wing pods would be nice too. David B.
---
P-80 Ground Equipment (see also thumbnails below)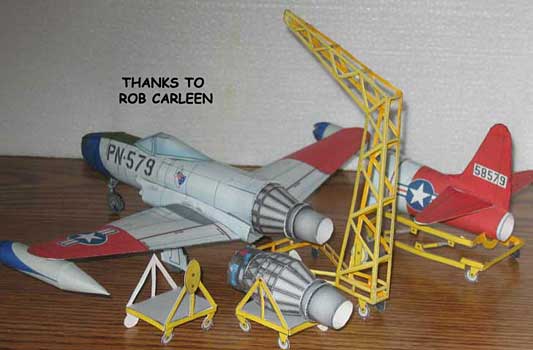 "My idea is that eventually, the modelers can collect enough ground units to create some realistic dioramas. I was looking at pictures of the P-80's in sandbag revetments and thought that might be a cool way to display the model--but I'm not artist enough to attempt to render a trio of walls made of sand bags". Rob Carleen
---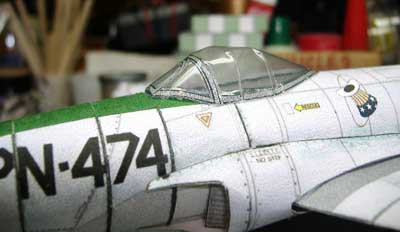 Clear Cabin Lockheed P-80 Shooting Star Submitted by Bob Martin. Thanks Bob!
---
Lockheed P-80 Shooting Star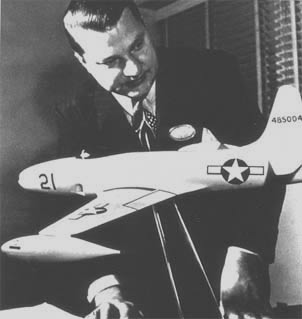 Modeln' Pal Kelly Johnson and the Skunk Works Team:

The P-80 Shooting Star program began in 1943 when a team of engineers and designers headed by Lockheed's chief research engineer Clarence 'Kelly" Johnson accepted the challenge to build an airplane that could counter the German jet fighter, the Me 262, in aerial combat over Europe. The preliminary design, using a British-designed, 3,000-pound-thrust turbojet, was submitted to the U.S. Army on June 15, 1943, and was designated the XP-80. Kelly Johnson's handpicked team, dubbed the "Skunk Works," built the first XP-80 in just 143 days, and nicknamed the aircraft "Lulu Belle". The first flight was on January 8, 1944, with Lockheed's chief test pilot, Milo Burcham, at the controls.
While the XP-80 was undergoing flight testing, a new and improved model, the XP-80A, was delivered. This airplane, of which two were built, was slightly heavier and longer than the XP-80 and incorporated the 4,000-pound-thrust General Electric 1-40 engine, insuring considerably improved performance. The first XP-80A, nicknamed the "Gray Ghost", first flew on June 10, 1944.
On February 12, 1944, General 'Hap' Arnold, Commanding General, Army Air Forces, gave his approval to build 131 P-80 fighters, which would be known as YP-8OAs . Four of these service test aircraft were deployed to Europe in early 1945 to demonstrate the capabilities of the F 80A to flight crews in England and Italy. One YP-80A crashed in England, while the remaining three continued to fly without further difficulty until the termination of the project on May 7, 1945. None of the YP-8OAs saw action in combat.
---
The T-33 ('T-BIRD' Trainer Version):

The most significant outgrowth of the P-80 program was the evolution of the T-33 trainer. The "T-Bird" was an F-80C, stretched 38 1/2 inches to accommodate a second seat. The prototype first flew on March 22, 1948, and was designated the TF-80C in June 1948, when the Air Force revised the designation given to fighter aircraft from P for pursuit to F for fighter. Designated the T-33 in May 1949. 5,691 of the T-33 were eventually produced.
---
The Arctic Version of the P-80 (F-80) and T-33 Shooting Star: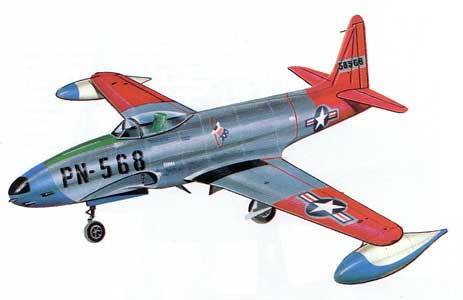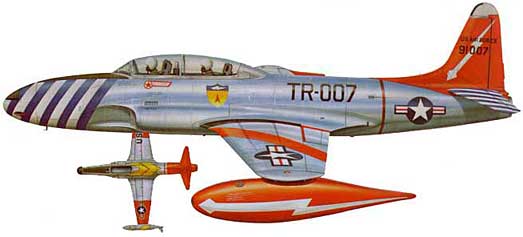 This is the
T-33
Trainer version of the Shooting Star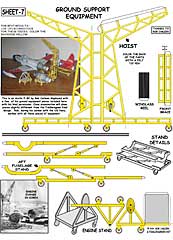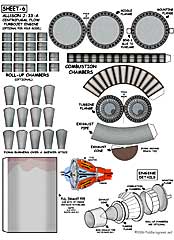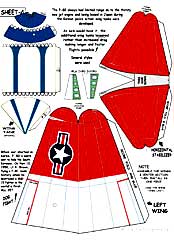 This Arctic version of the Lockheed T-33 'TBird' is
included in your P-80 Fiddlersgreen Models folder
---

The P-80 and the Korean War:

The Korean War brought 365 F-80s into operational units of the Far East Air Force. Lt. Russell J. Brown, flying a Shooting Star, destroyed a MiG-15 near the Yalu River on November 8, 1950, thus recording the first victory in an aerial combat between jet fighters. The last close support sortie flown by an F-80 was on April 30, 1953.
---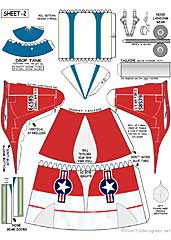 The P-80 After the Korean War:
After the Korean war, three P-80A aircraft were assigned to a project to break the transcontinental speed record. Col. William Council, Capt. Martin Smith, and Capt. John Babel were the pilots assigned. The route began at Long Beach, California, and ended at LaGuardia Field, New York, Colonel Council's P-80A flew the 2,453.8-mile trip nonstop in 4 hours, 13 minutes, and 26 seconds for an average speed of 580.93 mph. The P-80 went on to break other records, including the world's speed record on June 19, 1947, when Col. "Al" Boyd flew a P-80R nicknamed "Racey" an average speed of 623.8 mph.

The F-80Cs were completely phased out from active duty forces. Still in use, however, was the drone version, OF-80, which collected fallout samples from radioactive clouds as late as the mid-1960s. Eventually, about 100 F-80Cs went to allied nations under the Military Assistance Program. Even in its declining years. the Shooting Star did not just fade away: in fact, it endured for many years as the F-94 Star fire, an all weather interceptor.
---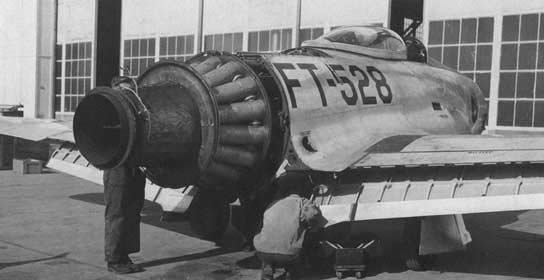 This is a great photo of the P-80 with the tail removed. Note the large tailpipe is not shown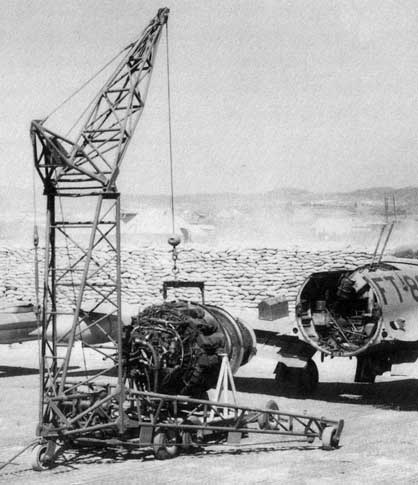 The Allison engine crane was specially built for the P-80 Shooting Star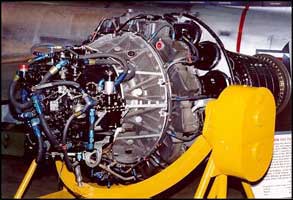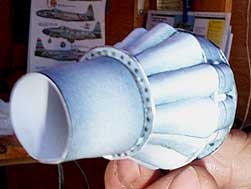 Two views of the P-80's Allison Jet engine. Which is the real one?? (hint: look for hand:)

This Sectional of the Lockheed P-80 shows much of the internal equipment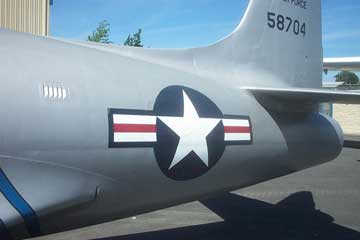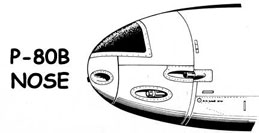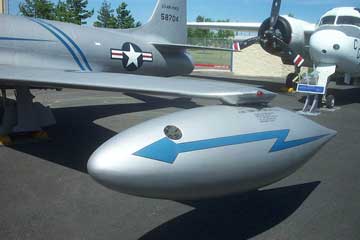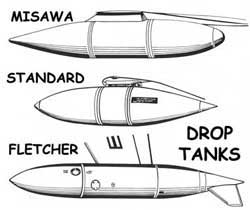 Interestingly, the addition of the wing tanks actually reduced wing tip drag.. This was not expected during the preliminary design stage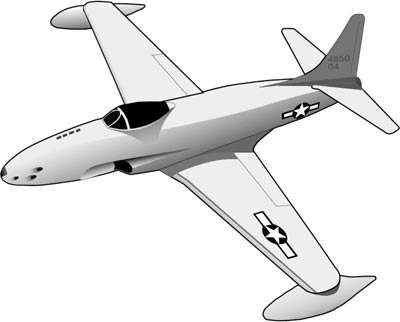 ---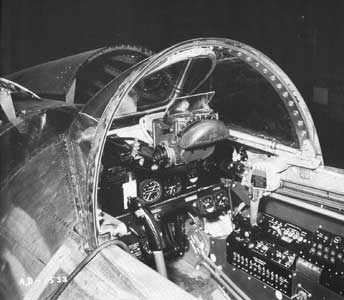 The P-80 Shooting Star's cockpit was simple compared to today's jets.
Specifications
Length: 34 ft 5 in
Wingspan: 38 ft 9 in
Height: 11 ft 3 in
Wing area: 237.6 ft²
Empty weight: 8,420 lb
Loaded weight: 12,650 lb
Max takeoff weight: 16,856 lb
Powerplant: 1× Allison J33-A-35
centrifugal compressor turbojet,
5,400 lbf
Zero-lift drag coefficient: 0.0134
Drag area: 3.2 ft²
Aspect ratio: 6.37


Performance
Maximum speed: 600 mph
Cruise speed: 410 mph
Range: 1,200 mi
Service ceiling: 46,000 ft
Rate of climb: 4,580 ft/min
Wing loading: 53 lb/ft²
Thrust/weight: 0.43
Lift-to-drag ratio: 17.7
Time to altitude: 5.5 min to
20,000 ft


Armament
6 × 0.50 in (12.7 mm) M2 Browning
machine guns (300 rpg)
2 × 1,000 lb bombs
8 × unguided rockets
A:

Dispensing with a propeller allowed designers to make use of much shorter, stronger undercarriages legs.

B:

Most of the design features of this first-generation jet fighter were very simple, including the conventional tail layout.

C:

The original 165-gal. tip tanks did not provide sufficient range, but local ingenuity produced 200-ga. fuel tank.
A: Six .50 caliber Colt Browning machine guns were the primary air-to-air armament. They were not as powerful as the MiG-15's guns, but were more accurate.
B: Shooting Stars were ruggedly constructed, with many surviving stresses of up to 13g's when pulling out of dives. Hits by 40-mm anti-aircraft fire were also absorbed with comparative ease.
C: Access to the engine was granted by removing the entire rear fuselage. Most servicing occurred on muddy airstrips.
D: Unusually for an early jet design, the P-80 had a considerable distance between its intakes and exhaust. Surprisingly, thrust loss did not seem to be a problem.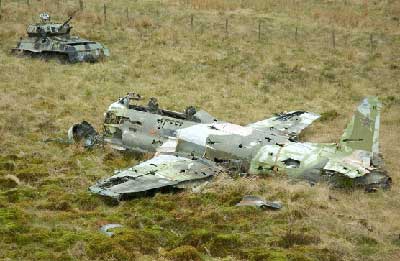 Lokcheed P-80 Shooting Star - Ground Target At RAF Spadeadam
.