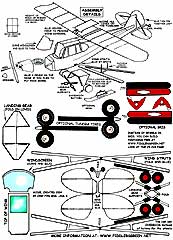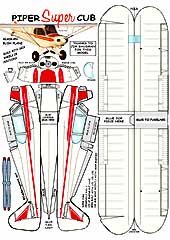 Piper Super-Cub - $$4.95
The Piper PA-18 Super Cub is a two-seat, single-engine monoplane. Introduced in 1949 by Piper Aircraft, it was developed from the Piper PA-11, and traces its lineage back through the J-3 to the Taylor E-2 Cub of the 1930s. In close to 40 years of production, over 9,000 were built. Super Cubs are commonly found in roles such as bush flying, banner and glider towing.

Piper Super Cub Light Aircraft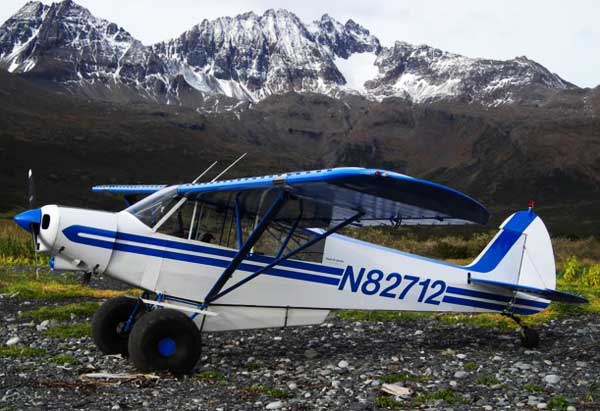 ---
FREE MODELS
to get you hooked !!

Simply register with (at least) your email address, and you will be invited to choose

3 FREE MODELS

from a folder of about 75 (!). Click here to register and get started with the fun.
Absolutely no obligation
---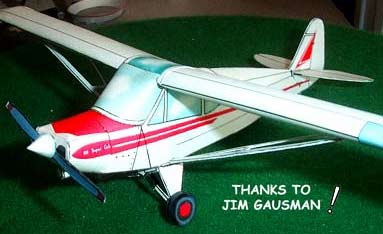 The Piper Super Cub first came on the market in late 1949. It continued in production with Piper until 1981, when the company disposed of all rights in this airplane to WTA Inc. of Lubbock, Texas.
The PA-18A was designed initially as a specialized agricultural duster/sprayer airplane introduced in 1952; it incorporated as standard a chemical hopper and spray/dusting gear, but was easily convertible for general-purpose use, and when production of the airplane ended a total of 2,650 Super Cubs had been built.
The PA-18-150 Super Cub was powered by a 150-hp Avco Lycoming 0-320 flat-four piston engine, giving the airplane a maximum speed of 130 mph, service ceiling of 19,000 feet, and a range with maximum payload of 460 miles.
---
What people say...
Chip, While I know that there are literally hundreds of different models to build, I still find that I build more J-3 Cubs than any other model. I give them away to friends and acquaintances, I help Cub Scouts and neighborhood kids with model building, etc. The J-3is still the best plane to get people started on. This weekend. I will be giving away 10 of them (built and un built) as prizes at a charity fundraiser. I have printed a couple hundred J-3s and I have built dozens of them. You would think that I shouldn't have problems wouldn't you? But, I DO have problems with the J-3Cub!
My problems seem to stem from a weight and balance issue. You have to understand that I am 6'4" tall and I put 260 lbs on the hoof. With my size and a full load of fuel the poor little Cub is just not up to my flying them around the house.
With that little engine, taking off from the bath tub with floats is hazardous to say the least. Many a Cub hasn't cleared the edge the tub with disastrous results. Short field take-offs like from the top of the computer monitor have similar problems.
The attached picture will show you what I have done as a remedy. I have taken the FG Cub and with a 150 horse engine and a new paint scheme (Piper factory standard) I am now building Super Cubs!
The short field performance is spectacular compared to theJ-3. The flaps allow for very short landings and the horsepower really makes a difference on take off. I still have to put one on floats, but I am anticipating great things. We had six inches of snow this morning... maybe I should put it on skis! As the weather clears, I will have to build some 'tundra tires' like the real bush pilots have.
I still have a few details to work out before I send you the model Super Cub, but I thought you might like to know the direction. I am taking.
BTW, I mailed a completed model of a Super Decathlon to Greg Koontz this afternoon. He should get it in a couple of days. -Jim Gausman
---
Piper PA-18 Super Cub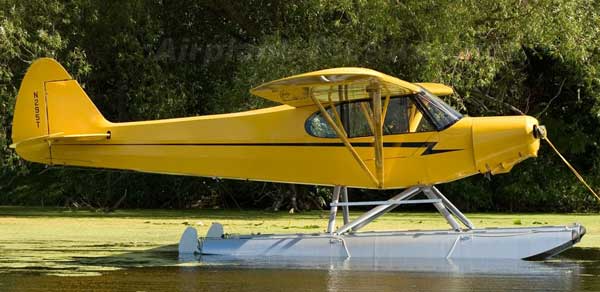 History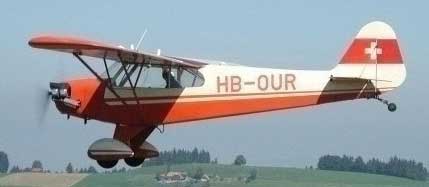 The Super Cub is one of Piper's most successful and long lived aircraft programs, with production spanning over four decades. The PA18 Super Cub was the ultimate development of Piper's original aircraft, the J3 Cub. The four seat development of the Cub, the PA14 Cub Cruiser, was the basis for the Super Cub, but the later differed in having seating for two in tandem (as on the Cub), all metal wings and, in its initial form, a 90hp Continental C-90 in the PA-18-90 or a 108hp Lycoming 0-235 engine in the PA18105. The Super Cub flew for the first time in 1949, and certification was awarded on November 18 that year. The first production Super Cubs were delivered from late 1949, the type replacing the PA11 Cub Special on Piper's production lines.

The 135hp Lycoming 0-290 powered PA-18-135 appeared in 1952, while the definitive 150hp Lycoming 0-320 powered PA-18-150 was certificated on October 1, 1954 and delivered from the following year. The Super Cub remained in production with Piper through until 1981, when almost 7500 had been built over an uninterrupted 32 year production run. Piper continued building Super Cubs on behalf of Texas based WTA who held the manufacturing and marketing rights from 1981 until 1988.
In 1988 Piper resumed marketing responsibility for the Super Cub and continued low rate production. Financial troubles meant that Super Cub production ceased in 1992, before resuming once more the following year. Finally in late 1994 Piper announced that the Super Cub would not form part of its model line for 1995 and that it would cease production after the last of 24 on order for distributor Muncie Aviation were completed.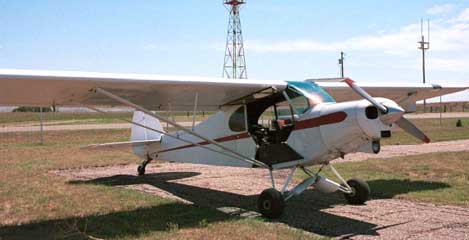 ---
Power plants

PA-18-95 - One 90hp Continental C-9012F or 8F flat four piston engine driving a two blade fixed pitch propeller.
PA-18-150 - One 150hp Lycoming 0-320.
---
Performance

PA-18-95 - Max speed 97kt, max cruising speed 87kt. Initial rate of climb 710ft/min. Service ceiling 15,750ft. Max range with no reserves 313nm. PA18150 - Max speed 113kt, max cruising speed 100kt, economical cruising speed 90kt. Initial rate of climb 960ft/min. Service ceiling 19,000ft. Range at max cruising speed and no reserves 400nm.
---
Weights

PA-18-95 - Empty 910lb, max takeoff 1500lb. PA-18-150 - Empty 946lb, max takeoff 1750lb.
---
Dimensions

PA-18-95 - Wing span 35ft 3in, length 22ft 5in, height 6ft 9in. Wing area 178.5sq ft. PA-18-150 - Same except for length 22ft 7in.
---
Capacity

Typical seating for two in tandem.
---
Type

Two seat utility light aircraft
---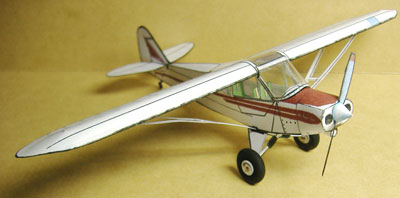 Clear Cabin Piper Super Cub submitted by Bob Martin. Thanks Bob!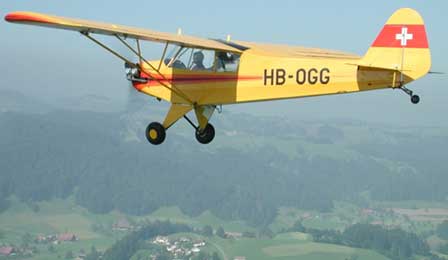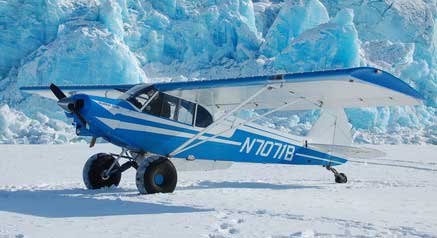 ---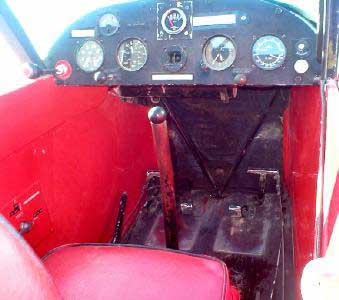 Cockpit of the Piper PA-18 Super Cub.

Specifications
Crew: 1
Capacity: 1 passenger
Length: 22 ft 7 in
Wingspan: 35 ft 2½ in
Height: 6 ft 8½ in
Wing area: 178.5 sq ft
Empty weight: 930 lb
Max takeoff weight: 1,750 lb
Powerplant: 1× Lycoming O-320
air-cooled flat four, 150 hp

Performance
Never exceed speed: 153 mph
Maximum speed: 130 mph at sea level
Cruise speed: 115 mph (75% power)
Stall speed: 43 mph flaps down
Range: 460 mi
Service ceiling: 19,000 ft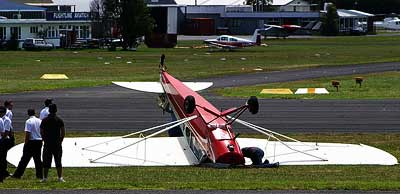 This was the expensive result of what appeared to be a wind-gust related groundloop. No injuries to the pilot, and the damage appears to be restricted to the vertical tail surface and possibly left wingtip.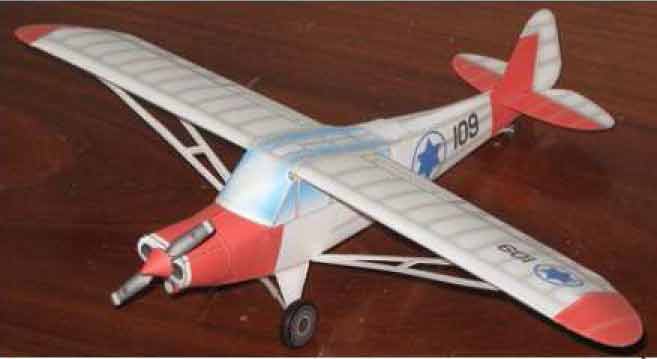 Thanks to Tim Allen for the Israeli version. He says, "Here is a repaint of the PA-18 Super Cub for you. Its actually the black and white drawings off the older version of the Grasshopper (which is just a Cub with an olive drab and new windows anyway), and the cowling from the older Fiddlers Green Piper Super Cub, plus a new Israeli paint scheme. I did it that way because the Grasshopper had a very nice B&W image and it was easier to work with it. I did a test-build and it turned out pretty nice." (added March 9th 2013)