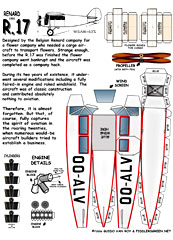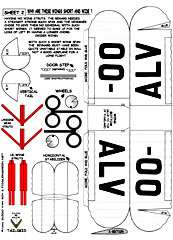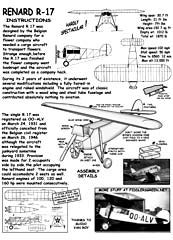 Renard-Monoplane - $$4.50
The R.17 was a high-wing cantilever monoplane, the cantilever wing an unusual feature when most contempary aircraft still had braced wings. Designed as a high-speed transport for fresh flowers no aircraft were ordered and the only R.17 was retained by the company till 1946.

1931 Renard R.17 Monoplane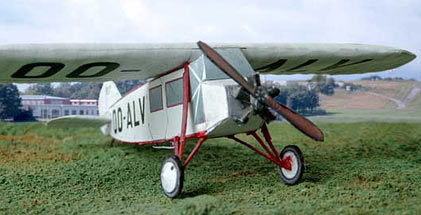 Thanks to Guido Van Roy for those two photos..AND design!!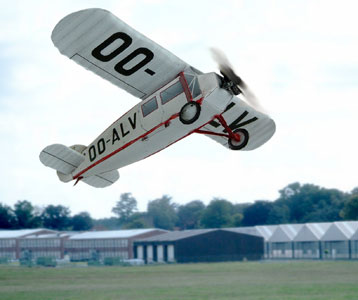 The Renard R.17 was designed by the Belgian Renard company for a flower company who needed a cargo aircraft to transport flowers. Strange enough, before the R.17 was finished the flower company went bankrupt and the aircraft was completed as a company hack.
---
What people say...
Hi Chip....Thanks for another Friday "special"...The Renard R.17 looks like a very novel and interesting aircraft...should make a great conversation piece for the aviation historians...really do enjoy looking forward to the next Friday to see what is next...makes it a lot of fun...Keep up the great work...you have a very good web site and offer great models at a bargain price ...I will be a MK supporter as long as my fingers can still move ....getting a little harder now that I am past 70...a real joy of a hobby no matter the stiffness of the joints. .Doc Daugherty 7/06.
---
Renard R.17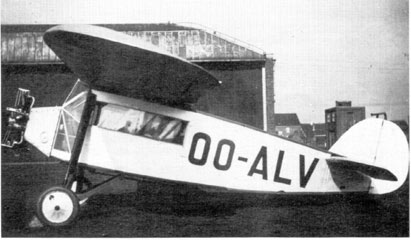 During its 2 years of existence, it underwent several modifications including a fully faired-in engine and raked windshield. The aircraft was of classic construction with a wood wing and steel tube fuselage and contributed absolutely nothing to aviation.
The single R.17 was registered as OO-ALV on March 24, 1931 and officially cancelled from the Belgian civil register on March 26, 1946 although the aircraft was relegated to the junkyard sometime during 1933.
Some data on the cargo area : cabin length 1.15m, height 1.25m, volume 1200m3, maximum cargo weight 250 kg. Provision was made for 2 occupants side by side, the pilot occupying the left hand seat. The cargo area could accommodate 2 seats as well. Renard engines of 100, 120 and 160 hp were mounted consecutively, the model and the following data depict the first version only.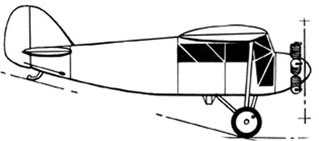 Hardly anything spectacular... no wonder the R.17 did not make it into quantity production !

---
Modeln' Pal, Dick Doll, loves to do little dioramas like the one above. and we love to share them with you like this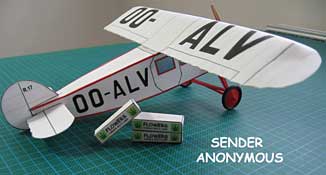 This Renard 17 is a great model, my
favorite FG model. I built 4 Renart.17: 3 are my next X-mas gifts for friends. I might start mass production of motor cylinders... or even create a small assembly line.
---
| | |
| --- | --- |
| This plan is included as a PDF in the Renard folder | Assembly Details of the Fiddlers Green Renard |
Specifications for the Renard R.17 Monoplane
Wing span : 30 ft
Length : 21.5ft
Height : 8 ft
Wing area : 193 sq ft
Empty weight : 1014 lbs
Total weight : 1874 lbs
Wing loading : 105 lbs/sq ft


Performance
Maximum speed : 102 mph
Stall speed : 50 mph
Duration to 6500 ft: 12 minutes
Maximum altitude : 13,123 ft