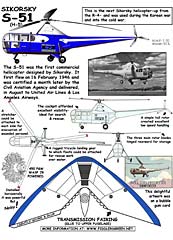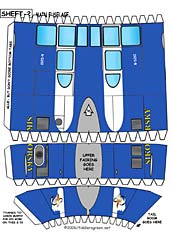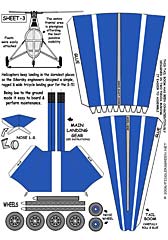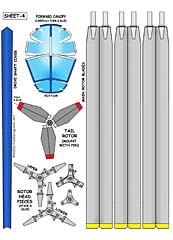 Sikorsky S-51 - $$5.95
The helicopter had come of age. Igor Sikorsky and his merry band of engineers developed a powerful and stable all weather helicopter and there was only better to come..The S-51 was long and lovely as is this cardmodel.. Two sizes and several versions.. Two are the red and blue company versions.

Sikorsky S-51 (R-5) Helicopter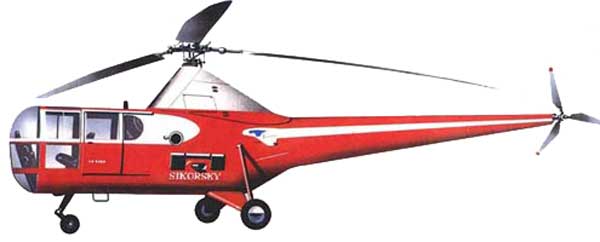 The R-4's success was immediately apparent, particularly as a spotter carried on warships, so in 1946 it was followed by the S-51, which entered service as the R-5.
It was the world's first truly practical military helicopter. The new S-51 could carry up to three passengers in addition to the pilot over a range of more than 250 miles at a cruising speed of 85 mph .
The R-5 was used for spotting and communications work, and also became celebrated in the Korean War as a rescue type, picking up pilots who had crashed behind enemy lines or into the sea. With its ability to take off and land vertically, the helicopter was also used to ferry seriously wounded soldiers direct from the battlefield areas to hospitals just behind the front, greatly improving their chances of survival.
---
What people say...
Thank you for the S-51. That chopper was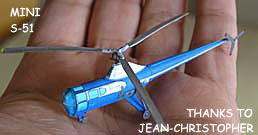 before my military time but my mind remembers Mickey Rooney wearing a green hat and flying something like that in The Bridges At Toko-Ri...Bob Penikas (see below)
---
Well, I'll be...Chip and guys, THIS is my favorite flying machine of all!! Thank you thank you thank you !! And thanks for all you're doing to make cardmodelling fun and easy. Your Modeln' Pal, Robert (New Zealand)
---
Can't wait to get started on this Sikorsky helicopter..In fact I think I'll use it as a gift for Dad who used to work on these S-51s in Korea. Well done Fiddlersgreen Thanks...William, Birmingham, UK
---
Sikorsky S-51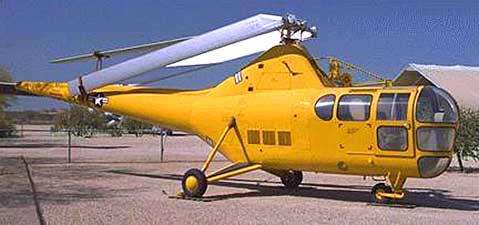 Although the new S-51 shared the R-4's basic layout, it was an entirely new design seating it's crew of two in tandem in a more streamlined fuselage.
The S-51 was the first commercial helicopter designed by Sikorsky and the USAAF announced a requirement for a larger machine which would be able to carry out tasks such as observation and rescue duties.The S-51 first flew on 16 February 1946 and was certified a month later by the Civil Aviation Agency and delivered to the first customer in August. It was sold to United Air Lines and Los Angeles Airways.
A total of 300 S-51s were built, some with 450 hp engines, others with 600 hp engines and larger diameter three-blade rotors. The military versions were designated R-5F (11 to the USAF), H-5G (38 fitted with a rescue hoist), H-5H (17 with amphibious wheel/pontoon landing gear), HO3Sl and S2 (90 in all, naval rescue version).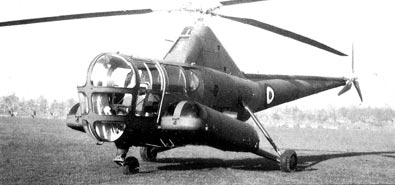 The S-51 had a three-blade articulated rotor, the blades of which could be folded back to facilitate stowage. The first aircraft had manual pitch control; this was later replaced by a hydraulic system. The cabin diameter was also increased.
---
In 1947, Westland acquired the license to build the S-51 in Britain and produced 139 up to 1953.It was the first British-built helicopter to enter RAF service, the Dragonfly was the licence-built version of the Sikorsky S-51. Like its US original, the Dragonfly was designed primarily for the civil market, but after an initial flight in October 1948 secured its best sales from the military.
The first RAE versions were the Dragonfly HCMk 2 casualty-evacuation type with the Leonides 50 radial and composite rotor blades (three built with provision for the carriage of two litters on external panniers) and the Dragonfly HC.Mk 4 with all-metal rotor blades and a hydraulic servo-control mechanism for the main rotor 12 built, with similar pannier provision to the HC.Mk 21. Total production was 139, including 80 for the Royal Navy. (Westland Dragonfly shown above)
---
---
Specifications for the Sikorsky R-5/S-51
Length: 41 ft 2 in
Rotor diameter: 48 ft
Height: 12 ft 11 in
Loaded weight: 4,815 lb
Powerplant: 1× Pratt & Whitney
R-985, 450 hp
* Tail rotor diameter: 8 ft 5 in

Performance
Maximum speed: 90 mph
Cruise speed: 70 mph
Range: 280 mi
Service ceiling: 10,000 ft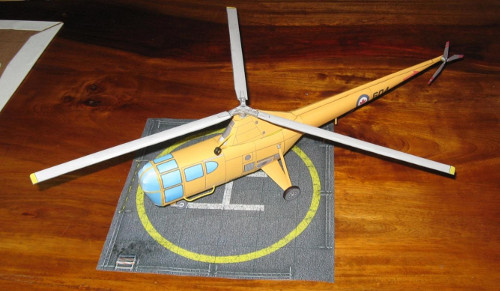 Tim's S-51 with Canadian markings (included in the folder)