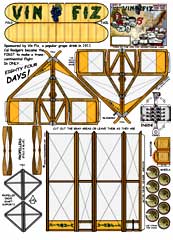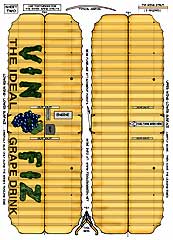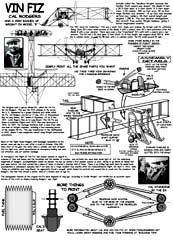 Wright-VinFiz - $$4.95
Calbraith Perry Rodgers, grandson of naval hero Oliver Hazard Perry and a risk-taking sort of sportsman, had taken about 90 minutes of instruction from Orville Wright in June 1911 before soloing, and had won an $11,000 air endurance prize in a contest in August. Rodgers became the first private citizen to buy a Wright airplane.

Wright Brothers Model B "Vin-Fiz"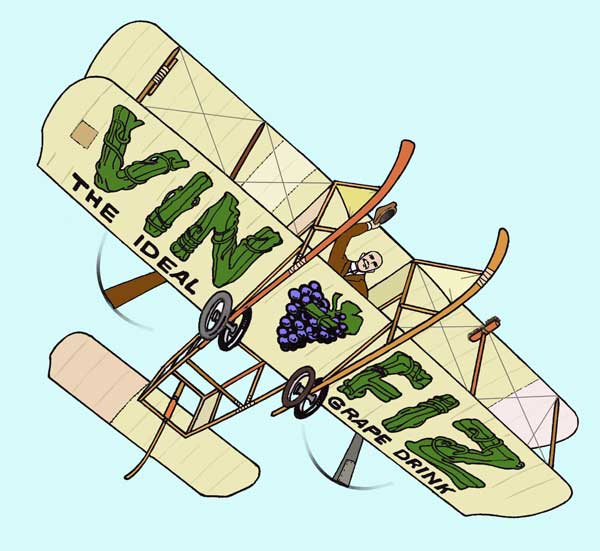 This original artwork by Derek Roberts is available in much higher quality (suitable for framing), on the Full Collection DVD.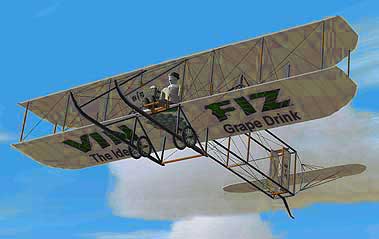 On one flight he crashed in a chicken yard and it took two days to repair his airplane, as well as his scalp.
---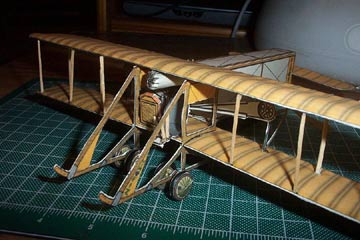 Initially called the "headless Wright" because the familiar front canard was absent, the Model B had a 38.5-foot span; 6.2-foot chord; 5.3-foot separation; 1/20 camber; 500 sq-foot area; 40 sq-foot single flexible rear elevator; 15 sq-foot twin movable vertical rear rudders; 28-foot overall length; and weighed 1,250 lb. The rear elevator distinguished this aircraft from earlier Wright biplanes, giving it better longitudinal stability.
The "EX" stood for "exhibition." This was a small, fast, single-seat airplane the Wright built for exhibition flying. Early EX's were small versions of the Model A with a canard, later EX's were patterned after the Model B with a rear elevator.
There were even a few "transitional" EX's with both a canard and a rear elevator. The EX had a 32-foot span; 5-foot chord; 21.5-foot length; and weighed about 903 lb. With the 4-cylinder motor, it could fly 55 mph; with a 6-cylinder motor, the EX could exceed 60 mph.
The Wrights built a special Model EX, called the Vin Fiz, for Cal Rodgers. This was the first airplane to fly across the U.S. Sponsored by a grape-flavored soft drink called Vin Fiz, Cal Rodgers started on 17 Sep 1911 at Sheepshead Bay on Long Island, NY, landed in Pasadena, CA on 5 Nov 1911. Later Rogers flew on to Long Beach. The Vin Fiz was flown in exhibition flights until 1914, then was destroyed in 1916. In 1927, the Carnegie Institute built a clone from odds and ends of Wright airplanes, including a few remaining pieces of the original Vin Fiz. This was transferred to the Smithsonian in 1933, where it was completely rebuilt using Wright construction procedures.
---
Cal Rodgers - Vin Fiz Wright model "B"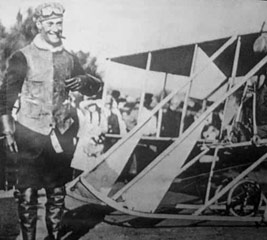 Calbraith Perry Rodgers was a member of a breed common in his time but almost extinct today: the well-born amateur sportsman with an independent income and no occupation.
He never worked a day for pay as long as he lived. In one important way, however, he was different from those of his wealthy peers: He was no hail fellow-well-met, no witty social lion comfortable in the presence of the mighty.
Though with friends and family he could be laughing and impish, with strangers he was often ill at ease, even darkly taciturn and withdrawn. For a deaf person, communicating with a hearing world is full of pitfalls. Lip reading is an imperfect art, and dealing with the often low expectations the hearing world has for the deaf can be frustrating and wearying.
Rodgers's lineage was distinguished not merely for its affluence but also for its deeds. If fearlessness, steadfastness, and love of adventure are personal qualities that can be handed down through the generations, Cal inherited them from a surprising number of illustrious forebears. One of his great-grandfathers, Matthew Calbraith Perry, commanded the naval squadron that sailed into Tokyo Bay in 1853 and opened Japan to American trade. Matthew's older brother Oliver Hazard Perry defeated a British fleet at the Battle of Lake Erie in 1813, after which he dispatched the famous message, "We have met the enemy, and they are ours."
Another great-grandfather, John Rodgers, was also a distinguished naval officer, having commanded the frigate Constellation of the fledgling U.S. Navy. Cal's father, Calbraith Perry Rodgers, had served ably as a U.S. Cavalry captain during the Indian Wars, earning mentions in dispatches while fighting the Sioux in the Big Horn Mountains and the Nez Perce in the Wind River country. On August 23, 1878, he was killed by lightning while returning to his station near Fort McKinney in the Wyoming Territory.
Five months after Captain Calbraith Perry Rodgers's death, his son and namesake was born in Pittsburgh on January 12, 1879. The infant's mother, the former Maria Chambers, was the daughter of a prominent Pittsburgher, Alexander Chambers, a glass manufacturer and bank director. Young Cal was, his family said, "lovable and affectionate." He also was a big child who always looked older than his age and early on displayed an interest in mechanical things, at one point declaring that he was going to grow up to be a locomotive engineer.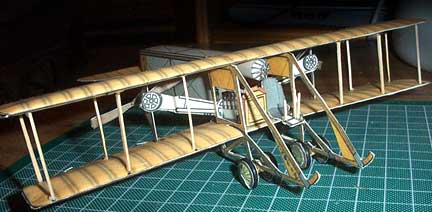 In 1885 six-year-old Cal contracted scarlet fever. For a week his temperature soared, an angry red flush covering his body, and for two months thereafter he was quarantined. He was a "different child," Lebow wrote, when he recovered. Most of his hearing was gone, and his speech was "less clear."
His sense of balance had been impaired as well, and "the happy engineer-to-be had lost some of his bounce," Lebow wrote. "Just as his formal education was to begin, Cal was missing half of what was said to him. Without concentration, most of a conversation was lost to him, adding greatly to the woes of a boy about to begin school. As if to compensate for this loss, the boy grew taller and stronger than other children of his age."
Just how deaf Cal was is open to conjecture. No records exist of an assessment of his hearing loss, except a newspaper story that declared him totally deaf in one ear and 50 percent deaf.
Isolated he may have been as an adult, but as a youngster Cal did not lack friends. Athletic competence often wins respect among adolescents who otherwise may be inclined to tease or shun a child for a physical disability. Cal may have compensated in part with sheer energy bordering on hyperactivity, especially in sports. At Mercersburg Academy he was the biggest player on the football team, at six feet three and 175 pounds.
He also was a vigorous member of many school organizations, and this youthful club ability probably helped make up for his lack of scholastic prowess. "The experience of being with young men of his age and standing on his own two feet to be judged for his deeds alone was as beneficial as learning," Lebow noted. Perhaps this foot in the door of the hearing world was all that Cal needed to be able to function, however clumsily, in it.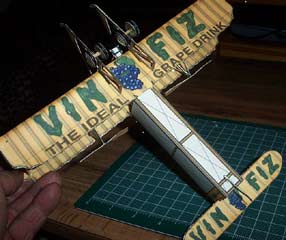 Cal had hoped to enter the Naval Academy, but his deafness kept him out, and for a decade-1901 to 191 1-he lived the unproductive life of a wellborn gentleman, enjoying his membership in the New York Yacht Club and serving as a crewman on rich men's boats. He also raced automobiles and motorcycles and married a well-to-do young Vermonter, Mabel Graves, not long after he rescued her mother when she fell into the water while climbing aboard a yacht.
In early 1911 a favorite cousin, John Rodgers, who had graduated from Annapolis, was selected by the U.S. Navy to become one of its first aviators and was sent to Dayton, Ohio, to learn to fly with the Wright brothers. According to Lebow, John told his cousin, "There's nothing like it. You're up there, watching the land glide by, bobbing, dipping as if in a boat, but you can see nothing, only feel it. "For speed, you can't beat flying."
Cal visited Dayton to see what John was doing, and though he had not yet taken his first ride in an airplane, he was immediately hooked.
---
In 1911, 32-year-old Calbraith Perry Rodgers took flying lessons from Orville Wright amounting to all of 90 minutes. With that under his belt, he purchased a new Flier, the first Wright ever sold to a private buyer, and went off to seek his fame and fortune at air meets.
A romantic model of a daredevil at the time, 6'4" tall and with an ever present cigar wedged in his mouth, former football star, yachtsman, auto racer, and grandson of Oliver Perry (hero of the Battle of Lake Erie), Cal Rodgers gained early notoriety by setting aviation endurance and speed records that summer.
However, the big one that would guarantee him a paragraph in history books was the challenge of crossing the nation by air, especially when publisher William Randolph Hearst dangled a $50,000 carrot for the the first one to do so in 30 days or less.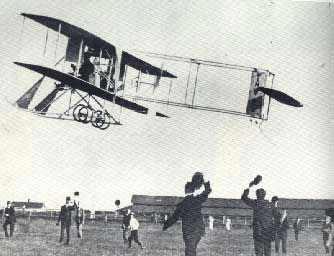 With only 60 hours in his logbook, compensated for by his bravado and self-confidence, Rodgers convinced Chicago meat packer J Ogden Armour to sponsor him in America's first flying billboard, a long-wing Wright R, modified for the flight as EX, with the name "Vin Fiz," Armour's soft drink, spelled out on its rudders and underwing's.
The plane, frail by today's standards, was state-of-the-art in 1911 ....a linen-covered, spruce-framework biplane with a 35hp water-cooled motor chain-driving two eight-foot pusher propellers. Rodgers would face a roughly 4,000-mile flight perched out in front, flying without instruments or navigational aids or maps, certainly no heater or other creature comforts, at a breathtaking (and time-consuming) 45 to 55 miles per hour. A bucket seat, an unlit cigar, and a wide nation to conquer... and not a single airport or guiding beacon ahead.
Armour arranged to have a special, three-car train filled with spare parts, fuel, two mechanics and two assistants, even Rodgers' wife, Mabel, his mother, and friend Charlie Wiggin. One car was a Palmer-Singer touring coach for accommodations, and a baggage car was outfitted as a repair shop. In keeping with the advertising blitz, the train, as well, was emblazoned with "Vin Fiz" on its sides, and would sometimes follow, sometimes lead in the journey, since Rodgers' planned route used railroads as his principal guide-the old-time flyer's famous "iron compass"-over the paths of least resistance and around fewer mountains.
At 4:30 on the afternoon of September 17, 1911, dressed in a business suit and tie sheltered under layers of sweaters and a sheepskin vest, his epic began in an open field at Sheepshead Bay, near New York City. Somewhat less than a cheering mob was witness to the takeoff since there were odds-on bets that the flight wouldn't make it past the Hudson River. But Cal fooled them. His first leg that day ended uneventfully at Middletown NY, a 104-mile trip taking nearly two hours.
Events took a bad turn on his takeoff the next morning when he snagged a tree with his wheel on takeoff and crashed into a chicken shed. Dazed and bleeding from a cut on his scalp, Rodgers climbed out of the wreckage to face an irate farm wife who demanded immediate payment for the damage.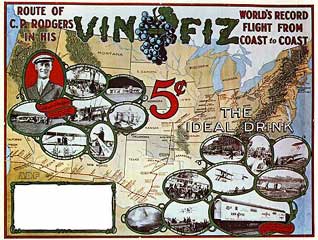 Three days were required to put "Vin Fiz" back in flying shape, then a series of other mishaps and accidents plagued his trip, slowing his progress. When he finally arrived at Chicago on October 9, it was soberingly apparent that there was little chance of capturing the Hearst money. However, still dogged in his persistence, and with basic funding by Armour-whose expenses added up to about $23,000 in 1911 dollars-he was determined to complete his conquest of the USA.
During the rest of the flight, which dragged through October and into November for a total of 49 days, "Vin Fiz" suffered a series of mishaps numbering anywhere from 16 to 39-an exact total was never calculated since definitions between rough landings and uncontrolled crashes were at the mercy of intensities and dramatic content, not to mention folklore.
In 69 stops across the country (23 in Texas alone), the attrition was demonstrated by only one rudder and a single wing strut remaining from the original aircraft by the end of the flight. Of those 49 days, only 82 hours and 4 minutes were spent in the air! Distance covered has never been verified-varied reports put it at anywhere from 3,220 to 4,251 miles. Average ground speed was a brisk 51.6 mph!
When he finally landed at a race track in Pasadena on November 5, Rodgers was already a national celebrity, and some 20,000 people were waiting to watch him land. Newspapers had faithfully recorded his progress, and towns along the route held celebrations when they knew he was coming.
Never one to turn his back on the public, he would often favor local folks with aerobatic flights, one time even doing a brief show over an Illinois penitentiary when he learned that the warden was going to release prisoners into the yard just to watch him pass-most had never seen an airplane before.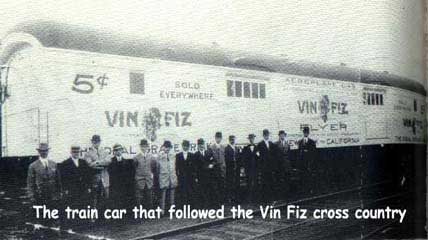 Much of the flight found Rodgers with bandages somewhere on his person, even one leg in a cast after a crash in Arizona. Only 200 miles short of his goal, the motor blew a cylinder and sent shrapnel into his right arm, which necessitated an emergency landing and medical attention, and yet another bandage.
In retrospect, the flight of "Vin Fiz" was almost comedic in regard to expense of time and money and the hardships and the number of crashes, and certainly has since been made light of, but the underlying magnitude of Rodgers' accomplishment cannot be denied. He was our nation's first pioneer aviator as such, daring to go where no human had ever gone before.
His feat earned him a place of honor in Dayton's Aviation Hall of Fame. There is no telling how much more he would have accomplished in subsequent episodes had it not been for a tragic incident four months after his transcontinental flight. On April 3, 1912, while flying an exhibition near Long Beach, he apparently struck a seagull, which fouled his controls and caused him to crash into the breakers. Cal Rodgers, the man that shrunk a nation, died of a broken neck at age 33.
The salvageable remains of the original Vin Fiz were disposed of long ago, according to Orville Wright*, but NASM has an accurate reproduction of the craft on display honoring Rodgers' epic flight. (* letter, Aero#149, page 122)
---
| | |
| --- | --- |
| Rodgers, who'd gone into barnstorming and also set a world's endurance record in the air, wanted Hearst's prize. | The 84-day trip ended after 16 wrecks along the way. Since the airplane would need a considerable support crew, Rodgers persuaded J. Ogden Armour, of meatpacking fame, to sponsor the attempt, and in return named the plane after Armour's new grape soft drink Vin Fiz. |
| He sold the soft drink maker, Vin Fiz, on sponsoring him. Vin Fiz agreed to pay three dollars a mile for the flight from Brooklyn's Sheepshead Bay, to Pasadena. | |
---
Specifications for the Wrights Model B Vin Fiz
Crew: One pilot
Capacity: 1 passenger
Length: 26 ft
Wingspan: 39 ft
Wing area: 480 ft²
Empty weight: 800 lb
Gross weight: 1,250 lb
Powerplant: 1 × Wright, 35 hp

Performance
Cruise speed: 40 mph
Range: 110 miles