Clockmakers Cozy - $$14.95
Design 2 in the Story Book House Collection. In three scales and three versions.. Includes an easy to build and FREE Spruce Tree models for landscaping.. Included are several pieces of furniture. Print to your preferred scale and as many as you need. NOW you're invited to sell MADE-UP Story Book Houses at craft shows, Holiday Faires, etc at no fee to FG. (model shown is 14 inches tall)

The Clockmakers Cozy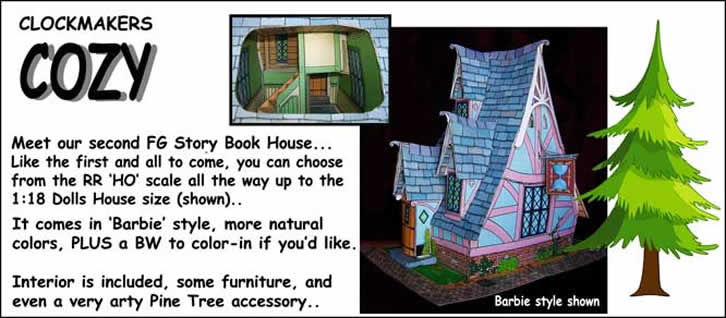 | | |
| --- | --- |
| The (easy to build) furniture included with this model can definitely be used in any other Fiddlersgreen Story Book House. Look forward to additional sets of furniture with every new model release. That green box on the left is a little dovecot. | Downstairs interior.. Look at the great winding stairs! If you're making a Dolls House and IF you have fat hands, for ease of access, why not leave the entire rear roof off? |
Instructions are easy to follow as are all FG models

.

There even are instructions on how to create transparent windows

This is a montage of the Clockmakers Cozy Story Book House showing the simplicity of construction
---
---
| | |
| --- | --- |
| | Buried under a toxic mortgage but still occupied.... |
---
---
The Evolution of the Clockmaker's Cozy (over two months)
Note: is was formally named the 'Clockmaker's Condo'. The Tower, to come later as a model of its own, has evolved into a couple pine trees.
Some furniture has been added. More to come in future Story Book Houses. (They're all the same scale)
Derek's notes are in white and red, Chip's responses in black.
Note: The tower you see will most probably be included with a Story Book House in the near future

.

We're talking about it now

.

These are a few of the latest working drawings already evolving into beta models for the next Story Book House..The 'Clockmaker's Cozy'. Note the early hints of an upcoming 'Captain's Cottage in the image to the left :)

'Thought you'd enjoy them....

chip