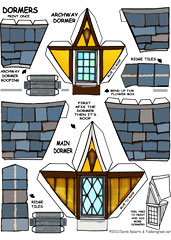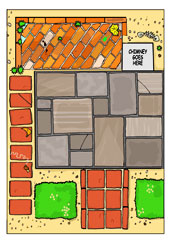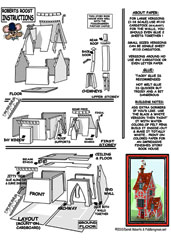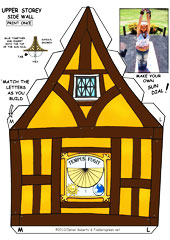 Roberts-Roost - $$14.95
First in a serious collection of Story Book Houses. Available in large sized Garden or Dolls House scale (1:18) all the way down to model railroad HO scale (1:87). Reduce and build to N or Z scales if your eyes are sharp enough :) 'Roberts Roost' is designed to compliment the centerpiece model 'Fantasy Castle'. There are plans for many other buildings to make up the village around the castle. It comes in in such a wide range of scales that the possibilities are endless. (model shown is just 5 inches)

Robert's Roost-Story Book House
Robert's Roost
From the Story Book House Collection ...Collect them all !!
Click to read all about real Story Book Houses

Derek Roberts and MAC at his studio in Norfolk, UK

The smaller version in HO scale is a pure treasure

Earliest concept drawing

.

Note before and after

Early drawings for the Roberts Roost story book house

This is the first of an entire collection of Story Book Houses that will compliment the Fantasy Castle and be part of a lover-ly little medieval-model village. Largest version is a massive 1:18 Garden scale (that's 24" tall!) to the smallest in the folder-Model Railroad HO (just 4 1/2 inches) see above.

You can set your printer to N and even Z (tiny) scales. Two colorings plus black & white so you can watercolor your own !! Difficulty level 4-for kids 8 and up
Best news!!
Need a little extra money? You're invited to sell your made up Story Book model free of copyright restrictions. Fairs? Galleries?
Use your imagination.


Working sketches of some special Story Book House features
This is the HO Scale contact sheet

-
The Garden Scale version (1:18) has 30 sheets !

---

Get this model

free

with a purchase of Magic Keys. See

Bonus Bucks-home page

Annie displaying 'Roberts Roost' but oddly concerned that I would photograph her without make up. :))


Hunter's Haven Build

Lou Dausse seems to have caught the same darn bug displaying his perfect little HO scale 'Roost'
---
What People Say:
Chip, I gotta confess I wasn't too happy about this new direction when you could have been working on the B-25, until my 11 yr old Granddaughter came over. She had almost finished the western town
when she mentioned something about a haunted house or a crooked house.Click! I showed her Roberts Roost & her little eyes lit up. Naturally we're in the process of building it together & plan to do the English
& seaside towns, and a large haunted house for Halloween. And it looks like we'll be doing much more. Dan

---
FG is looking better than ever and the addition of the Story Book Houses is like the cherry on top of the whipped cream sundae. My grand-daughters are gonna flip over these..Best wishes for you and yours and thanks! Dave
---
Good Luck with the new approach. These houses should be popular in K-12 schools by teachers and kids alike. Maybe some libraries will subscribe and keep the kids off the streets designing their own villages. Maybe there is a future Frank Lloyd Wright of paper model design out there to add to your trusty crew.Thanks. Jim
---
I just wanted to thank you for the CD of English building kits I ordered from you a couple of weeks ago. It arrived last week and I have already printed 4 models. I've been enjoying spending the evenings with the TV off, Mozart CDs on, and slowly taking my time assembling them with a strong cup of tea by my side. Bliss!

I was first introduced to FG as a child about 20 years ago. As a family, we often took narrowboat holidays on the British canals and nearly every canal-side shop would have a selection of FG postcards. Of course these were the days when they came from Banbury in Oxfordshire. They were perfect for my pocket-money and I loved building them. When I started building N gauge model railway layouts, I found a practical reason for building them, other than simply enjoying doing so. I was sorely disappointed when they became unavailable, and equally elated to have found that you have preserved their existence. Ok, printing them from a digital file is not quite as 'romantic' as wondering into a canal-side general store on a hot summer day and browsing throught the postcards on sale, but it certainly is more convenient!

My sincere thanks to you and your team and I wish you continued success with all that you are achieving. Kind regards, Oliver Atkinson 9/10
---
---
I experimented with some of the windows in the story book houses and printed them on clear sheets used in overhead projections,...I converted the PDF to .ipg format, change the black portion of the window panes to white so that when they printed they came out clear. I removed the original windows from the house and pasted the clear one behind the cutout area. This gave a little dimension and reality to the windows. For added depth I used a paper space the size of the window opening to give more depth and realism.
I used a No 2 pencil to darken the spacer and cutout white areas of the original window on pieces that showed as 3d objects like porch post I printed two (sets) and and put them back to back, used model train lichen at the foundations where plants were indicated and got a very neat 3-D effect. Regards Glenn
---
Dr John Glessner sends in this great tab idea that will be used on future Story Book Houses. His Roberts Roost model on the right is 1:60 scale

"Fun and easy to build. It's 9-inches tall at WSAM=100% scale. Just a suggestion. You may want to consider self aligning joints (see Edge Joint as a simple example) to make it easier for children (and adults) to align the edges. You could also key them to make it impossible to glue the wrong sides together. I found the letters on the tabs are absolutely essential when building." John (9/10)