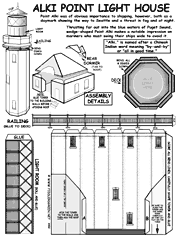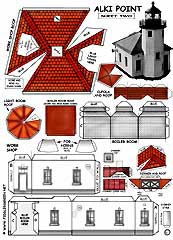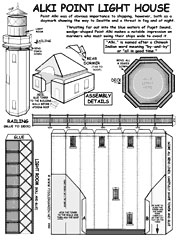 Alki Point, WA - $$4.95
Point Alki was of obvious importance to shipping, however, both as a day mark showing the way to Seattle and a threat in fog and at night. Even so, no light was displayed here until the 1880s, when landowner Hans Martin Hanson hung up a small lantern as a humanitarian gesture. In 1887 the U.S. Lighthouse Service improved the light, installing a small lantern and lens

Alki Point Lighthouse, Puget Sound, Wa

Alki Point (1887 and 1913):
Thrusting far out into the blue waters of Puget Sound, wedge-shaped Point Alki makes a notable impression on mariners who must swing their ships wide to avoid it.
Perhaps hoping it would develop into a burgeoning commercial center, early settlers called the point "New York," but it was not destined to become a West Coast Manhattan.
Alki Point Light is not tall by lighthouse standards.
The white octagonal tower rises just 37 feet above the ground.
And in its current surroundings, ringed by modern high-rise apartments and condominiums, it seems almost dwarfed.

---
What People Say...
---

"This is a very nice model, and fits perfectly. As I have said before, these FG lighthouses are among the best things Chip did. Everything fits perfectly, but it does have quite a bit more detail than the other ones I have made. I used 1/8" balsa wood to line the roof and the model's baseline to keep everything square, but I think a beginning modeler could easily figure this out by himself or herself." - Alan Wheeler

---
ALKI POINT LIGHT
Seattle (1887 and 1913)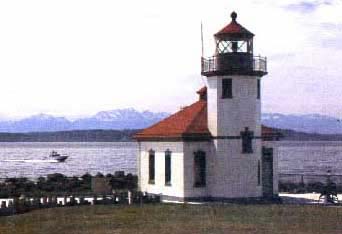 Overshadowed by bustling Seattle only a few miles to the northeast, the point languished, almost completely ignored by commercial interests. Disappointed landowners took to calling it Point "Alki," after a Chinook Indian word meaning "by-and-by" or "all in good time."
Point Alki was of obvious importance to shipping, however, both as a day mark showing the way to Seattle and a threat in fog and at night. Even so, no light was displayed here until the 1880s, when landowner Hans Martin Hanson hung up a small lantern as a humanitarian gesture. In 1887 the U.S. Lighthouse Service improved the light, installing a small lantern and lens. Hanson was paid $15 per month to keep the lamp burning.
With shipping traffic between Seattle and Tacoma to the south on the increase , the government eventually decided to build a full-fledged lighthouse on Point Alki. Buying land from Manson's heirs for $1,000, the Lighthouse Service built an octagonal, thirty-seven-foot-tall masonry tower, attached fog-signal building, and nearby keeper's dwelling. Originally, the station employed a fourth-order Fresnel here, flashing white every two seconds.
Travel information: Located just to the south of the public beach at Alki. To reach the beach and lighthouse from Seattle, follow 1- 5 then the West Seattle Freeway to the Harbor Avenue exit. Turn right on Harbor Avenue and follow it (Harbor Avenue eventually becomes Beach Drive) Along the water to the lighthouse. An active Coast Guard facility, the lighthouse is not regularly open to the public.
---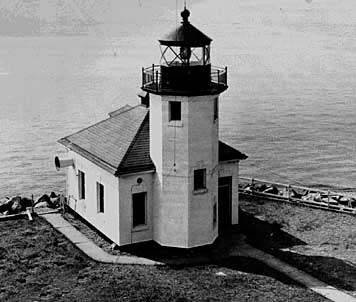 The busyness of today's Alki Point confounds the notion this is historic property. In 1851, Seattle's pioneering settlers landed here, adventuresome souls from the Midwest seeking to carve out a new existence in the awe-inspiring land of forests and mountains that confronted them.
Alki Point is equally prominent in another way. Jutting boldly to the east side of Puget Sound, it forms the south side of Elliott Bay, Seattle's broad bustling harbor Its presence close by the comings and goings of generations of marine commerce has made it a long sought-after day mark. In the late 1860s, members of the Hanson family, recent owners of the property, hung out a lantern so passing ships could guide on the friendly beacon by night, as well.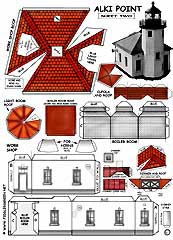 The kindly act did not escape the notice of district Lighthouse Board officials, who recognized the need to provide a more powerful light here. In 1887, the agency erected a ten-foot, brass post lantern which produced a light 12 feet above the sound. Later, it mounted a lens lantern atop a wooden scaffolding and hired Hans Hanson as "keeper," at a salary of $15 a month. After Hans died in 1900, responsibility for tending the beacon passed to his son Edmund.
Prior to 1900, the Lighthouse, Board decided to construct a fog signal on the point, although several years passed before officials and the Hanson heirs agreed to a suitable purchase price for a tract of land. In 1910, the government acquired 1.5 acres for $9,000, and two years later erected a small, square stucco building with a brick tower at the end of the point with the keeper's cottage nearby. The new station began operating in 1913.
Automation came to Alki Point in 1984, although the modern optic which replaced the original fourth-order Fresnel lens continues in operation. Active duty Coast Guard families reside in the two houses on the lighthouse grounds, which are closed to visitors. (These folks have no responsibility for the station's upkeep or tours of the lighthouse. Please respect their privacy and obey all posted signs.)
---