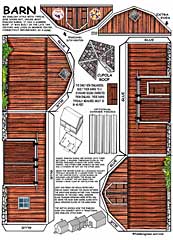 Barn-Equipment - $$4.95
The New England Barn met the needs of the general family farm. Horses, a herd of milk cows, and some feed cattle, made the barn the center of activity. This is a model of the barn that, in the 1930s, was renovated to become the happy childhood home of Chip Fyn. This beautiful house, once featured in Better Homes & Gardens, stands proudly off the Village Green in Monroe, Ct

New England Farm Barn for Equipment and Storage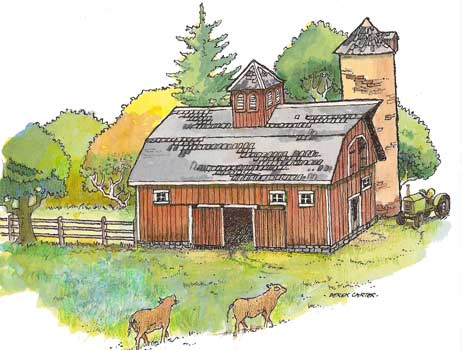 The New England Barn downloadable card model for the Fiddlersgreen New England Village Layout
A hundred years ago, eighty-five out of every hundred persons in Canada and the United States lived on a farm. Today the same figures are true for those who live in cities. The Barn is one of those lost rural treasures missing in our urban jungles. The New England Barns can speak of their purity of line, of scale, and of proportion. Indeed, the simplicity of materials jointed artfully, produce a building that is not only calming to the eye but as American as apple pie. For generations the barn has been beloved of artists who see in its simple form and the muted gray of pine or red or yellow boards something calling irresistibly for perpetuation in paint.
The New England barn's style came from the traditional English barn brought over by the colonists. It is also known as the three-bay or the Yankee. Nothing could be simpler or more modest in appearance and plan. In terms of age, it is known to have existed in England in the seventeenths century, if not earlier.
---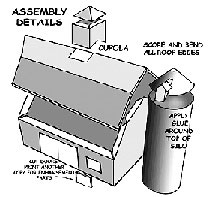 The New England Barn was designed to meet the needs of the general family farm. As long as a farmer kept a few horses, a small herd of milk cows, and some feed cattle, the barn remained the center of activity. But as general farming gave way to specialized farming, the barn went from the status of indispensable to white elephant.
Historically speaking, barns have usually been overlooked, although they speak more truthfully of the past than most architectural monuments. Their sameness of construction in America is often regarded as a lack of originality, or perhaps an indication of the early Puritan starvation of self-expression. Actually their sameness represents nothing other than a reverence for tradition. The farmer of the past had much more building education and appreciation of art than today's farmer, yet there was no urge for self-expression or f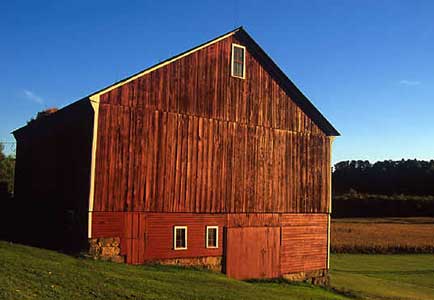 or change for the sake of change. From Maine to Virginia (though nationalities and personalities differed,) you will find beams cut in the very same manner and fastened together into designs almost as if they had all been done by the same person.
The demise of the once proud barn was almost obscenely swift. It began in the 1940's with the selling of draft horse and was completed in the 1950's when milk cows were sold too. Two major areas of the barn ceased to function. If the New England Barn were in good condition, attempts were made to develop these areas for other purposes, but in most cases the result was less than satisfactory. Farmers quickly learned that they were better off building a modern hog house or cattle shed than trying to renovate the barn.
This lead to barns being bulldozed or simply allowed to stand empty and rot on their foundations. There is a rueful joke among farmers that in any wind above 20 miles per hour, anyone with an old barn puts his wind insurance policy in his pocket and pushed against the barn for all he's worth. It is a sad irony that the loss of building which 50, 60, 70 years ago would have been considered a disaster, is now thought to be a blessing.
Old farm buildings are monuments to a dead and vanished America. The United States was founded on agrarianism, and the farm was the living symbol of our economy, but that national philosophy has now become obsolete. Replaced by capitalism, the old-time farmer is vanished Americana. Nonetheless, the New England Barn's truth and logic and their reverence for the earth, make them an everlasting treasure.
---
Sears, Roebuck Barn Mail Order Barn

Chicago monolith Sears, Roebuck & Company was truly the farm family's friend, offering everything from girdles to guitars, baby chicks to barns through its voluminous mail-order catalog-which itself then served double-duty in the outhouse.

These Sears barn kits included do-it yourself plans, doors, glass windows, and pre-cut fir, hemlock, and cypress boards that were numbered to aid easy assembly.

As this ad proclaimed, "Just as the sickle has been replaced successively by the cradle, the self rake and the binder, so the old time, wasteful, not ready cut system of construction is being replaced by our modern and economical 'Honor Bilt' Already Cut buildings."

There are so many ways to 'bash' well designed card models to make them realistic. You can cut the walls to mount your barn on a hill...Use your imagination and have fun. This Equipment Storage Barn has sliding doors in the front and back and a work shop door at one end.. The silo can be attached or not.. Use silver thread as the lightning arrester cables and dabs of glue to affix. Toothpicks for lightning rods.

---
What people say...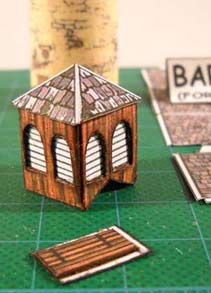 Thanks Chippers, I grew up on an old New England farm in Vermont and I remember when my family got their first car. My father transformed the equipment barn into our first garage. When I built this model I put a small model of at 1939 Chevrolet station wagon inside. Thanks for the memories...Jim, Newport, Maine.
---
Dear Fiddlers Green . . .My name is Paul and I am learning about New England in my social studies class. For my project I built your models and I got an A! My teacher liked them so much she keeps them on her desk. . . . Paul-11, Middlefield, Ohio.
---
Dear Fiddlersgreen, My kids got a huge bag of farm animals, equipment, fences, etc etc for Christmas and we started looking for inexpensive buildings to make a diorama with. Your unbelievable offer of an entire New England Village was perfect. Not to mention the fun the kids had making the paper models!! Thanks Hugely !! Terry Pettit, Barnard, Maine
---
I don't usually add a letter to this column, but this is special.. THIS model is of the barn that was remodeled in 1942 to become my family's' childhood home in Monroe Center, Connecticut. Chip
---
I managed to get the silo and cupola for the barn roof built up so far in my latest project.
Using the kit parts provided and an extra print out I managed to make the little cupola look pretty happening (see left). Jay Massey
Massive amounts of hay can be stored in the loft of the

New England Barn

Even in it's old age the

New England Farm Barn

can be beautiful

Autumn is the best time to visit New England !