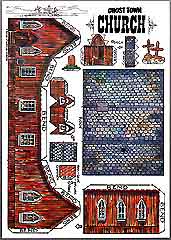 Ghost Town Church
St. Saviour's Church

This is St Saviour's Church, built in 1869 and is still standing to this day in a little gold rush town called Barkerville, B.C.
St. Saviour's Church is an adorable historic Anglican church built on the National Historic Site of Barkerville, British Columbia. Admission to the church comes with the cost of admission to the town, but when you build your own you can charge visitors whatever you like.
The real one was designed by the Rev. James Reynard and built by John Bruce and J. G. Mann during the gold rush days.
The model shown is N scale and mounted on a piece of driftwood.