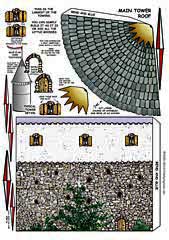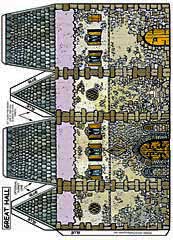 fantasy-castle - $$4.95
The Fiddlersgreen Fantasy Castle has been created in elements that you can assemble any way you wish. Make it BIG or make it small. Create your own unique masterpiece. It can be a Story Book Castle fitting in perfectly as the centerpiece of the entire FG Story Book Collection. (model shown is 14 inches high but can be ANY height!)

Fantasy Castle
This castle was made by Ricky Lawson for a 10th grade English Project! He named it "Mac Beth's Castle".
It was then entered into a County Fair and Ricky won 2nd prize! Great job, Ricky! (8/03)
Downloaded over the internet, Chauncy's Castle poses for it's portrait.

He writes..."All gussied up, and ready to go put a smile (I hope) on some kid's face. I know some kids who will love playing with this. Patti, my wife, is a case manager for children with emotional disorders. At her office, they sometimes have to talk to parents and have an area for the children to play while they do so. (This castle) is really reinforced.

"

Why this is a very special Castle...
It gets you to create your own unique personal castle... Walls,Turrets, Gate House with a Draw Bridge, Ginger-bread trim, cut out People ...there's even a Castle Satellite Dish.
You don't need instructions about how to build the castle.
The whole purpose of this Modular Uploaded Cardmodel Kit (MUCK), is to allow YOU to have all the fun creating your own unique magic castle.

---
Also, last fall my daughter and I put together a castle model (Chip's fantasy castle), for a school project and a lot of people sent us paper figures to use with it. On the upside, the teacher gave her an "A" on the project. On the other hand, he liked the model so much that he kept it. Darn! does this mean that we have to build another one? Of course. I want to reduce the parts to about half size and build a really rambling layout. Roger Cousineau (4/02)
---
CHIP:
I WANT TO TAKE THIS MOMENT TO THANK YOU FOR HELPING ME. THE WAY YOU SENT THE E-MAILS WORKED. I WAS ABLE TO WORK WITH MY NIECE, HELPING HER WITH HER SCHOOL PROJECT, A MEDIEVAL CASTLE, COMPLETE WITH WALLS, MOAT, GATE HOUSE WITH A DRAWBRIDGE, CORNER TOWERS, MAIN HOUSE, KEEP, AND STABLES (A CUT DOWN VERSION OF THE MAIN HOUSE).
SHE CALLED ME LAST WEDNESDAY TO ASK FOR HELP. WE SPENT MOST OF SUNDAY WORKING ON IT (IT WAS DUE TODAY, (MONDAY)). WITH THE HELP OF INCH AND A HALF PVC PIPE FOR THE IMPENETRABLE CORNER TOWERS), A CUT DOWN WINE BOTTLE CORK WITH A HOLE IN THE MIDDLE FOR THE WELL, A LITTLE LICHEN FOR BUSHES AND FOR THE VINEYARD, TOOTHPICKS FOR THE BANNERS AND FLAGS FLYING FROM ALL THE ROOF TOPS, AND MEN ON THE TERREPLEIN SHOOTING ARROWS DOWN AT THE ADVANCING AGGRESSOR ARMY, THE PROJECT WAS COMPLETED.
I GOT A TRUE WELSH CASTLE THROUGH AMAZON.COM. IT WAS NICE BUT WAS ALSO A THREE WEEK PROJECT. TOO DETAILED AND COMPLICATED. After 10 hours of working with my niece (who is in 8th grade) the
results looked fantastic. THANKS AGAIN, ED LUCKETT (3/25/02)
---
I just received your Mega Buildings CD and can hardly wait to start building models. I'm just not sure where I'm going to put them when they are built! I discovered your site when helping my 11 year old son build a castle for a school project. Your fantasy castle certainly saved us lots of time and headaches -- AND he made an A! I enjoyed helping him so much, I decided to build my own castle. It's not finished yet, mostly because I keep adding to it! Thanks again! A. Perry (12/16/01)
---
I can vouch that Dan's catapult can perform well under considerable strain. Using 90 lb. card stock for my model, I have fired the catapult with about 30 pennies stuffed into the counterweight bucket. While the range is modest, the overall performance of my little war machine is quite satisfactory. I was thinking of building that V-2 rocket, and I think the catapult would make a nice contrast standing nearby...

Hmmm. Considering our earlier discussion about mixing French Provincial furniture and early German artillery, I wonder if medieval siege engines would be a better decor match? ;-)
This is a great model, Dan, and I'm very impressed that it's your first design. Your attention to appearance and the woodgrain coloring are quite professional. Bravo! David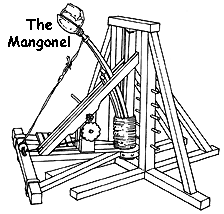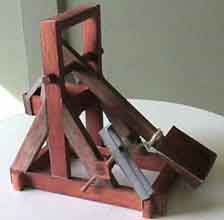 Modeln' pal, Dan Reno, has developed this new method of disposing pet
litter with a range just far enough to reach the pet OWNER'S yard.!!
---
Castles What Were They For?
What did castles look like?
Very different from each other. Early stone castles had just one square tower rn the middle, called a keep. Later castles were made up of many buildings.
What and when were the Middle Ages?
The name was later given to a period of European history. Things that happened in, or come from the Middle Ages are called "medieval".
The Middle Ages started in about the 11th century and ended about 1500. A century is a hundred years. The 11 century was from 1001 to 1100, and the 12th from 1100 to 1200, and so on. So medieval castles had about 500 years to develop and change in.
Who built them?
Kings, princes, lords and land owners had castles built. Skilled and unskilled workers actually built them. Skilled workers included stone carvers, called stone masons. Unskilled workers did all the pulling, pushing and lifting.
Where were castles built?
In areas where land needed to be protected from enemies. Once it was decided to build a castle, the best site was chosen. Castles needed a supply of water, a good view of surrounding land and as much natural Protection as possible. Castles were often built on hills for protection. Some castles added a moat.
What was a moat?
A wide, deep ditch full of water running all the way around a castle. A moat was dug to keep out unwanted visitors. People were only let in across a well-guarded bridge. A moat made it very difficult for an attacking army to tunnel under the castle's walls. The tunnel would fill with water.
What did they keep in a keep?
The most important people and their belongings. This was because the keep was the safest place there was. It kept out enemies and bad weather.
Who actually lived in the keep?
Not just the lord and lady of the castle and their family, but their servants and knights too. These included men-at-arms, pages, squires, ladies-in-waiting and a priest. As castles got bigger, lords and ladies had nicer rooms built in the courtyards. Did you know? Rich enemies weren't often held prisoner in the dungeon, but were given comfortable rooms in a castle. Their friends would then pay money for them to be let free.
Did they have toilets?
Sort of. There were Pots in the lord and lady's bed chamber, which is how they came to be called chamber Pots. Servants had to empty them. There were also things called garderobes. These were seats above chutes set in the outer walls of the keep.
Where did they sleep?
The rich had plush beds with curtains around them. The servants were less lucky. They had to bring out their thin straw mattresses and sleep wherever they could. This was often in the Great Hall.
Did they have baths?
Yes, baths were tubs like barrels. Some of these were so big that people needed steps to climb into them. Even the noblest of nobles didn't have baths very often. The tubs were carried into the bedroom when they were wanted.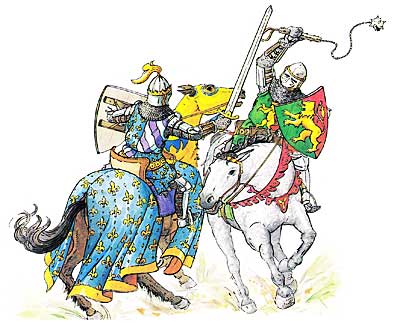 Who or what were knights?
All knights were men, but very few men were knights. You had to be "of noble birth" and train as a Page and a squire first. A knight swore to be faithful to his king and country and to his church. A knight was addressed with "Sir" in front of his name. To be recognized easily, he had a coat of arms on his shield.
What is a coat of arms?
A design made up of special pictures and symbols. Every rich family had one. They wore it on their clothes, armor and shields so that people could recognize them in battle. When people had their helmets on, it was difficult to tell who was who.
What did knights wear?
In battle and tournaments, knights wore armor. The first armor was made of thick leather, and links of metal called chainmail. Later, it was made up of very tough pieces of metal fastened together with joints.
Did armor rust in the rain?
Yes, if it wasn't looked after properly. It was the job of a knight's squire and pages to make sure it didn't rust. Everything had to be oiled and polished.
Who were the Knights of the Round Table?
Old British legends tell of a great king named Arthur. He lived in a castle called Camelot. There, he and his knights would sit and make plans at a huge round table. Because of this, King Arthur's knights were known as the Knights of the Round Table.
Did they really exist?
Arthur probably did, and he would have had men fighting for him. They came from the much earlier time of around 500.
Who could be a knight?
Men who came from "good" (rich) families, and who had gone through the hard training of being a page then a squire. Women couldn't become knights. Neither could men from ordinary families.
What was a page?
The first stage of getting to be a knight. Boys were usually sent away from home to become pages. They learned manners, trained with weapons and were given a basic reduce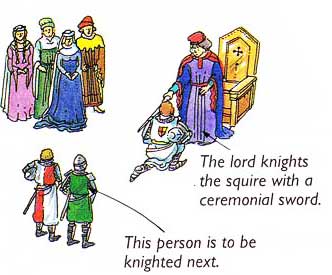 ation.
Did pages learn to read and write?
In the early days, no one bothered. All knights wanted to do was to beat each other in battle. There seemed no point in being able to read and wright. Later, this was changed and pages were taught both.
What did squires have to do?
Look after their knights, from helping them to dress to caring for their weapons and horses. This was the next stage after being a successful page.
How were squires knighted?
By the lord or king. He rested a sword on the squire's shoulders and declared him to be a knight. This was called "dubbing".
How were castles defended?
Very well in most cases. Castles were built for defense and were hard to attack. They had high stone walls, small windows, and battlements for soldiers to hide behind. Some even had deep moats full of water all the way around them, and a drawbridge that could be pulled up.
Did they really pour boiling oil on the enemy below?
Yes, but not very often. High up in the battlements were special holes, called machicolations. Usually, rocks and timber were thrown down them.
What was a siege?
When an attacking army tried to stop anyone from getting in or out of the castle. When the food ran out, the people inside would either have to give up and surrender or starve to death.
What weapons did an attacking army use?
Plenty of them. These include catapults, siege towers and also battering rams.
What was a battering ram for?
Ramming into doors and gates to smash holes for soldiers to get through. The very first battering rams were just logs.
Later, battering rams were put on wheels and covered over to Protect the soldiers pushing them from being shot with arrows.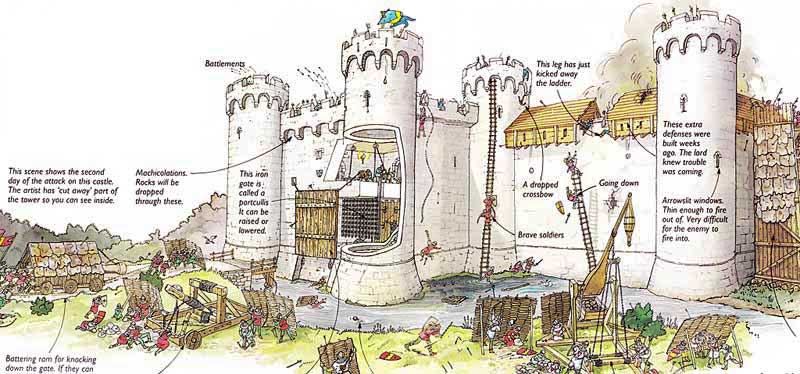 ---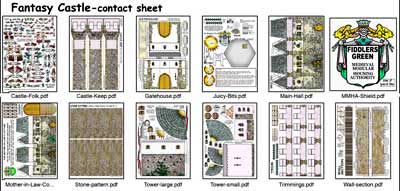 Here is a thumbnail of all of the sheets. A much larger version is included with the model.
---
Examples of real castles.