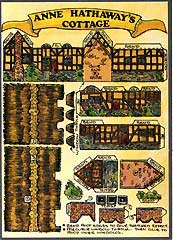 Split Anne Hathaway's Cottage on your Model Rail Road Layout!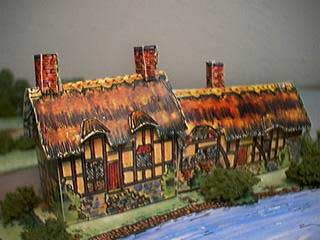 Anne Hathaway's Cottage is located in Shottery, just west of Stratford-upon-Avon. The 'cottage' is, in fact, a large house of 12 rooms and is the home of Shakespeare's wife before her marriage.

Anne Hathaway's Cottage, made famous on chocolate boxes and tea towels, is arguably the most picturesque of the Birthplace Trust properties. The cottage nests in the idyllic setting of Shottery, which lies a mile west of Stratford. The cottage belonged to the prosperous Hathaway family and was the pre-marital home of William Shakespeare's wife, Anne.
Although referred to as a cottage, it is actually a substantial, twelve-roomed, Elizabethan farmhouse. Externally the building with it's low thatched roof, timbered walls and lattice windows has changed very little since Anne Hathaway's time. Parts of the building structure date back further than the 15th century, using some of the earliest English house-building techniques. The cottage was built on a slope, and parts of the building consequently sit at different levels.
Building models come in model railroad layout scales of HO, N, & Z. Great for making villages and towns, and for wargaming.
---