Frontier Town/Jakes Saloon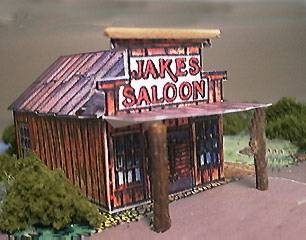 Every wild west town needs a saloon. In fact, they need about 50!
---
What people say...
Hi Chip, Last week my church had a church building fund raising fun fare and my cell grouped opened up 2 game stalls. The one that I was in charge of was called Quick Draw where the kids used rubber band guns to shoot at gunslinger figurines. I was looking for a western back drop and came across Jake's Saloon. I used the software that came with the HP Deskjet 970cxi to blow up Jake's Saloon by 4 times. What used to print out as a single sheet came out in 16 sheets. Stuck them together, pasted the shapes on cardboard boxes, cut them out and
I also played the sound tracks from "The Shadows" to add to the mood. It created a "Clint Eastwood" kind of a feel :)
We couldn't load the guns fast enough and a queue was forming. After about three hours when the kids ran out of coupons, they got to shoot for free. We had a great time! Thanks for the download.