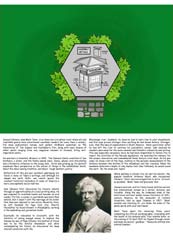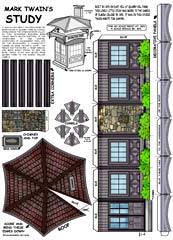 Mark Twains Study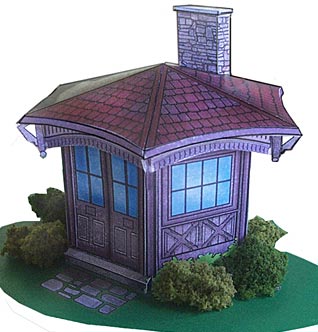 Susan and Theodore Crane surprised their brother-in-law Samuel L. Clemens with this study in 1874. It was placed about 100 yards from the main house at Quarry Farm on a knoll overlooking the Chemung River Valley. In this octagonal building Mark Twain wrote major portions of:

The Adventures of Tom Sawyer
Adventures of Huckleberry Finn
Life on the Mississippi
A Connecticut Yankee in King Arthur's Court
The Prince and the Pauper
A Tramp Abroad, and many short pieces.
In 1952 the Mark Twain Study was moved from Quarry Farm to the Elmira College campus. The Study is staffed by trained student guides daily throughout the summer and by appointment in the off-season.

---
What people say...

I'm finishing up the last couple of chapters of a really good Twain bio ("Inventing Mark Twain, The Lives of Samuel Langhorne Clemens," Andrew Hoffman, 1997) so the timing couldn't be beat...A stupendous little model...Kudos Boss..... Z
---
I love these historical buildings. They are great for my home-schooled kids who enjoy having a project to go with their studies. -Jim from Texas
---
You were kind to offer me three models: the Mark Twain's hut, a connected farm and a captain's house.
So far I have only done the Mark Twain's hut in O scale. I'm novice to this media, I hesitated in sending you these photos as my craftmanship doens't honour your work. But I sure had fun ruining it.... Some research in the net came out handy. The vegetationÊis a good excuse to desguise my work. I was a "plastic" guy. Paper doesn't allow mistakes. Is too delicate in my hands. I recommend to all plastic modellers to grab a couple of paper projects as a back to basics. HowÊin the hell can someone do a plane?!... Best regards... Carlos
---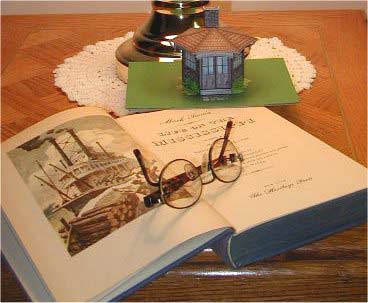 Mark Twain's Study
---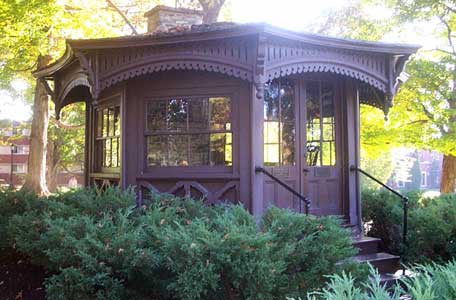 Samuel Clemens, alias Mark Twain, is an American icon whose razor-sharp wit and inimitable genius have entertained countless readers for more than a century. His many publications include such gallant childhood essentials as The Adventures of Tom Sawyer and Huckleberry Finn, along with many dozens of other works ranging from airy magazine columns to focused, biting anti-imperialist satire.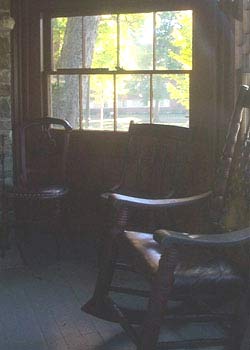 He was born in Hannibal, Missouri in 1835. The Clemens family consisted of two brothers, a sister, and the family-owned slave, Jenny, whose vivid storytelling was a formative influence on the young Sam. As he was growing up, his parents explained their perspective on the nature of things in the established South, about the slave-owning tradition, and about 'rough western justice.'
Reflections of this pre-war southern upbringing are found in many of Twain's writings, and although his images are quite idyllic, one cannot ignore the constant historical reminders of some of America's more unacceptable social realities.
Sam Clemens first discovered his literary talents through an apprenticeship at a local printing shop. He was exposed to countless books and became an avid reader. For him, a career in journalism was more than natural, but it wasn't until the marriage of his sister that Sam was inspired to real action. Bound by train, he left Hannibal for New York City. Shortly thereafter he found himself in Philadelphia, working in the publishing and journalism fields.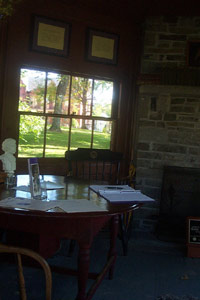 Eventually he relocated to Cincinnati, with the intention of saving enough money to explore the Amazon by way of New Orleans. His method of travel was to be the fateful steamboat, and while contemplating his future, he discovered his deep internal connection with the Mississippi river. Suddenly, he knew he had to learn how to pilot steamboats, and this urge proved stronger than anything he had known before. Stronger, even, than the idea of explorations in South America.
Some years later, after he had left the river to continue his journalistic career, Sam realized he needed a pen-name for the more comedic and fantastic columns he was writing. This was especially necessary since he had been dispatched to Carson City to report the activities of the Nevada legislature. He searched his memory for the proper association and remembered those halcyon river days.
As his pen name, he chose a bit of the lingo, relating to the periodic measurement of the distance between the bottom of the steamboat and the riverbed. When the leadsman detected a depth of only twelve feet (two fathoms), he would sound the alert: 'By the maaa-ark, twain!'
While working in Carson City he met his mentor, the popular humorist Artemus Ward, who recognized Clemens' talent and encouraged him to write 'as much as possible.' Mark Twain did precisely that.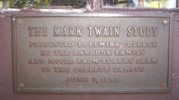 Clemens married, and his finely-honed abilities earned him international renown as a writer, lecturer and traveler. Along the way, he composed some of the best-loved and most widely known literature of 19th-century America. As the chancellor of Oxford University told an aged Clemens in 1907: 'Most amiable and charming sir, you shake the sides of the whole world with your merriment.'
Mark Twain spent the remaining three years completing his official autobiography, concluding with the death of his beloved wife. Four months later, on the evening of 10 April 1910, he flipped through a book and bade his doctor 'goodbye'. Thence he drifted into eternal slumber.
Mr. Clemens lives on in the hearts and minds of grateful readers everywhere.
Bio written by Andrew G. Lewis
---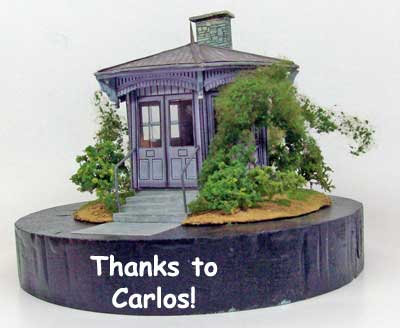 ---