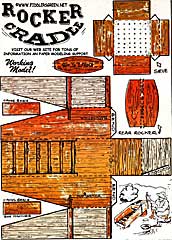 Gold Rocker Box- Rocker Cradle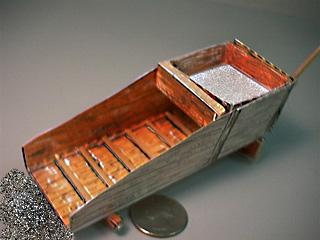 The California Gold Rushers used this apparatus to extract gold nuggets and dust from gravel using the minimum of water. It was fairly portable which was an advantage as they often moved to new diggings. The quarter shows you how large the model is.
A real Gold Rocker Cradle can be seen at the James Marshal Gold Discovery Park in Coloma, California.
---
First developed in "The Goldfields" of the state of Georgia, the rocker was an important gold mining tool. At the very dawn of the Gold rush to California, the rocker box also known as a cradle was perhaps the most used piece of gold prospecting equipment. For a time it was perhaps even more important that the gold pan. Mostly this was because the miner could make a rocker for himself in the field from rough sawn lumber cut in the forest. They are also easily portable. Rocker boxes were also popular during the Klondike gold rush for working the hillside placers that were far above the creeks.
The 'rocker' is a box with a hopper about 3 to 4 ft. long and 1 to 2 ft. wide, sloped like a cradle, and is mounted on semicircular pieces of wood and worked by a, handle to give it a side motion; and it is also inclined so as to carry the material down to the lower end, which is open. At the upper end is a small hopper that may be removed and which has a sheet-iron bottom perforated with 1/2 -in. holes.
Under the hopper is a canvas apron or tray inclined toward the head of the box but touching neither end of the hopper-box. Several wooden riffles are placed across the box. The material is fed into the hopper and screened through by water poured on top; the lighter material is carried over the end, while the riffles in the box catch the gold and magnetic sand. This concentrate is cleaned out and panned at the end of the operation. The rocker is used for the same type of work as the gold pan in that it is mainly a prospecting tool. A man is able to wash 3 to 5 times more yardage than with the gold pan, and the use of the rocker eliminates much of the backbreaking strain of continuous panning. On the other hand, the easy mobility of the pan as a prospecting device is lost.