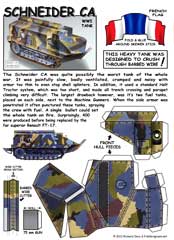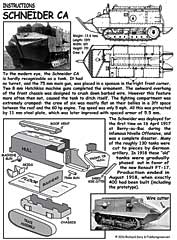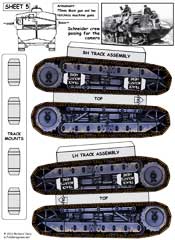 Schneider-Tank - $$7.50
First French tank of WWI but proved to be pretty much ineffective. It was long and narrow and to cross trenches easily there was a boat-like bow. Besides certain structural defects, their armor plating was too weak and the fire hazard was far too great. In this respect they were very vulnerable even to light artillery fire.


|
In 1916 the French firm, Schneider, brought out their tank. Though it had been developed independently of the British model, it bore a strong outer resemblance to "Little Willie"

.

The French army had ordered 400 but only 132 were ready when they went into action for the first time at the Chemin des Dames in April 1917.
Schneider French WWI Tank


Just wanted to say that your WWI tank collection is turning out to be definitive and a must have for WWI buffs like me, Keep them coming !! Bud C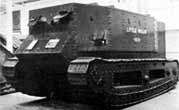 ---
What I like most is how easily your tank kits go together.. One model per night and this is working (playing) during TV commercials !! Ken V


'St Chamond' carried an archaic machine-guns mounted in unwise positions, limiting their operator's field of view thus diminishing their capabilities. The structure, overall had flimsy and penetratable armor. Besides certain structural defects, the armor plating was weak and the fire hazard was far too great. In this respect they were very vulnerable even to light artillery fire. The second batch of Schneider tanks was a great improvement on the first. 'This Schneider CA is putting my 10th grade geometry class to the test. These asymmetrical tanks are quite challenging. Today, I'll tweak the hull for the third time to try to get it to come out straight—I'm getting there...'

Richard Dyer-designer
---
| | |
| --- | --- |
| The primary function of the Schneider CA was to remove barbed wire obstacles. Consequently, it's forward hull was designed as a wire-cutting device. | Soldiers hanging on to the Schneider tank trying to stay out of the French mud. Mud ovoider was ONE feature in which the Schneider excelled. |
| Schneider CA wallowing in French mud | The engine room in the Schneider WWI tank was poorly ventilated, hot and loud. |
| Located in a French Museum, this is one of the last remaining Schneider CA1s, and rumored to be the world's oldest fully operational tank. | After it's duties in The Great War, 'to end all wars', the remaining Schneider tanks were restored and used as transport and recovery vehicles. The Schneiders also saw combat when they were used by the Second Spanish Republic in the Spanish Civil War in the late 1930's. |
| You can see how THIS poor Schneider tank met its unfortunate ending straddling a wide trench. Hope those bulky things aren't corpses | German officer posing in front of a Schneider nailed while crossing a trench somewhere in France. Writing on tank(pretty much) says, in German, "Got ONLY to here and no further". |

Bob Martin, cardmodel builder and innovator

For the Schneider tank model, Bob did a little destruction.. Look closely at the bullet holes etc..


The Martins, kids and grand kids at the Cardmodelers Convention held annually at Arlington Va

Just one of the design problems was a track system that was too small for it's body.

France's Schneider CA1 was, hands down, the WWI's

least

effective Armored Fighting Vehicle. (AFV)

igner