Airstream Classic Travel Trailer downloadable cardmodel from Fiddlersgreen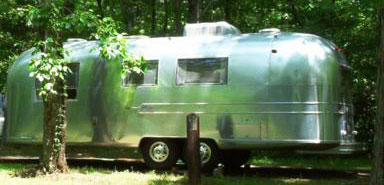 In 1936 Byam introduced the "Airstream Clipper". The design cut down on wind resistance and thus improved gas mileage. It was the first of the now familiar sausage-shaped, silver aluminum Airstream trailers. In 1936, Airstream was the only one to survive the Depression. During World War II, travel became a luxury most could not afford and non-military industries faced an acute aluminum shortage.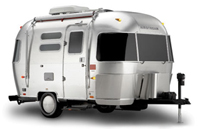 When World War II ended, the economy boomed, and people's attention once again turned towards leisure travel. Byam's company went back into production in 1948. In July 1952 a new facility in Jackson Center, Ohio, was established. In 1979 Airstream manufactured the Classic model, with an unpainted aluminum body much like the trailers.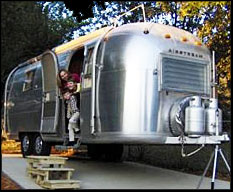 Airstreamers are a group of RVers who share a community spirit because of their mutual love of the trailers. In the early 1950s, Airstream company founder Wally Byam began leading groups of owners on travels to many portions of the world, where the towed trailers were quite remarkable. Photos taken of the trailers in front of many famous tourist sites were common. This promoted a mystique which surrounded Airstreams and persists to this day.
The Wally Byam Caravan Club was formed during the 1955 rally in Kentville, Nova Scotia, Canada. Later, the word "International" was added to the club name, resulting in the acronym "WBCCI" and more commonly known as the "Wally Club".
Club members join together for one large International Rally each summer (which by club rules always includes the dates of July 1 and July 4), and hundreds of smaller local rallies are held coast-to-coast by "units" (chapters).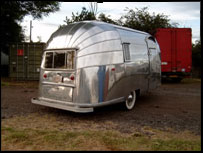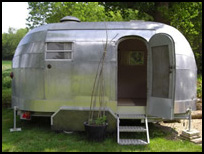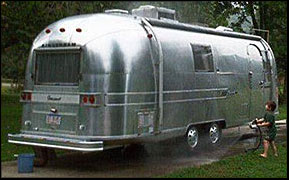 There are about a dozen Airstream parks throughout the United States. These are RV resorts or campgrounds where owners of Airstream-manufactured units are allowed to buy, rent or lease a site. Airstreams are more popular than ever, and restoration of older models is a passion shared by many. Some of these facilities welcome non-Airstream products, while others are more strict in their admission. Some of the parks require membership in the WBCCI to be admitted. Several of the resorts are owned and operated by the local unit of the WBCCI.

The aluminum motorhomes were followed by fiberglass models in the '90s for a more traditional look. The rounded frame remains one of the most easily recognized features of the Airstream. A recent bus model, the Skydeck, featured interior stairs leading to a deck on the roof. Airstream, still based in Jackson Center, is owned by Thor, Inc. The company presently manufactures approximately 2,000 trailers and motorhomes per year.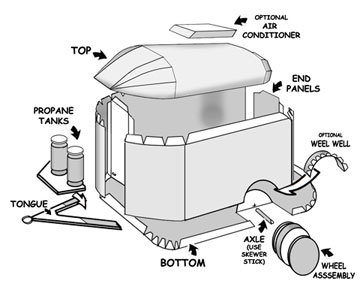 ---
12 REASONS WHY YOU JUST GOTTA LOVE THE AIRSTREAM
1. Lower utility costs — How does an normal gas and electric bill of $18 a month sound? That adds up to an average annual savings of nearly $1000. Now that's some serious cash.

2. Quicker to clean — Got a call that the girlfriend's parents want to stop by? No worries. Even if it is a disaster area, the place can be buffed out in 30 minutes — tops.

3. Less maintenance — Say "goodbye" to repainting, cleaning the raingutters, and repairing that broken sprinkler. And, who needs a gardener when you don't have a yard? Fear not, you still get to enjoy the great outdoors better than ever.

4. Zero clutter — We told you this wasn't for everyone. If you're the type that needs piles of mail and unread magazines then this isn't for you. But if you're like Hofmann, where "everything has its place," then it could work. "I've gone 90% paperless.

5. Improved relationships — Say what? That's right, studies show that couples who live in a small space have healthier relationships. "My girlfriend and I don't hide in our caves when something comes up," says

6. Fresh-is-best lifestyle — Hofmann, who studied architecture in Italy for a year, liked the way the locals bought fresh produce, meats and cheeses at the open-air market each morning. "Excessive refrigerators, freezers and pantry spaces just get stuffed with outdated food," he says. "And frozen or canned food is plain nasty."

7. Anti-procrastination — Hey, we told you this wasn't for everyone. If you're a do-tomorrow-what-can-be-put-off-today kind of person then living in a tight space is going to be harder to ignore your need-to-dos because they'll be staring you right at you.

8. LMIAs (Less missing in action) — One phrase you may never hear again is: "Honey, where's my _____________?" Because stuff simply has fewer places to hide.

9. No impulse buys — "I don't buy things I don't need anymore," figures Hofmann, "because I don't have a place to put it." Paper towels may be convenient, but they're not very earth-friendly. "Isn't that what a sponge and towel are for?" he says with a smile. "And where am I going to store a 20-pack roll, anyway?"

10. Fewer guests — At the risk of sounding anti-social, it's an absolute certainty that you never again will have to ackwardly-respond to the expectation that the inlaws want to stay with you. "Isn't that why they invented hotels?"

11. Height- friendly — Hofmann, who is 6'4″ doesn't have to duck his head, "but it's close." But his girlfriend, who's 5'5″, can reach everything, easily.

12. I ended my dysfunctional relationship with Costco — I realize now that I don't really need a 5lb bag of peanuts or the treadmill that discourages me from ever leaving the confines of home. Though, I still enjoy accompanying a friend to the mega box store to try the free samples.
Courtesy of:
Matthew Hofmann – Architect, LEED Accredited Professional
Hofmann Architecture
matthew@hofarc.com
www.hofarc.com
805.281.2461
---
Other Escape Capsules:
Trotwood Trailer
Pedal Car
Gypsy Caravan