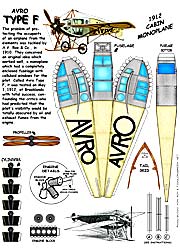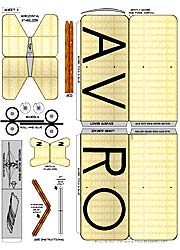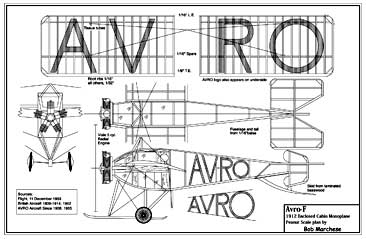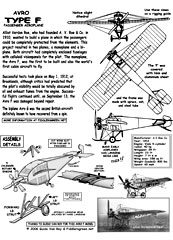 Avro 'F' 1912 British High Capacity Airliner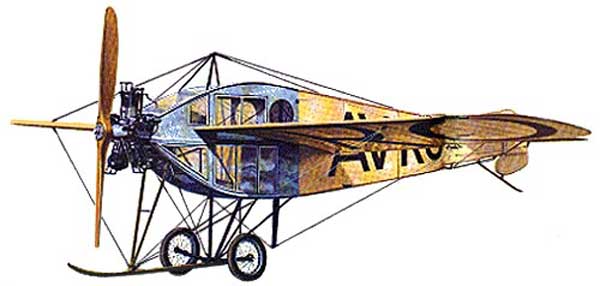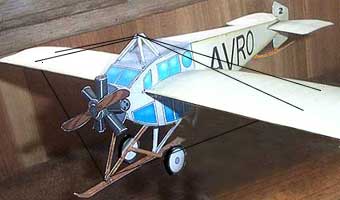 The monoplane, the Avro Type F, was the first to be built and also the world's first cabin aircraft to fly. Successful tests took place on May 1, 1912, at Brooklands, although critics had predicted that the pilot's visibility would be totally obscured by oil and exhaust fumes from the engine. Successful flights continued until, on September 13, the Avro F was damaged beyond repair.
---
Avro Type F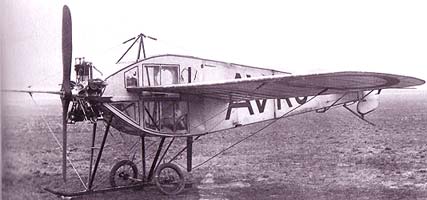 Alliot Verdon Roe, who had founded A. V. Roe & Co. in 1910, wanted to build a plane in which the passengers could be completely protected from the elements. This project resulted in two planes, a monoplane and a biplane. Both aircraft had completely enclosed fuselages with celluloid vision panels for the pilot and crew of three.


Note: The extremely small vertical tail. This was possible due to the wide(vertically) and flat fuselage aft of the center of gravity. With a little flatter lower surface, the Avro's fuselage could have acquired additional lift.

His Majesty's Royal crash analysis experts for the most part, (although remember that this was only 1912!), suspected that the aero plane might have been overweight by about 15 passengers, three crew members (including wine steward), three corgies, and one picnic basket.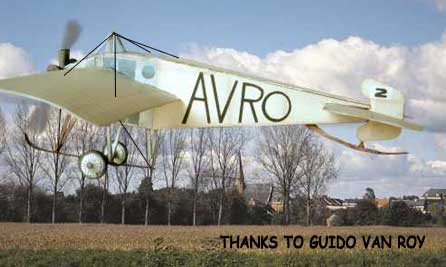 Thanks to Guido for his design of the 'F'.
---
1912, and look how far the world of aviation has come since the Wright brothers first flight 13 years ago. Well, most of the aviation world--except the Wright brothers.

Model and photos and write up by model' Pal, John Freeman

Edwin Verdon Roe left his home in England at 14 and headed to Canada. He sort of bounced around from job to job and country to country until he fell in love with the notion of flying. Back in England now, he built his first successful plane, a tri plane, where he lived--under a bridge. He was so poor he covered the wings with packing paper because he couldn't afford cloth. But it did fly, and he was on a roll.

By 1912 Roe had the silly notion that folks didn't really need to be outside in the cold in order to fly an airplane. He told his incredibly talented draftsman, Roy Chadwick, what he had in mind and Roy drew it up. A tiny plane weighing only 550lbs with room for fuel and one large pilot, it was a wonderful collection of the old and new. Roe hung on to the old wing warping thing, but totally enclosed the cabin in an aluminum skin with celluloid windows (the rest of the plane was covered with linen). The skeptics hooted--for sure the pilot would not be able to see anything. Well, he could, and the plane flew just fine. Notice that the tail skid is attached also to the bottom of the rudder--obviously a steer-able tail skid.

Surely there weren't that many planes around with that feature! I found a couple of references on the web that say not only was this the first plane with an enclosed cabin, but also the first monoplane. The enclosed cabin bit I'm buying, but not the first monoplane part--I know there were several successful monoplanes years before this. Eventually the plane was destroyed in a wreck, but Roe was moving on. Another great little model from Fiddlers Green / John Freeman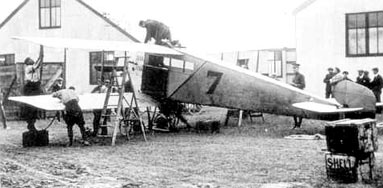 Fact: The 1912 biplane Avro G was the second British aircraft known
to have recovered from a spin. Barf bags having been not yet
invented, photo above shows the crew cleaning up.
---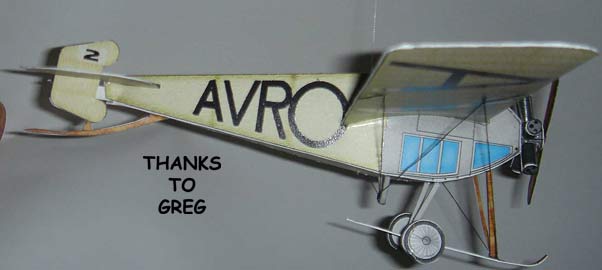 ---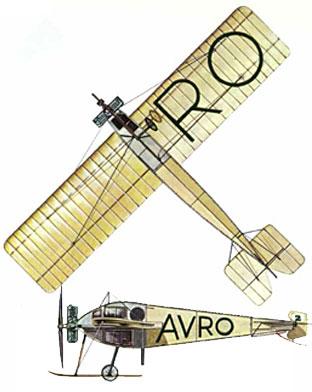 Specifications for the Avro Type F

Crew: one pilot
Length: 23 ft
Wingspan: 29 ft
Height: 7 ft 6 in
Wing area: 158 ft²
Empty weight: 550 lb
Gross weight: 800 lb
Powerplant: 1 × Viale 35 hp
5-cylinder radial, 35 hp

Performance
Maximum speed: 65 mph
Rate of climb: 300 ft/min