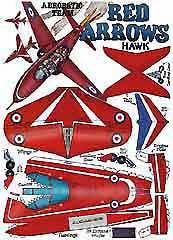 Red Arrow's Bae Hawk jet fighter and Trainer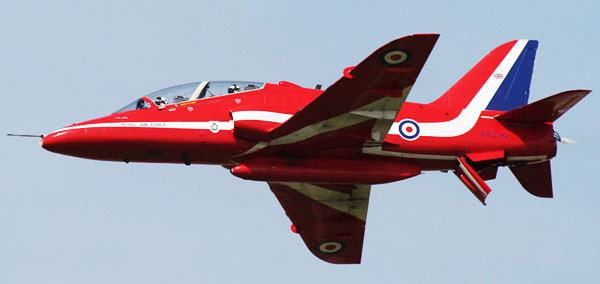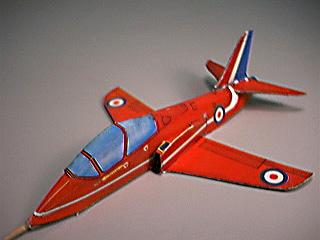 The Hawk is one of the most successful advanced trainers in the world. Used by the Royal Air Force and 14 other air arms worldwide, this lithe and exciting jet is also a carrier-capable advanced trainer for the US Navy and is being developed into a versatile family of lightweight fighters. But the Hawk is also a high-flying ambassador of goodwill: the all-red Hawks of the RAF's Red Arrows have entertained more than 50 million spectators in the past 18 years.
Red Arrow BAe Hawk is Britain's answer to a nimble, small, yet very effective modern day fighter. This bright red model has the markings of the Red Arrows Air Team. Quite a few people buy.
---
The British Aerospace Hawk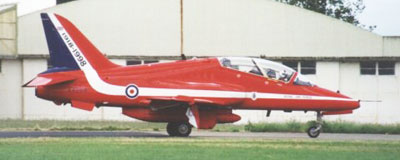 Originally known as the Hawker Sidely HS.1182, replaced the Royal Air Force's Gnat and Hunter trainers.
The HS.ll82 was elected for the RAF in 1971 in preference to a BAG design; five months later the Adour turbofan was chosen in place of the Rolls-Royce Viper turbojet. In March 1972 an order was placed for 176 Hawk T.Mk is. There was no prototype and only one pre-production aircraft, the first 10 production Hawks being allocated to the test program. This saved considerable time, and the first two operational aircraft were handed over to the RAE in November 1976.
The Hawk is a tandem-seat transonic ground-attack and training aircraft of conventional layout, with a low-mounted wing. Its primary structure is designed for a safe fatigue life of 6,000 hours in the exacting conditions demanded by the RAE. Simplicity of design and manufacture are emphasized to ensure that the aircraft has a high utilization rate and is inexpensive to operate, One man can prepare the aircraft for its next flight in fewer than 20 minutes between sorties, and in the weapon-training role it can be re-armed by four men in fewer than 15 minutes.
Low operating costs are contributed to by the efficient Adour turbofan, which is an un augmented version of that employed in the SEPECAT Jaguar. The Adour is of modular construction, so the spares holding is reduced. Any module can be changed without the need to re balance the rotating assemblies, and large doors beneath the engine bay permit easy access and removal. An integral gas-turbine starter running off the aircrafts fuel supply makes the Hawk independent of external aids.
The Hawk had a remarkably trouble free development program, entering service only 27 months after its maiden flight. All performance objectives were met, and the top speed proved to be higher than expected, The aircraft has reached Mach 115 in a dive and has a maximum level speed of Mach 0.88, allowing student pilots to experience transonic handling before they progress to true Supersonic types.
The RAE operates the aircraft for weapon instruction (designation Hawk T.Mk lA) as well as flying training, with three pylons, The centerline pylon is normally occupied by an Aden cannon pod, with Iviatra rocket launchers or practice bombs beneath the wings. Potential export customers often demand heavier armament, however, and British Aerospace has tested the Hawk with about 40 combinations of air to-surface and air-to-air weaponry. Two stations can be fitted beneath each wing, giving a total of five, and the use of multiple racks allows the aircraft to carry an exceptional 6,500 lb of stores in the form of six 1,000-lb bombs plus the Aden gun-pack. Wingtip air-to-air missiles can also be carried following modification.
RAE Hawks serve with No's 1 and 2 Tactical Weapon Units, at Brawdy, Wales, and Chivenor, Devon, respectively, No. 4 Flying Training School at RAF Valley, and with the CES and Red Arrows aerobatic display team at RAE Scampton. Expori Hawks include Mk 50 aircraft with Adour 851 for Finland (who licence-built 46 of their 50 aircraft), Indonesia and Kenya. The Mk 80 series with the up rated Adour 861 has been supplied to Abu Dhabi, Dubai. Kuwait, Saudi Arabia, South Korea, Switzerland and Zimbabwe.
A team comprising British Aerospace, together with McDonnell Douglas and Sperry in the USA, was selected by the US Navy on 19 November 1981 to continue program development work on the Navy's VDQTS requirement. This resulted in the McDonnell Douglas BA, T-45A Go.h.wk, suitably modified for carrier operations training with strong undercarriage and arrester hook, of which 302 are on order.
Two derivatives of the Mk 60 are concerned with combat disciplines. The Hawk 100 has combat avionics such as a HUD, laser rangefinder and FLIR to exploit the weapons capability of the Hawk, Wingtip rails can carry air-to-air missiles, The more radical Hawk 200 is a single-seat modification which can mount laser, FLIR or APG-66 radar in the nose, Customers for these variants so far are Brunei, Oman, South Korea and Saudi Arabia, In early 1990, total commitments for all Hawk variants had reached 689.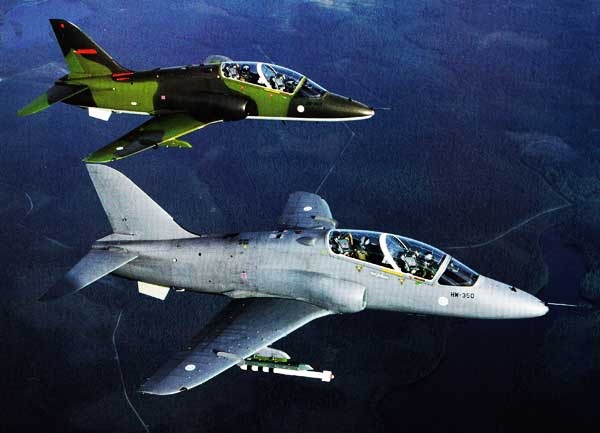 ---
Specifications for the BAe Hawk
Crew: 2: student, instructor
Length: 40 ft 9 in
Wingspan: 32 ft 7 in
Height: 13 ft 1 in
Wing area: 179.64 ft²
Empty weight: 9,880 lb
Useful load: 6,600 lb
Max takeoff weight: 20,000 lb
Powerplant: 1× Rolls-Royce Adour Mk. 951
turbofan with FADEC, 6,500 lbf

Performance
Maximum speed: 638 mph at altitude
Range: 1,565 mi
Service ceiling: 44,500 ft
Rate of climb: 9,300 ft/min
Thrust/weight: 0.65

Armament
Note: all armament is optional.
1× 30 mm ADEN cannon, in centerline pod
Up to 6,800 lb of weapons on five hardpoints,
including:
4× AIM-9 Sidewinder or ASRAAM on wing
pylons and wingtip rails
1,500 lb, limited to one centerline and two
wing pylons
(Hawk T1)
A:

The Hawk cockpit has two Madin Baker ejection seats. The view from the rear seat gives an instructor a good view of his student in action.
B: The Hawk is powered by a non-afterburning Rolls- Royce/Turbomeca Adour turbofan engine, which has proved reliable and economical in service.
C: The airframe of the Hawk is extremely strong-stressed to 9g, the same as an F-16 or a MiG-29 fighter.
D: Hawks are clear- weather aircraft; basic versions lack radar.
E: The Hawk can carry a variety of external stores, from the tanks and rocket pods that are seen here to cannon packs and air-to-air missiles.
F: The airbrake retracts into the Hawk's belly. It is of great value in training prospective fighter pilots in the techniques of combat maneuvering.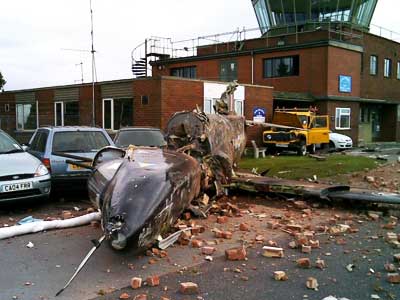 ---