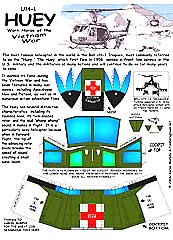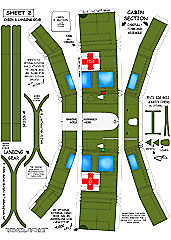 Bell UH-1 Huey Helicopter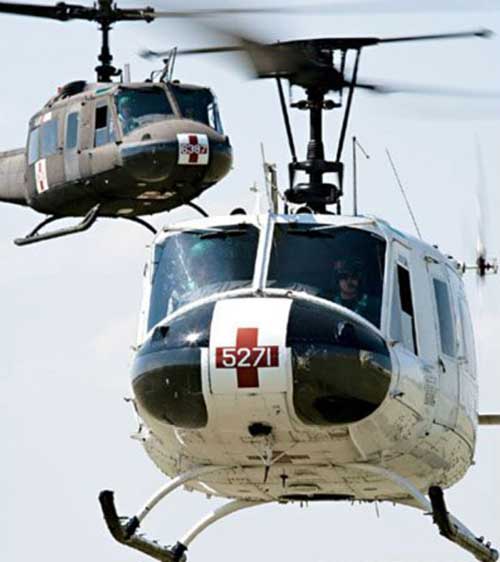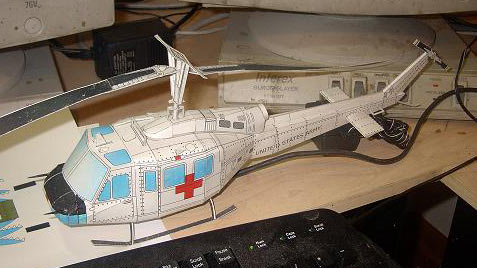 The most widely used military helicopter, the Bell UH-1 series Iroquois, better known as the "Huey", began arriving in Vietnam in 1963. Before the end of the conflict, more than 5,000 of these versatile aircraft were introduced into Southeast Asia. "Huey's" were used for Medivac, command and control, and air assault; to transport personnel and materiel; and as gun ships. Considered to be the most widely used helicopter in the world, with more than 9,000 produced from the 1950s to the present, the Huey is flown today by about 40 countries.
The helicopter was originally designated the HU-1A, which is where it received its name "Huey". The official U.S. Army designation Iroquois (Army helicopters are traditionally given Native American names) was almost never used in practice.
---
What People Say...
A model EVERY Friday ???!!!That is great news. And that Huey is fantastic! John Dell (7/06)
---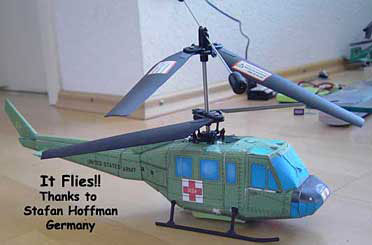 As a former Huey driver in 'Nam, I really loved the UH-1 Iroquois series and planes like the "Bird Dog" (yes I built more than one - do I see a Bronco or a Mohawk coming?) but as a WW II/Luftwaffe devotee, I built a lot of "them", too. I grew up in the '50's so planes like the "Pogo" and Korean War era jets bring me back to my youth. Your nostalgic stuff (Kellogg's and PEP boxes) bring back some memories. You know, some of them damned things actually fly, too!! With a nickname like "Von Ric" you know I have a big interest in WW I stuff, also. What I'm saying is I guess I'm all over the boards and it would be difficult to come up with a plane I didn't like. Von Ric
---
Dear Chip
I can not tell you how much I like your work. It makes me really happy to have found access to your web site. Thank you for all the occupation and to your pals which have published so wonderful pdf's.

The attachment is the first essay before first flight. Actually it looks like after 'Last Flight' but it was a most wonderful surprise that it flies great and that your layout fit at first attempt. All the best.. Stafan Hofmann (Germany)
---

Hi Chip,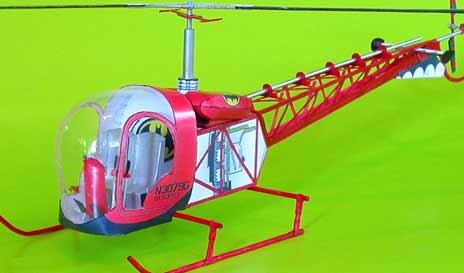 Well I got it built,,, and thought I would send you a couple pictures of the Bell H-13 (SIOUX) Batcopter. This is one of the variations I received in the DVD from you. It is the repaint done by Niki Schutt. I stayed to the original parts list and built it entirely from paper.
The things that are not paper are as follows,,,
I used the package from a light bulb (instead of the light bulb itself as suggested in the instructions) for the canopy. That way I could cut out the doors, and then I scratch build an interior for it. I even mounted the Batman emblem from the instructions sheet behind the seats. The landing skids are sticks from long Q-tips, as well as the drive shaft on the top of the boom. I used a stick for the rotor shaft and found a plastic tube that it will fit into so the rotor turns freely as well. The tail boom rotor also turns. (used a toothpick Sanded round with paper windings). Of course I colored things that I thought would make it look a bit better. Hope you enjoy the pictures. And thanks for a great Model. -Gary

---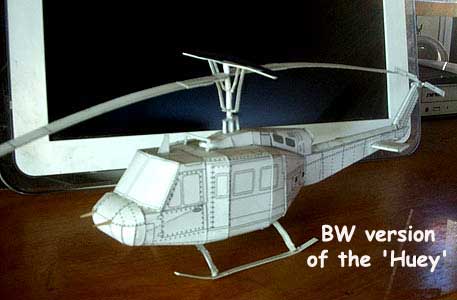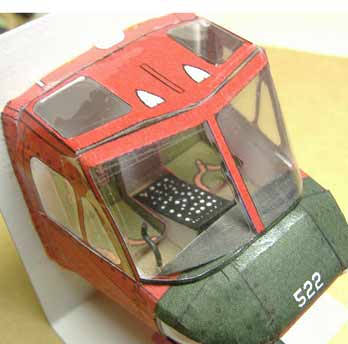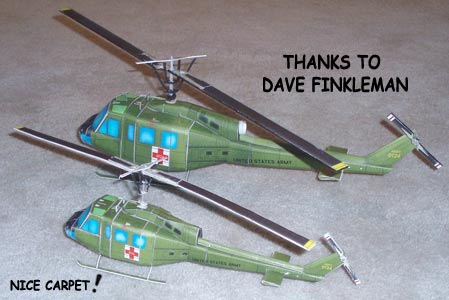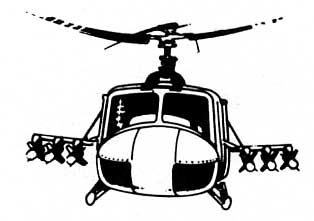 ---
Bell UH-1 Huey Helicopter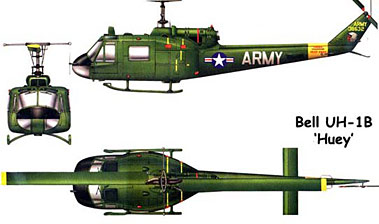 The Huey saw combat in Vietnam in 1962, first as a troop transport and medivac helicopter and later as an armed assault helicopter used to protect troop transports. The Army was just beginning to develop its "air mobility" concept.
Instead of fighting an enemy along established front lines, troops would now be taken into and removed from combat by helicopter and dropped at key strategic positions such as enemy escape routes. The nimble, capable Huey's flew escort with larger, slower Piasecki H-21 Flying Bananas.
This was a revolutionary form of combat that was not without its problems. As soon as the Viet Cong chose to hold their ground rather than flee at the arrival of the helicopters, they discovered the helos could be brought down with small arms fire.
The H-21 proved particularly vulnerable. During one disastrous battle at Ap Bac near Saigon in January 1963, four H-21s and one armed Huey were lost to enemy fire. Nevertheless, the U.S. Army soon fully embraced air mobility, but helicopters remained vulnerable to ground fire. By 1973, approximately 2,500 Huey's had been lost in Vietnam, roughly half to combat and the rest to operational accidents.
The Huey was enormously successful for three reasons. First, it achieved an ideal mix of cabin room, speed, and lifting capability. Earlier piston-engine helicopters simply lacked enough power for many military missions. Second, the Huey proved to be a rugged and reliable helicopter in service. In addition, large military orders enabled Bell to offer the Huey both commercially and overseas at an attractive price.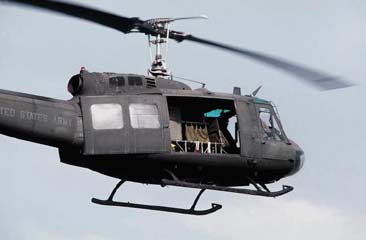 Bell (model 205) UH-1D (1963) had a longer fuselage than previous models, increased rotor diameter, increased range, and a more powerful Lycoming T53-L-11 1100 shp engine, with growth potential to the Lycoming T53-L-13 1400 shp engine. A distinguishing characteristic is the larger cargo doors, with twin cabin windows, on each side. The UH-1D, redesigned to carry up to 12 troops, with a crew of two, reached Vietnam in 1963.
The UH-1D has a range of 293 miles and a speed of 127 mph . UH-1Ds were build under license in Germany. UH-1D "Huey's" could be armed with M60D door guns, quad M60Cs on the M6 aircraft armament subsystem, 20mm cannon, 2.75 inch rocket launchers, 40mm grenade launcher in M5 helicopter chin-turret, and up to six NATO Standard AGM-22B (formerly SS-11B) wire-guided anti-tank missiles on the M11 or M22 guided missile launcher. The UH-1D could also be armed with M60D 7.62mm or M213 .50 Cal. pintle-mounted door guns on the M59 armament subsystem.
The Medivac version UH-1V could carry six stretchers and one medical attendant. Bell (model 205A-1) UH-1H (1967-1986) was identical to the UH-1D but was equipped with an upgraded engine that allowed transport of up to 13 troops. The UH-1H has a two-bladed semi-rigid seesaw bonded all metal main rotor and a two-bladed rigid delta hinge bonded all metal tail rotor.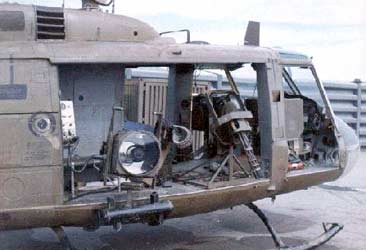 The UH-1H is powered by a single Lycoming T53-L-13B 1400 shp turbo shaft engine. More UH-1H "Huey's" were built than any other model. The UH-1H was licensed for co-production in the Republic of China (Taiwan) and in Turkey.
UH-1H "Nighthawk" was equipped with a landing light and a pintle mounted M134 7.62mm "mini gun" for use during night interdiction missions. The AH-1G Cobra was often flown on night "Firefly" missions using the UH-1H "Nighthawk" to locate and illuminate targets.
The UH-1N is a twin-piloted, twin-engine helicopter used in command and control, re supply, casualty evacuation, liaison and troop transport. The Huey provides utility combat helicopter support to the landing force commander during ship-to-shore movement and in subsequent operations ashore.he aircraft can be outfitted to support operations such as command and control with a specialized communication package (ASC-26), supporting arms coordination, assault support, medical evacuation for up to six litter patients and one medical attendant, external cargo, search and rescue using a rescue hoist, reconnaissance and reconnaissance support, and special operations using a new navigational thermal imaging system mission kit.
---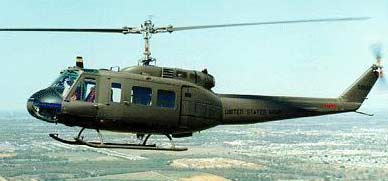 The goal of the USMC H-1 Upgrades Program is to achieve a platform that meets the growing needs of the Marine Corps. The 4BW and 4BN will be an upgraded version of the current AH-1W and UH-1N Helicopters. The 4BW and 4BN will share a common engine, Auxiliary Power Unit, four-bladed main and tail rotor system, transmission, drive train, and tail boom.
The purpose of these modifications is to achieve commonality in both aircraft, thereby reducing logistical support, maintenance workload, and training requirements. The replacement of the two bladed rotor system with a common four bladed rotor system will achieve improved performance, reliability, and maintainability. The addition of an infrared suppresser to the aircraft will improve survivability. The 4BW will also include a newly developed cockpit, which will result in nearly identical front and rear cockpits that simplify operator and maintainer training and maintenance.
The U.S. Marine Corps wanted a more powerful version of the Huey equipped with two engines. The Marines were concerned that an engine failure over water would result in a crash. Helicopters are notoriously difficult aircraft to escape from, for they immediately turn upside down upon hitting the water. In 1968, Bell proposed the first twin-engine Huey. The U.S. Air Force took delivery of the first aircraft, designated UH-1N, in 1970, and it soon became the standard utility helicopter of the Marine Corps.
It was also exported in large numbers and eventually manufactured in Canada. The UH-1N could be easily distinguished from the earlier models by its slightly pointed nose. Despite its two engines, the UH-1N was slightly slower than the UH-1H. An armed helicopter called the Huey Cobra (often simply called the Cobra) used the engine, rotors, and many other systems from the Huey. It had a slender fuselage carrying a two-person crew, and numerous weapons.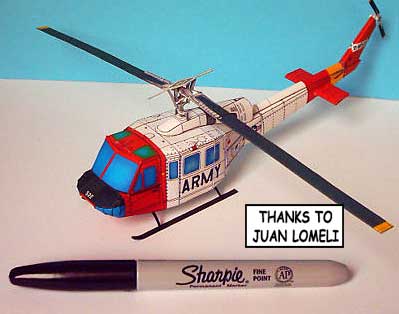 ---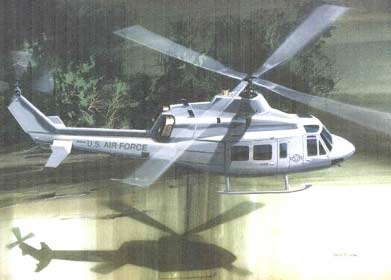 Bell and licensed firms like Italy's Agusta (eventually bought by Bell) have built more than 15,000 Huey's. It is the most numerous helicopter ever built and the most numerous aircraft built since 1945 except for the Soviet-era Antonov An-2 biplane transport. The Huey is operated by more than 60 air forces throughout the world in a wide variety of roles, everything from VIP transport to flying ambulance to attack helicopter. It has continued in service well past the five decades since the first Huey lifted off the ground.
---
Cockpit of the Bell UH-1 Helicopter.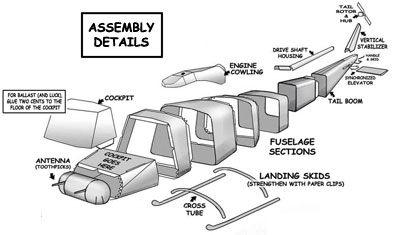 Specifications for the Bell UH-1 D Huey Helicopter
Crew: 1-4
Capacity: 3,880 lb including 14
troops, or 6 stretchers, or
equivalent cargo
Length: 57 ft 1 in with rotors
Wingspan: 48 ft
Width: 8 ft 7 in(Fuselage)
Height: 14 ft 5 in
Empty weight: 5,215 lb
Gross weight: 9,040 lb
Max takeoff weight: 9,500 lb
Powerplant: 1 × Lycoming
T53-L-11 turboshaft, 1,100 shp
Main rotor diameter: 48 ft

Performance
Maximum speed: 135 mph
Cruise speed: 125 mph
Range: 315 mi
Service ceiling: 19,390 ft
(Dependent on environmental
factors such as weight, outside
temp., etc)
Rate of climb: 1,755 ft/min
Power/mass: 0.15 hp/lb

Armament
Variable, but may include a
combination of:
2x 7.62 mm M60 machine gun,
or 2x 7.62 mm GAU-17/A
machine gun
2x 7-round or 19-round 2.75 in
rocket pods
2x 7.62 mm Rheinmetall MG3
(German Army and German
Luftwaffe)