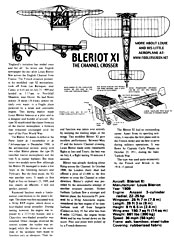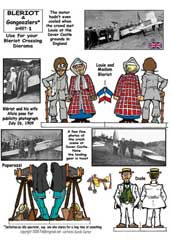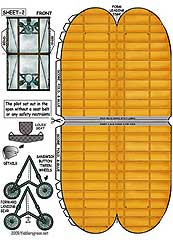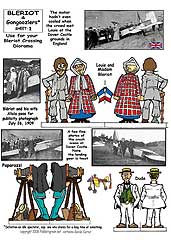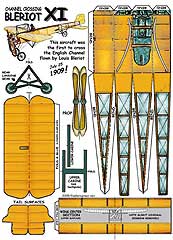 Bleriot-XI - $$4.95
The Bleriot XI also had some ground-breaking technologies such as castering landing gear, allowing for crosswind landings. Wing warping (instead of ailerons) controlled the plane's roll. The tail section of the Bleriot XI included a horizontal stabilizer with an elevator, and a rudder, but no vertical stabilizer.

Louis Bleriot: Louis Bleriot and his Bleriot monoplane XI English Channel flight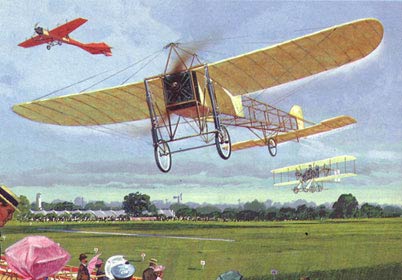 On the 25th of July, 1909, the Bleriot Monoplane made history. On his first attempt, Louis Bleriot flew his Monoplane from Calais to Dover and therefore was the first aviator to fly an airplane across the English Channel. This little 25 hp Anzani-powered monoplane went on to become one of the most heavily produced of the early pioneer era airplanes, and it set many records.
The airplane was controlled by wing warping and was one of the faster of the early types, with a speed of 47 mph. With a span of less than 27 feet, and a gross weight of only about 660 pounds, the little Bleriot was used for many "firsts", and was copied all over the world, both with and without permission. There are some surviving examples of the Bleriot still flying, but most that are seen at public events are replicas. Both the oldest flying original airplanes in England and in the U.S. are Bleriots.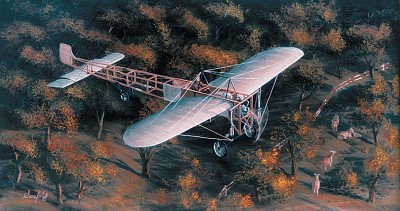 Frenchman Louis Blériot had been intrigued by the possibility of flight ever since he attended a 1900 Paris Exhibition featuring experimental flying machines. Over the next few years, Blériot - who had amassed a small fortune manufacturing automobile lights - would spend all his money in his own quest to fly.


Unlike the Wright Brothers and other aviation contemporaries, Blériot didn't take a systematic approach to his flight attempts. Filled with boundless enthusiasm, Blériot spontaneously leaped from one experiment to the next without much planning - or concern for his own safety. Blériot always tested his own planes personally, and his attempts, almost always, ended in crashes.


Over the course of eight years, Blériot built ten planes - all failures. In 1908, when the London Daily Mail offered a cash prize for the first person to cross the English Channel, Blériot was bankrupt, having even spent the last of his wife's inheritance on his passion for flying. As luck would have it, Blériot wife happened to rescue a boy from falling off the balcony of a Paris apartment building. The young boy's appreciative father offered to fund Blériot latest experiment, the Blériot XI.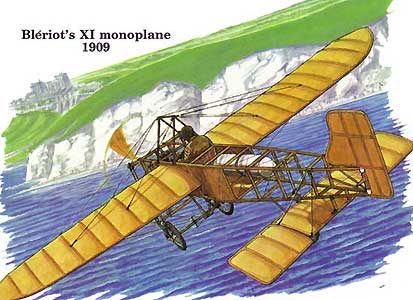 Bleriot XI:
The Blériot XI relied on its 25-horsepower Anzani engine to power its 22-mile journey. Blériot collaborated with designer Raymond Saulnier on the plane's construction. As a monoplane, the Blériot XI stood in stark contrast to its more common biplane contemporaries. Its single-wing design reduced drag and weight, enabling the plane greater speed and maneuverability.
Lateral balance was aided by the plane's wing warping mechanism - derived from the Wright Flyer. The Blériot XI made its maiden flight on January 23, 1909. Over the course of the next several months, Blériot worked to improve the plane's performance. He made several modifications, including the addition of a 25-horsepower Anzani engine. Although the engine was rudimentary, it was known to be dependable - crucial if Blériot was to achieve his goal of crossing the English Channel.


In the early morning of July 25, 1909, Blériot set out across the Channel. Without any navigational instruments, Blériot somehow managed to make his way from Calais to Dover in just over 36 minutes. He spotted a French reporter who had promised to identify a suitable landing area by waving a large French flag. Sixty feet off the ground, Blériot thrust the plane down for a hard landing. Emerging from the wreckage, Blériot's only injury was a burned foot that had been sustained days earlier. Instantly, Blériot and his plane received worldwide acclaim.

Soon Blériot opened a factory to produce copies of the Blériot XI. Hundreds of orders came streaming in from around the world. Some of the best known-aviators of the time flew Blériot's planes, including Harriet Quimby who would cross the English Channel three years after Blériot. The Blériot XI's single pair of wings would serve as the new model from which future planes were derived.
Built and then flown over the English Channel in 1911 by Louis Bleriot. This monumental feat won Louie many orders for his'flying machine which was looked upon as 'state of the art' until and just after the onset of the 'Great War 1914-1917.
---
What people say...
---
Modeling pal, Mike Smith, sends in this fantastic Bleriot XI that was made out of balsa sticks and the FG Bleriot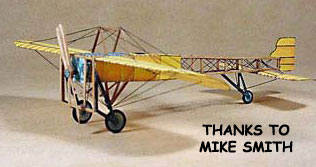 downloded model. He writes...." I replaced all the "wood" parts including the prop with ... wood! , installed all the rigging with black thread, and laminated the wheels with 4 or 5 layers of paper. The rest is straight out of the box as they say".
---
"The reason you're getting all the orders is because there are a bunch of homeschooling families nation wide who followa literature based program for teaching their kids and one ofthe books is about Bleriot. One of the families found your website and told the rest of us about it! I'd love it if you hadmodels of the Wright Brothers' flying machine, Ruth Law's, and Charles Lindberg's Spirit of St Louis as well. It's a great idea.Instant gratification, and cheap.." Many Thanks C. Collins
---
I saw a posting by a mom named Clare who had coresponded with you saying that you were offering this model to us. What a gift you have given us. You have been a blessing to not only us but to generations of children who are learning to love learning and exploring . Not to mention...many posts on the message boards stating many stories of how when the homeschooling dads saw this model they jumped right in kicking us mom's out of the way so they could have the fun building this model with their children. ....thanks for bringing the kid out in all of us again. Blessings to you ..K Smith, Kansas
---
Bleriot XI model submitted by Bob Martin. Thanks Bob!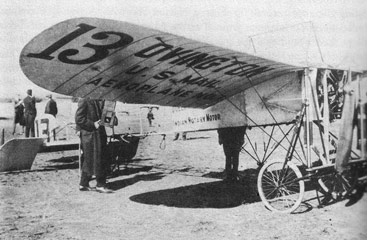 ---
America's first Air Mail delivery on September 23, 1911 piloted by Earle Ovington. This Bleriot XI carried 1900 letters and postcards between Nassau Blvd and Mineola Long Island, NY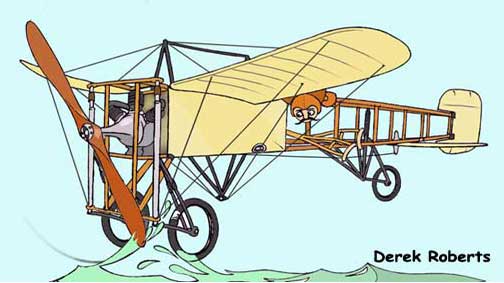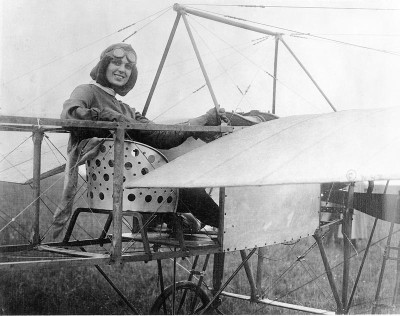 Harriet Quimby in 1912 she flew a Bleriot XI from England to France across the English Channel.

Louis Blériot's flight last July to commemorate his grandfather's first crossing of the English Channel was considerably shorter than the 1909 original-by some 35 minutes. Blériot nose-dived one of the three remaining airworthy Blériot Type XIs into a pond two minutes after take off from Calais, France. The flight was made for a documentary being produced for the 90th anniversary of the historic flight. The vintage aircraft's owner, Jean Salis, who had twice re-enacted the crossing, wept as his priceless craft headed unerringly for the water.

"I tried to turn left and right but it would not respond," Blériot said. "When I pushed the stick to the left it went right and it just kept going right I can't explain it I'm not hurt but the plane is not very well. Its right wing is broken but it could be repaired for another try."