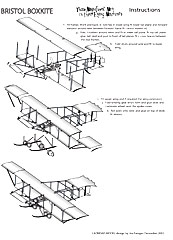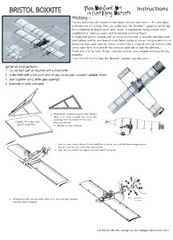 Bristol Boxkite British Early Airplane
When the British & Colonial Aeroplane Co. (later known as the Bristol Aeroplane Co.) unveiled its 'Boxkite' in the summer of 1910, it was threatened with legal action by Henry Farman, so similar was it to his own design. However, George Challenger's near-copy was in many respects an improvement on the Farman III. The most visible differences being the third rudder and shorter landing skids.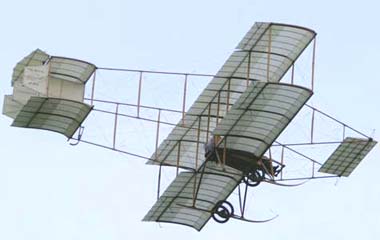 Power was usually provided by a 50 hp Gnôme, although the 50 hp E.N.V., 60 hp Renault and 70 hp Gnôme were also tried. Construction was from ash and spruce, with the flying surfaces covered in rubberized cotton. In 1910 standard versions sold for £1,100 with the Gnôme making up £600 of that sum. A military version was also produced with three rudders, and a 12 ft. extension to the upper wing for greater load carrying capacity. This was the first British aeroplane to be purchased by the War Ministry, in March 1911. The Boxkite proved highly successful and was the first British aircraft to be exported. Examples flew in India and in Australia until 1915.
---
Specifications:
Engine: 70 hp Gnome
Span: 34 ft. 6 in.
Length: 38 ft. 6 in.
Height 11 ft. 10 in.
Take-off weight 1,050 lb.
Speed: approx. 40 mph .
I noticed that there were no model pictures on the Magnificent Men site. So I thought I'd send some. Actually I did the entire CD. Did a display of all aircraft on the field by the hangers, and finally made a mobile of all models. Anyway here's the Bristol Boxkite. My Favorite
YMP, Bob
This Model is included on the
"Those Magnificent Men in Their Flying Machines"
CD by LadnDad