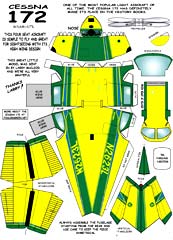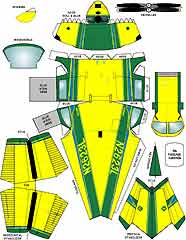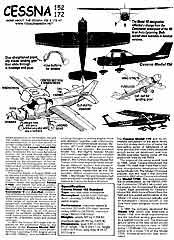 Cessna 170/172 Small Private Airplane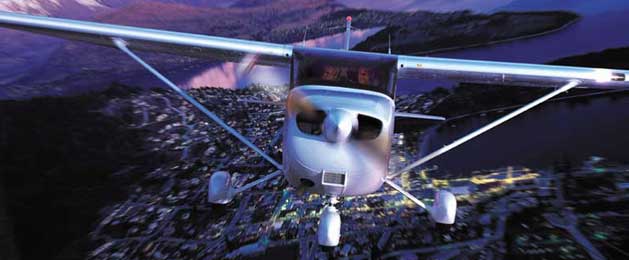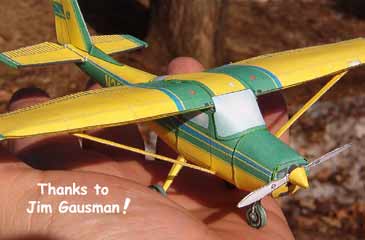 One of the most popular touring aircraft of all time, the Cessna 172 has gained a place in the history books. A four seat aircraft, the 172 is a simple to fly, forgiving aircraft that is ideal for sightseeing with its high wing design.
The Cessna Model 170/172 and its immediate successors of the same family have the double distinction of being the best-selling series of lightplanes of all time, and also the most widely produced aircraft series yet developed, well over 30,000 examples having come off the production lines by the 1980s.
The origins of the series stretch back to 1948, when Cessna introduced the Model 170, itself little more than a four-Model 170 were improved radically, and all subsequent Cessna aircraft of the type have been designed round similar flaps.
In 1955, the company developed the Model 172, which was essentially a Model 172B with detail improvements and the tail wheel landing gear replaced by a spatted tricycle unit. The improved ground safety of the new variant proved immediately attractive, and in 1956 some 1,170 Model 172s were sold, compared with a mere 174 of the Model 170B, whose production was terminated.
---
What people say...
I have just finished building a regular size Cessna 172 and I would like to extend my thanks and admiration to Larry Mcleod. This is a fabulous model! The results are startling and much better than I had anticipated before I started building. I had been wanting Fiddlers Green to publish a C-172 model for some time, but this is better than I had even hoped for.
Cessna wing. I would like to hear other builders advice in this regard.
Next I will have to build Larry's version of Glamorous Glen III.YMP, -Jim Gausman
---
General aviation is alive and well at FG! All those aircraft and not a gun or missile anywhere. Wow! The Cessna 172 looks like it is owned by a Green Bay Packers fan who graduated from Baylor (green and yellow!), or Oregon. John T
---
I started building a larger version, but it will never get the landing gear attached because I found that with two pennies in the nose, it is a great flyer. My son and I have been playing catch with it. The elevators require a good upward bend, but we stand 20 feet apart outside and it flies great. We will pretend that it is a Cessna 172RG and leave the gear off.
---

This is a photo of my cessna 172 along with Mike and Bob's 172. These are the tow versions I make for your use. This picture was taken in Feb 08 on Ft Peck Lake in NE MT. We had cleared a Runway and a bunch of us local pilots had a party out there. If you want you can use this picture on your web page.
Larry McCleod
Two comments to help builders:
1) I am very happy that I remembered to glue a penny in the nose so that the completed model will rest on the nose gear. The penny barely fits on a diagonal, but it does fit. I think that the larger version will take two pennies.

2) With all of the FG Cessna models (C-152, L-19, and now C-172)I find that I have the best luck when I score the bend line at the leading edge of the wing. Then I fold the leading edge without creasing the score line. I end up with a straight wing. When I have tried to shape the leading edge around a small dowel like I do with most of the other models.

Cessna 172 Skyhawk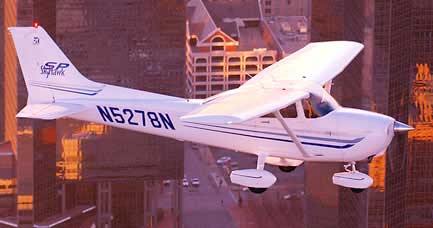 Cessna's earlier 172 Skyhawk had achieved some success when, in 1968, the Lycoming O-320 version was introduced. With two less cylinders than the Continental O-300 six-piston Skyhawks, the alteration meant lower overhaul costs.Cessna expected the new 172 to have only limited success, in view of the release of the Cessna 177 Cardinal at the same time. However, the 172 was a great success.
The Skyhawk went through a series of developments in terms of aerofoil redesign, wider track undercarriage, increased fuel capacity options, reshaped windows and an optional higher standard "II" equipment package.
High performance variants included the R172 Hawk XP, with a 195 hp engine, and the 172RG, with retracting undercarriage and a 180 hp Lycoming O-360 engine. Production models ran from the 172I of 1968 to the 172P of 1985. The 172 remained the most common Cessna model in civilian use in Australia in 2002, with 946 Skyhawks and 46 of the 172RG Cutlass.
The Cessna 172, or Skyhawk, received its type certificate from the FAA in 1955. It is an all-metal four-seat, single-engine, high-wing airplane with one door under each wing. The 172 was designed to replace the Cessna 170, which used conventional (tailwheel) gear instead of tricycle (nosewheel) gear.
The Skyhawk is one of the world's most popular flight training aircraft -- nearly every pilot in the western world has spent at least some time flying one. Historically, the Skyhawk's main competitors have been the Piper Cherokee, which is also very common, and the Beechcraft Musketeer, which is rarer and no longer in production. The older Skyhawks shipped with a 145 horsepower engine; later planes shipped with engines up to 180 horsepower, though 150 or 160 is more common. Cessna produced a retractable-gear version of the 172 named the 177RG Cutlass, and also produced versions on floats. The normal cruising speed for a fixed-gear 172 ranges from about 105 to 125 knots, depending on the engine and vintage.
---
The Skyhawk is part of a large family of high-wing, tricycle-gear, single-engine Cessna planes, ranging from the two-seater 150/152 (no longer in production) to the more powerful 182 Cessna Skylane, the six-seat 206 Cessna Stationair, and the enormous fourteen-seat turboprop Cessna Caravan, along with several other models no longer produced.
---
BUYING A CESSNA 170
Many Cessna fans argue that the taildragging Cessna 170 was one of prettiest airplanes ever offered by the Wichita company. Indeed, a polished, bare aluminum 170 with only a few accent stripes is one of the most attractive airplanes on any ramp.
Perhaps, surprisingly, 170s haven't taken on the status of classic, despite their aesthetic attraction and numerous talents. The first 170s had fabric covering on the wings, but Cessna shifted to all-metal construction in 1949. Like the later 172s, 170s were compact little fourseaters that couldn't legally carry four full-sized folks. Two adults and two kids worked fine, however, and that's exacty how many of them were used. Count on 100 knots at optimum with everything against the wall on about 8.0 gph.
All-metal Cessna 170s from 1950-51 sold new for $8,145 with typical equipment, held steady at that value for a decade but, today, they're worth a minimum $23,000.
---
Clear Cabin Cessna 172 submitted by Bob Martin. Thanks Bob!
---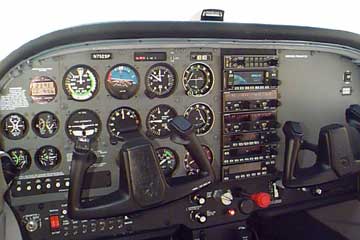 Cockpit of the Cessna 172.

Specifications of the Cessna 172 Skyhawk
Crew: 1
Capacity: 3 passengers
Length: 27 ft 2 in
Wingspan: 36 ft 1 in
Height: 8 ft 11 in
Wing area: 174 ft²
Airfoil: NACA 2412 (modified)
Empty weight: 1,620 lb
Useful load: 830 lb
Max takeoff weight: 2,450 lb
Powerplant: 1× Lycoming
IO-360-L2A flat-4 engine,
160 hp at 2,400 rpm
Drag area: 5.58 ft²
Aspect ratio: 7.32
Lift-to-drag ratio: 11.6
Wing loading: 14.1 lb/ft²
Power/mass: 15.3 lb/hp

Performance
Never exceed speed: 187 mph
Maximum speed: 141 mph
at sea level
Cruise speed: 140mph
Range: 790 mi at 55% power at 12,000 ft
Service ceiling: 13,500 ft
Rate of climb: 720 ft/min