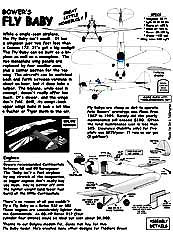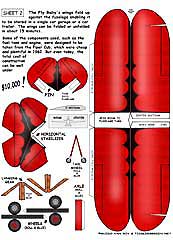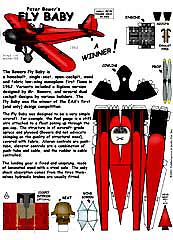 Bowers Fly Baby - $$6.95
Over 500 Fly Babies have been completed to date, with scores still flying worldwide and an active network of builders and owners. It is built from plans, and was designed to be able to be constructed in a garage using only basic tools by a person of average skill. This is another model by our Belgium designing pal, Guido Van Roy. His Fly Baby is easy to build just like the real one. Adorable. Comes in SEVEN different versions and now includes the Biplane type.

The Bowers Fly Baby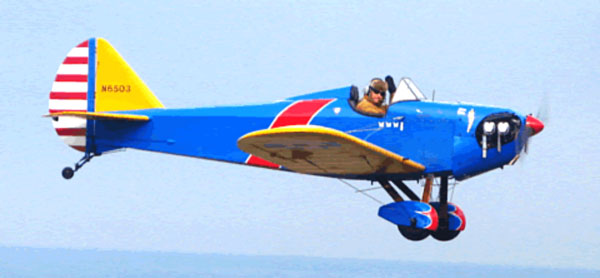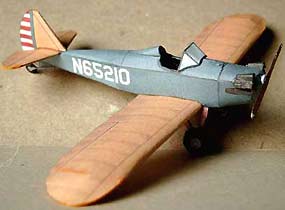 The Bowers Fly Baby is a home built, single-seat, open-cockpit, wood and fabric low-wing monoplane first flown in 1962. Variants included a Biplane version designed by Mr. Bowers, and several dual cockpit designs by various builders. The Fly Baby was the winner of the Experimental Aircraft Association's first (and only) design competition.
Over 500 Fly Babies have been completed to date, with scores still flying worldwide and an active network of builders and owners. It is built from plans, and was designed to be able to be constructed in a garage using only basic tools by a person of average skill. The Fly Baby is categorized as an Experimental Amateur-Built aircraft by the FAA. It fits the FAA's specifications for a Light Sport Aircraft, and can be flown by pilots holding a Recreational Pilot or Sport Pilot certificate.
---
What people say...
I attached a three view of how I was going to paint my Fly Baby but I don't have any other pictures at the moment. (see right). Denis
This is just a drawing and NOT a model included in the folder.
---
Pulled down with Fly Baby (darling little red cutie) and Boeing 40 (I LOVE mailplane's).And the Sikorsky amphibs on tap!...Holy cow! I'm fixin' tuh OD on some of my favs! Z
---
I remember when a "Popular Mechanics" issue had the "Fly Baby" as the feature article. She was a sweetheart then and is a sweetheart of an airplane now. My dad wanted to build one (". . . you can build it in your garage and store it in your garage . . . ."). He was an excellent pilot and a very good instructor as well. My mom, well, let's just say that she was not "air-minded" at all. To make a long story short, the cars both got to sleep in the garage. (sigh) Thanks for the little cutie, Chip. - John
---
Nine different versions of just one model - what a deal! FG still has to be the best bargain on the planet. J Cangero
---
This is the Bowers Fly Baby model that won the FG Modeling Madness (FGMM) 2010 best in class prize. Thanks to Tapani Huovinen who donated his $20 prize money toward modeling materials for hospitalized vets !!

I have a soft spot for the margins of aviation and especially for all experimental aircraft. The Fly Baby is a wonderful example of an aircraft meant to be built in your garage before joining the laymen air force. I enjoy building in small scales and this one is about 1:135. -Tappi
Bowers Fly Baby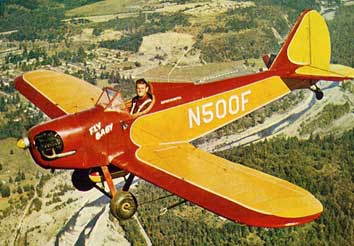 In the spirit of the very early Volkswagens, the Fly Baby was designed to be a very simple aircraft. The Fly Baby can actually fly with a Volkswagen engine!)
For example, the fuel gauge is a stiff wire attached to a float poking up through the gas cap. The structure is of aircraft-grade spruce and plywood (Bowers did not advocate skimping on the quality of structural wood), covered with fabric. Aileron controls are push-tube, elevator controls are a combination of push-tube and cable, and the rudder is cable-controlled.
The landing gear is fixed and unsprung, made of laminated wood with a steel axle. The only shock absorption comes from the tires themselves. Hydraulic brakes are usually fitted.
The aircraft was designed to be powered by a 65 horsepower Continental A-65 taken from a Piper Cub. Engines of up to 100 horsepower have been fitted, including the Continental O-200 and converted Corvair or Volkswagen engines. While instrumentation is up to the builder, most Fly Baby's are flown under visual flight rules (VFR) only. An electrical system is optional; many Fly Baby owners hand-prop the engine and use a handheld radio.
The Fly Baby's wings fold up against the fuselage enabling it to be stored in a single car garage or a car trailer. The wings can be folded or unfolded in about 15 minutes. The airplane was designed to be able to be stored in a garage and towed to the airport on its own gear. In practice, most owners use a trailer or keep their Fly Baby hangered at the airport.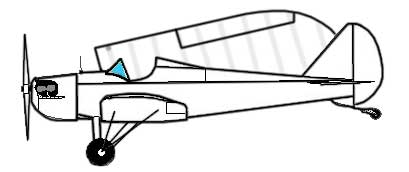 Some of the components used, such as the fuel tank and engine, were designed to be taken from the Piper Cub, which were cheap and plentiful in 1962. But even today, the total cost of construction can be well under US $10,000.
---
Accident record
The Fly Baby has an admirable safety record. There are three notable structural failures on record, all of them attributable to pilot or builder error rather than a defect in the design. One was caused by improper outdoor storage, leading to rot of the spar carry through. The new owner, who was not the builder, flew the aircraft without first inspecting it. Although the NTSB accident report faulted the design for not providing drainage holes, allowing water to accumulate, a close inspection would have revealed the problem.

Another accident was caused by a builder substituting solid bracing wires for the stranded wire called for in the plans. Undamped vibration caused the failure of a bracket, and the wing folded in flight.
Fortunately, the pilot was wearing a parachute. A third accident was caused by improper tensioning of the flying wires. One of the pair failed, and the resulting sudden load on the other wire caused it to fail.
---
Guido Van Roy in Belgium designed and built the Fly Baby model shown here. That's Guido bottom right with his

Slingsby Glider

Beta model of the Biplane version of the Fly Baby, Included in the folder in three versions.

Designer Guido Van Roy

Some time ago you inquired about possible new projects I was planning. I did not really have something at that moment, but these things can change quite quickly. Lately, I have been busy designing a card model of the Bowers Fly Baby, currently in low-wing "1A" form but the biplane "1B" will be a an obvious extension of the design.
Take a look at the attached pictures (above)... it is the very first test build and the model still has some errors that need correcting. But generally speaking, I think it does not look all that bad. I will send you the model files for comments after rectification and more test building. Unless you see no use for it..Kind regards, Guido
(first communication about the Fly Baby)
---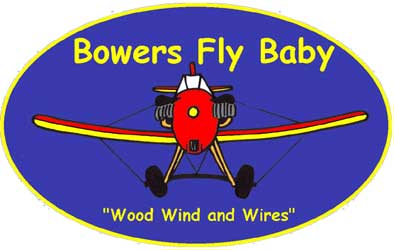 While a single-seat airplane, the Fly Baby isn't small, it has a wingspan just two feet less than a Cessna 172. it has a big cockpit. The Fly Baby can be built as a biplane as well as a monoplane. The two monoplane wing panels are replaced by four smaller ones, plus a center section for the top wing. The aircraft can be switched back and forth between versions in about an hour, but it does take a helper. The biplane, while cool in concept, doesn't really offer too much. It's slower, and the wings don't fold. Still, its swept-back upper wings make it look a bit like a Bucker or Tiger Moth in the air.
---
---

Look!!
We have the Biplane version of the Fly Baby as well.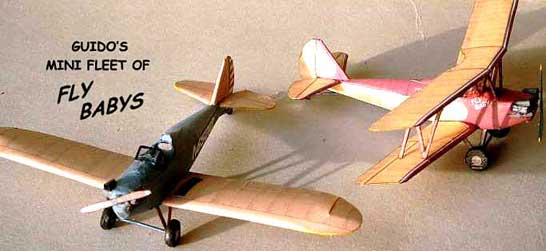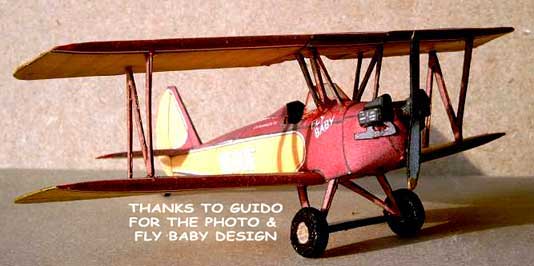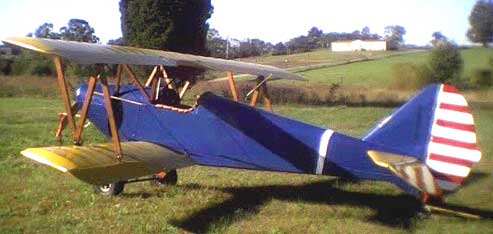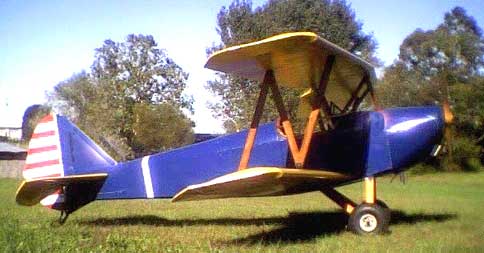 "A very cool airplane to fly. A poor man's WW1 fighter. Uses a Cessna 150s little 100 hp continental motor sipping 5 GPH. A true Stick-N-Rudder airplane."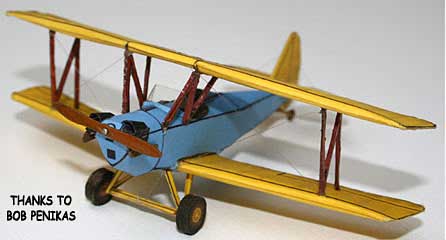 ---
This Fly Baby is on exhibit at the Pima Air Museum, Tucson, Arizona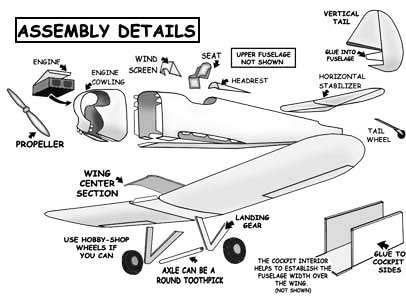 Specs for the Bower Fly Baby
Length: 18.83 ft
Wingspan: 28.0 ft
Wing area: 120 ft²
Empty weight: 605 lb
Max takeoff weight: 924 lb
Powerplant: 1× Continental C-85
flat-four engine, 85 hp

Performance
Maximum speed: 120 mph
Cruise speed: 110 mph
Stall speed: 45 mph
Range: 300 mi at 8,000 ft
Rate of climb: 1100 ft/min
Wing loading: 7.7 lb/ft²
Power/mass: 10.8 lb/hp

Specs for the Bower Bi-Baby
Length: 18.83 ft
Wingspan: 28.0 ft
Wing area: 188 ft²
Empty weight: 652 lb
Max takeoff weight: 970 lb
Powerplant: 1× Continental C-85
flat-four engine, 85 hp

Performance
Maximum speed: 100 mph
Cruise speed: 90 mph
Stall speed: 40 mph
Range: 275 mi at 8,000 ft
Rate of climb: 900 ft/min
Wing loading: 5.15 lb/ft²
Power/mass: 11.4 lb/hp