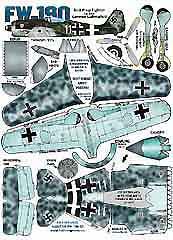 FW-190 - $$6.50
The Focke-Wulf Fw 190 Würger, was a German, single-seat, single-engine fighter aircraft designed by Kurt Tank in the 1930s. It was used by the Luftwaffe during the Second World War. It partially replaced the Messerschmitt Bf 109 in 1941. Over 20,000 were manufactured, including around 6,000 fighter-bomber models.

The Focke-Wulf FW 190 German WWII fighter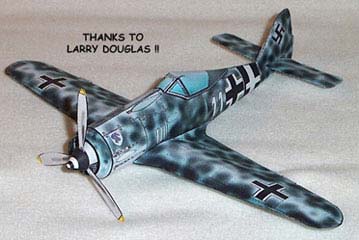 These were the last and best piston fighters Germany threw against the Allies. If Hitler had built more of these, and sooner in the war, the results could have been quite different. The 'shark-like' coloring of this model sets it off as being mean, lean, and ugly. You'll especially enjoy making this model.

The Fw 190, designed by Kurt Tank, was one of the technically most advanced, and operationally most eminent, fighter/fighter-bombers of 1939-45. One of two designs submitted by Focke-Wulf in response to a 1937 specification, the prototype Fw 190 flew on 1 June 1939, powered by a 1,550 hp BMW 139 radial, as was the second prototype.
---
What people say...
Starbucks stirrers make great wing spars! I started using them as gluing sticks, but the fw-190 (Printed on bond paper) with a tapered wing spar from starbucks flies fantastically..... Next step is a pager motor, and a battery! Tom Beard
---
Focke-Wulf FW-190 German Fighter

---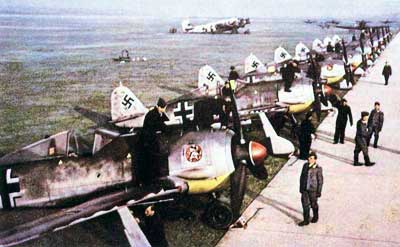 Subsequently, the larger 1,600hp BMW 801 was substituted. In 1940 pre-production Fw 190A-Os were ordered, most with an increased in span that became standard. Delivery began in June 1941 with 100 A-Is.
Armament was increased to six guns in the A-3, powered by a 1,700hp BMW .. The N 190 was used in loyalist hit-and-run raids over southern England in 1941-42. By the end of 1942 nearly 3,000 had been built and the N 190 was serving in North Africa and on the Russian Front in even greater numbers than in Europe.
They were discarded in favor of the Fw 190D powered by the liquid-cooled 1,776hp Junkers Jumo 2 ISA-I whose annular radiator duct presented a radial-engine appearance and characterized by its longer nose and rear fuselage and (on the D-1) increased fin area. Total Fw 190 production, excluding prototypes, was 20,081, over 6,500 of which were fighter variants.
Kurt Tank, one of the most progressive aircraft designers ever, belongs the distinction of producing what is generally acknowledged as Germany's most successful single-seat fighter of World War 2, the Focke Wulf Fw 190. By the tune the RLM specification for the Fw 190 was issued, in 1937, the Messerschmitt Ef 109 was well established in production, but the thirty-nine-year old Tank's design was superior to it in many respects. It was a well proportioned and aerodynamically clean-looking aircraft, the most noticeable characteristics being a very wide-track main landing gear and a large but neatly cowled BMW 139 engine.
The A-5 was produced chiefly for close support; the A-6 and A-7 featured further improvements in firepower; the A-8s were mostly bomber interceptors or Zerstdrer, although some were employed as all-weather fighters and others as two-seat trainers. As a fighter, at altitudes up to about 20,000 ft , the Fw 190 could match or improve upon the performance of the Spitfire V. then the best of its Allied adversaries. Above such heights, however, performance of the Fw 190 began to fall off rapidly, and improvement became an absolute necessity in the face of high-level daytime raids by USAAF bomber formations in the middle war years. The Fw 190B and C series were discarded. after a few prototypes with boosted BMW S01D or DB 603A engines, in favor of the long-nosed Fw 190D or Dora.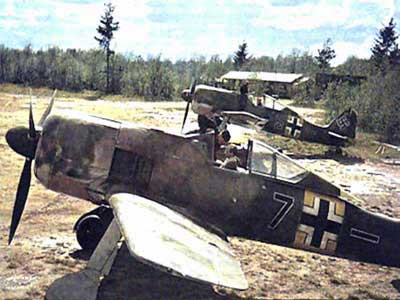 The Fw I90F and G (the E reconnaissance fighter and high altitude H series not being built) were short-nosed models, based on the Fw 190A. The Fw 190F series' principal model, the F-8, had provision for under wing rocket projectiles, Both the F and G were BMW 801-powered, the latter being mostly fighter-bombers in which gun armament was reduced to permit (on the G-l) a single 3,9681b bomb, or(on other G models)up to 2,2061b of smaller bombs, to be carried. Total Fw 190 production, which ended in 1945, was approximately 19,500. It was the first fighter to give the Luftwaffe a combat advantage over the early Spitfires. Its overall versatility was characterized by several dozen kits to adapt production aircraft to different roles.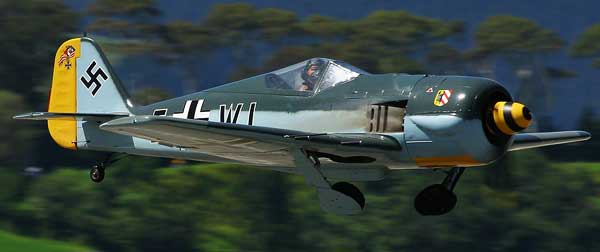 ---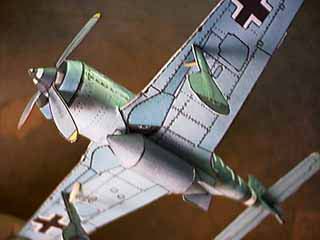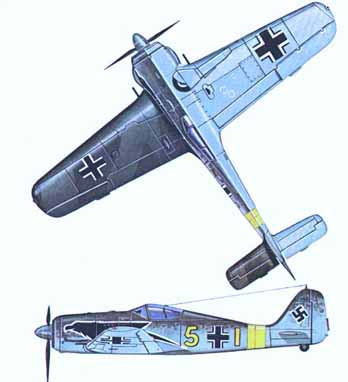 ---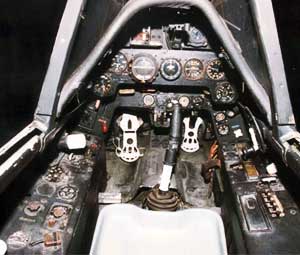 Cockpit of the Focke Wulf Fw 190.
Specifications
Length: 29 ft 5 in
Wingspan: 34 ft 5 in
Height: 12 ft 12 in
Wing area: 196.99 ft²
Empty weight: 7,060 lb
Loaded weight: 9,735 lb
Max takeoff weight: 10,800 lb
Powerplant: 1× BMW 801
D-2 radial engine, 1,730 hp;
2,000 hp with boost

Performance
Maximum speed: 383 mph at
19,420 ft, 408 mph with boost
Range: 500 mi
Service ceiling: 37,430 ft
Rate of climb: 2,560 ft/min
Wing loading: 49.4 lb/ft²
Power/mass: 0.18-0.21 hp/lb

Armament
2 × 13 mm (.51 in) MG 131
machine guns with 475 rpg
4 × 20 mm MG 151/20 E
cannons with 250 rpg in the
wing root and 140 rpg
outboard.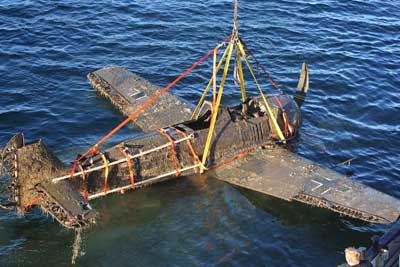 Image showing a FW 190 being raised from the sea bottom, off the coast of Norway,