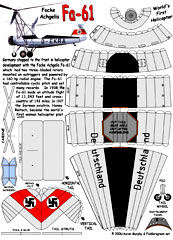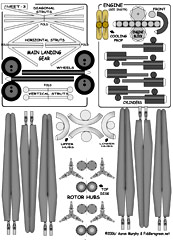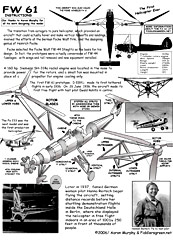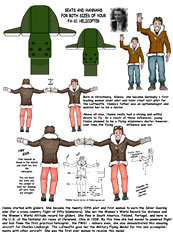 Focke-Achgelis Fa-61 (Focke-Wulf Fw-61) German Helicopter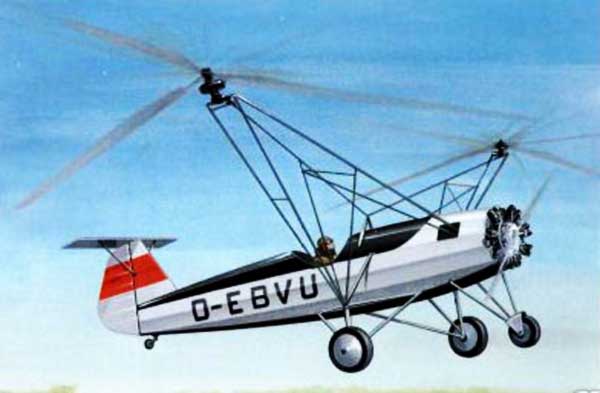 NOTE: The designation Fa-61 and Fw-61 a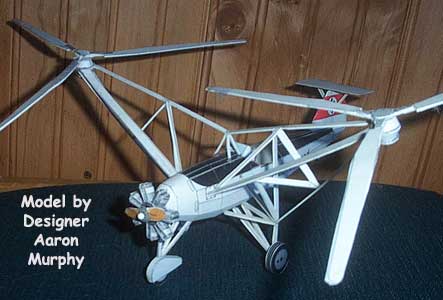 re one in the same.
1936- The German Focke Achgelis Fa 61 had two three-blade rotors driven by a 160 hp engine mounted on either side of an existing airframe. It established various world records between 1936 and 1939.
Focke-Wulf Flugzeugbau AG, with works at Bremen, Flughafen and Johannisthal, was, by the mid1930s, openly constructing both well-armed and multi-engine warplanes, for possible adoption by the reformed Luftwaffe, and trainers. Additionally, in 1931, FockeWulf had received a licence to construct Cierva Autogiros.
---
What people say...
Hi Chip, your latest models are great - as can be expected of any new FG releases. I am currently assembling the Fa61 helicopter, not an easy one in 1/72 scale ! It is, however, so odd yet historically important that it should be included in my collection. Guido Van Roy 5/06
---
I finished the Fa61 last night. It turns out that I miscalculated the scale settings so the model ends up slightly larger than the intended 1/72 scale. Anyway, it took me 3 evenings of work.
Just a few comments:
Outrigger assembly is not easy but once you see how everything goes together it can be done. Only thing is that I could not get the angle for the rotors correct, I am sure I did something wrong somewhere... Not that this generates a major error, but I have the idea that the rotors are tilted too much forward. In my opinion, there is just one area worth improving : the cockpit. With such a huge hole in the fuselage, you just need cockpit walls and a seat...Do not think I do not appreciate the model... it is smashing and a sure eye catcher !
Kind regards, Guido Van Roy (5/06) Point well taken Guido-watch this space, chip
---
Great Model! Took me a couple days to finish. Had a lot of trouble with the outriggers. Couldn't seem to get them to come out right. Doing something wrong. Finally cheated and used 1/16" balsa strips for the outriggers. Still a great looking model. Thanks Guys. Keep em coming!!!!Sorry not a better picture. Thanks Bob Martin (5/30/06)
---
Fw 61 Focke-Achgelis Helicopter
Later Professor Heinrich Karl Johann Focke began work on a helicopter, no doubt having gained considerable experience of rotorcraft by way of the Autogiros. In 1934 he completed a model which flew well and thereafter set about organizing the fabrication of a full-size machine.

The result was the Fw 61. As the basic structure it used the fuselage and vertical tail of one of the company's Fw 44 Stieglitz biplane trainers (with the forward cockpit faired over). The 160-hp Bramo Sh 14A radial engine in the nose powered the rotors and a tractor cooling-fan.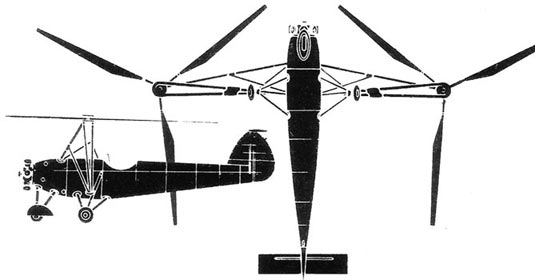 On each side of the fuselage was attached an inclined pyramidal outrigger constructed of chrome-molybdenum steel tubing, which could be covered with balsa and Elektron material but were generally not.
From each outrigger tip was carried a three-blade rotor, each blade made up of a tubular spar with plywood and fabric covering.
The most important feature of the opposite-turning rotors was that each blade was double-articulated, with tangential oscillations limited by elastic tension.
In other words this helicopter featured all the blade movements for an entirely successful helicopter. The undercarriage was of nose wheel type and a braced tailplane was carried on top of the fin.


The first of two Fw 61s was civil registered D-EBVU and on its maiden flight remained airborne for 45 seconds. On 10 May 1937, having already achieved much longer flights, it became the first manned helicopter in aviation history to demonstrate an engine off landing using autorotation (with a ground roll of 6 feet).
The second Fw 61 appeared in 1937 as D-EKRA. During 25-26 June 1937 Ewald Rohlfs flew the helicopters on separate occasions to establish new FAI-approved records: speed in a closed circuit of 76.151 mph, height of 8,002 feet, duration of 1 hour 20 minutes 49 seconds, and distance in a closed circuit of 50.08 miles.
---
Fraulein Hanna Reitsch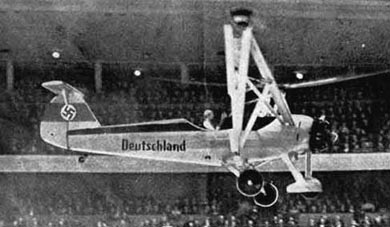 In 1937 Fraulein Hanna Reitsch, Germany's famous woman test pilot, became the first woman to pilot a helicopter when she took the controls.
In February 1938 she flew an Fw 61 from Stendal to Berlin, a distance of 68 miles and then demonstrated the machine inside the Deutschland Halle, where the floor area of 25,000 square feet made possible fully controlled forward, backward and sideways flights without any assistance from wind.
Later the same year another pilot took the FAI-accredited world distance record in a straight line to 143.07 miles, while in early 1939 a height of 11,243 feet was reached.
The Fw 61 demonstrated that it could turn through 360 degrees in just 2.5 seconds while hovering and could roach 20 mph in backward flight. It was estimated that, with the fairing's fitted to the outriggers of the helicopter, a forward speed of 88 mph might have been possible.
---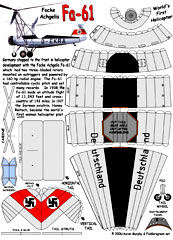 Clearly the Fw 61 was the world's first entirely successful helicopter. The Fw 61's major shortcoming was its heavy weight, which was considerably higher than that of the Stieglitz biplane loaded for touring as a two seater and yet the Fw 61 was only a single-seater!
In effect this meant that the Fw 61 was incapable of carrying a worthwhile payload, leaving only survey, observation or similar roles open to it.
However, by now the Fw 61 had been under the patronage of the FockeAchgelis company for some years, a company founded by Heinrich Focke with Gord Achgelis after leaving Focke-WuIf.
It was, therefore, this company that continued the development of the Fw 61 and, using the experience, produced the first-ever helicopter to go into limited production, as the much larger Fa 223.
Ultimately, Allied bombing kept the Fa 223 out of major series production for wartime service with the Luftwaffe and only a handful were over used. Such action altered what might otherwise have been the course of history, allowing the first helicopter to enter full production and military service to be an American type.
Meanwhile back in Britain in 1937, G. and J. Weir, a Scottish company that had constructed Cierva-type Autogiros, decided to devote itself entirely to helicopters. Its two-seat W.5 (60-hp Weir engine) was influenced by the Focke-Wulf Fw 61. The W.5 first flew on 7 June 1938 at Dalrymple, making it the first partially successful British helicopter.
Flown by Raymond Pullin, the company's chief engineer, it had cyclic pitch control but no collective pitch control, vertical flight being controlled by increasing or decreasing the engine's rpm.
---
| | |
| --- | --- |
| The rotor support frame work for the Fw-61 was a real challenge but Aaron's instruction page and exploded view makes it easy. | |
---

Focke-Wulf Fw-61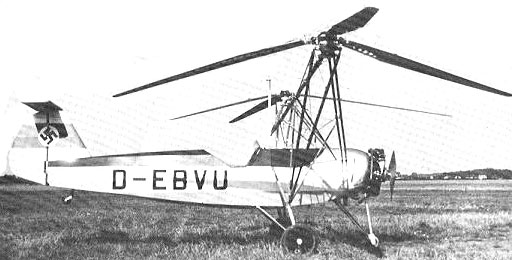 Heinrich Focke, a German professor who created the Focke-Wulf airplane company, also began working on helicopters in the 1930s. Like Louis Bréguet, he performed research on the problems of control of rotary winged flight and built a scale model helicopter in 1932, before Bréguet flew his craft in 1933. But four years passed before Focke was to build a full-scale version of his model.

In 1936, Focke, in cooperation with another German named Gerd Achgelis, developed the Focke-Achgelis Fa 61 (often called the Focke-Wulf 61). The Fa 61 used the fuselage and engine of a training biplane known as the Focke-Wulf Stieglitz. The Stieglitz was a popular two-cockpit aircraft that had already earned the Focke-Wulf company an international reputation.
Focke and Achgelis kept the open aft cockpit of the Stieglitz. They removed the wings and replaced them with two large three-bladed rotors mounted on tubular steel outriggers on either side of the fuselage. The outriggers were connected to the forward fuselage of the aircraft. This configuration made the Fa 61 look superficially like an autogyro with two rotors instead of one.
But the airplane's propeller blades were shortened, and the propeller provided no power for forward flight as with an autogyro's forward propeller. However, the propeller still served as a cooling fan for the 160-horsepower Siemens-Halske Sh14a radial engine, which powered the two rotors through a complicated system of gears and shafts.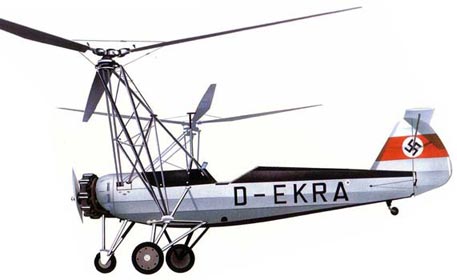 Like Bréguet, Focke solved the torque problem by using two rotors turning in opposite directions. But the Fa 61's control system was much more robust. If the pilot pushed the control stick forward and backward, he could tilt the rotor discs forward and backward together, causing the aircraft to move in the desired direction.
By moving the stick sideways, the pilot could increase the angle of the blades on one rotor and reduce it on the other to control the roll of the craft. The rudder pedals tilted the rotors forward and backward in opposite directions to control yaw. The Fa 61 had excellent stability and control and was capable of hovering, going straight up and down, and forward and backward.
The Fa 61 was registered D-EBVU and made its first free flight on June 26, 1936, piloted by the Focke-Achgelis test pilot, Ewald Rohlfs. The first flight lasted less than a minute and Focke allowed only a few more tentative flights before suspending the test program in order to fine-tune his design. During this time, the Bréguet aircraft was establishing a number of flight records, but often suffered damage during the flights.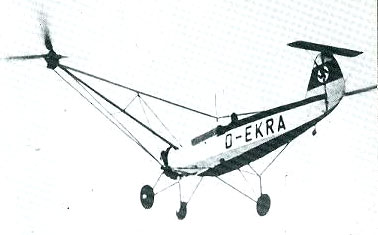 On May 10, 1937, test pilot Rohlfs took the Fa 61 to an altitude of 1,130 feet and then pulled back the throttle to idle the engine. He used its spinning rotors to descend safely to the ground. This demonstration of autorotation finally proved that a helicopter would not automatically crash if its engine failed.


Seven weeks later, Focke began another series of tests and in seven days, Rohlfs broke every previous helicopter record—most of which were held by Bréguet craft. The Fa 61 made a flight of one hour and twenty minutes, reached a speed of 76 miles per hour, flew a distance of 143 miles , and ultimately reached an altitude of 11,243 feet. And unlike the French aircraft that had completed its tests in late 1936, the Fa 61 did not suffer damage during its flight tests.
---
Following interest by the Luftwaffe, Karl Francke, chief test pilot of the Rechlin experimental center, and Germany's famed female pilot, 25-year-old Flugkapitan Hanna Reitsch, flew the Fa 61 in September 1937. Reitsch performed a number of test flights, breaking several of Rohlfs' previous records.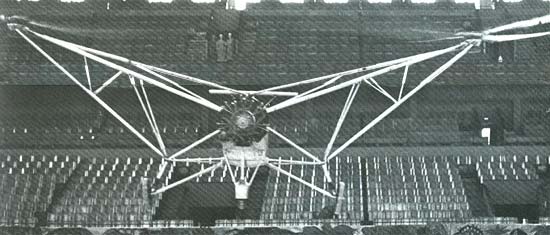 During a flight presentation in the Deutschland Hall, Hanna was able top not only land and take off vertically, but also swing from left to right in time to waltz music.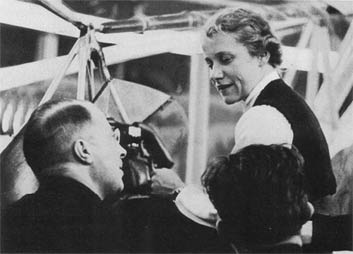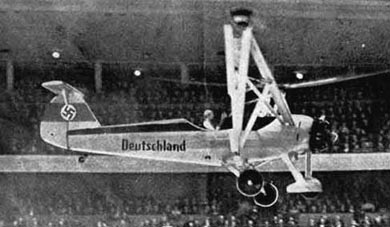 Test pilot Hanna Reitsch confers with designer Henrich Focke before her 1938 exhibition flight of his twin-rotor Fa-61 at a trade show held inside a Berlin sports arena. At right, she hovers in front of a throng. For safety, the arena was aired periodically: The crowd consumed enough oxygen to reduce the engine's power. Watching foxy Hannah flying the Fw 61, all the German men were breathing quite heavily.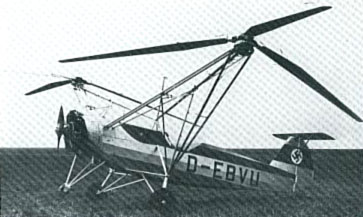 The Nazi government quickly recognized the propaganda value of having its famous female pilot fly such an advanced aircraft. In February 1938, Reitsch flew the Fa 61 for fourteen consecutive nights inside the huge, enclosed Deutschlandhalle sports stadium in Berlin. Although Reitsch had less than three hours flying experience with the aircraft, she was able to maneuver it successfully in front of large crowds. In fact, the heat and humidity produced by the crowd affected the Fa 61's engine performance.
---
Focke's Fa 61 was far more maneuverable than Bréguet's aircraft and also could fly for extended periods of time. Although many consider Bréguet's Gyroplane to be the first real helicopter, Focke's Fa 61 is considered the most successful early helicopter. It sufficiently impressed the Nazis that they allowed Focke and Achgelis to form a new helicopter company and awarded them a contract for an enlarged version of the Fa 61 that could lift 1,500 pounds of cargo. (see below)

The 160hp Siemens-Halske Sh314E engine along with its
gearbox and transmission shafts



This is a close up of the Fa-61 rotor head with its blade
hinges and incidence controls. A very impressive bit of 1937 technology
---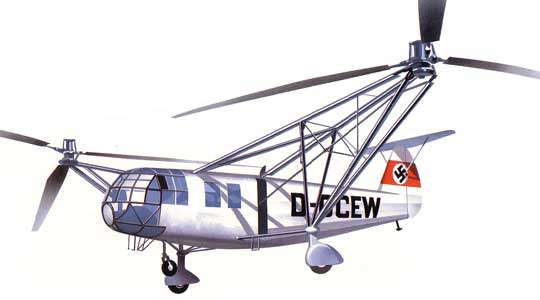 The Fa 223, which was an enlarged version of the German Fa 61, had a 1,000hp engine mounted at the center of the steel tube, fabric-covered fuselage. It could carry 12 to 23,000 ft, fly 115 mph and was intended for mass production.
---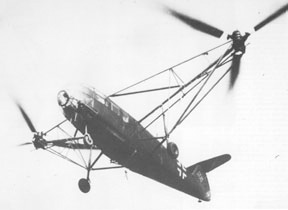 The Focke Achgelis Fa-223 Drache was the world's first helicopter to achieve production status. It was used during World War II, but Allied action limited its production to some 20 complete machines. It was used primarily for transport, rescue, and reconnaissance. A captured Fa-223 was the first helicopter to cross the English Channel when it was returned to England in September 1945 for post-war evaluation. U.S. forces acquired two others during May 1945.
This twin-rotor helicopter included an MG 15 machine gun and two 551-pound bombs, a rescue winch and cradle, a reconnaissance camera, and a 106-gallon auxiliary fuel tank that could be jettisoned. It was powered by one 1,000-horsepower radial piston engine and could reach a maximum speed of 109 miles per hour. Each rotor was 39 feet in diameter. The helicopter was 39 feet long and 14 feet in height.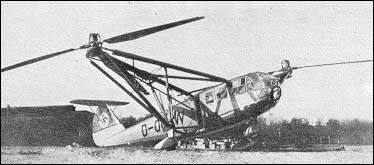 At the same time, Focke-Achgelis designed and built a tiny powerless autogiro that could be towed behind surfaced U-boats as one-man observation platforms. These later performed with limited success and were not widely used. Throughout the 1930s, intense competition existed in the aviation community in Germany. Anton Flettner, another German designer, built the F1-265 and then the FL-282 Kolibri (Hummingbird), a single-pilot machine that incorporated two-bladed intermeshing rotors mounted behind the cockpit.
This machine was extremely successful and, because of its small size, fit a need voiced by the German Navy. The Kriegsmarine, recognizing the advantages of a machine that could utilize small deck areas of seagoing vessels for landings and takeoffs, was impressed enough to order 1,000 of the Kolibri craft. But World War LL intervened before full production could be implemented. Allied bombers destroyed the Focke-Achgelis plant, and before the Flettner machine could be put into mass production the war ended. Only three FL-223s remained flyable after the fall of Germany.
---
Old footage of the Focke-Wulf Fw-61 in flight
---
Specifications
Length: 23 ft 11.04 in
Rotor diameter: 2 x 23 ft
Height: 8 ft 7.92 in
Empty weight: 1,803 lb
Max takeoff weight: 2,094 lb
Powerplant: 1x BMW Bramo 314 E
7-cylinder radial, 60 hp

Performance
Maximum speed: 76 mph
Cruise speed: 56 mph
Range: 143 mi
Service ceiling: 11,243 ft
Rate of climb: 690 ft/min