Trimotor Paper Model
Ford Trimotor 4-AT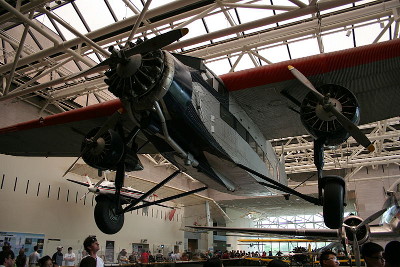 The Tin Goose as she appears at the National Air and Space Museum, Washington D.C.
Imagine you are the owner of a successful business, and a fax arrives asking you for $15,000, and at the end of the fax it read, "For your fifteen thousand dollars you will get one definite promise: You will never get your money back."
How would you respond?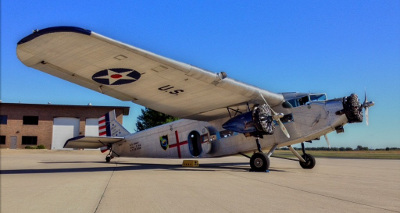 In early 1920, Henry Ford was one of over 100 prominent businessmen who received such a mimeographed letter from William Stout, a promising aeronautical engineer who utilized the design principles similar to those of Professor Hugo Junkers. Stout was asking for $1000, and had made that very same promise. William Stout managed to successfully procure $128,000 with which he founded the Stout Metal Airplane Company.
In 1924, Ford and Stout negotiated the construction of Ford Airport in Dearborn, Michigan, and a factory for Stout Metal Airplane productions, provided that Stout could convince the remaining 126 initial investors to sell out to Ford. Through negotiations, Ford ultimately paid $500,000 to the other investors (nearly a 4:1 payout) to broker that deal; whereby Stout Metal Airplane Company became a division of the Ford Motor Company. Ford would go on to invest an additional $2,000,000 for facilities and development. Ford Airport was not only one of the first modern airports in the world. It featured an airship mooring station and hangar for the ZMC-2, the only metal-skinned airship that was successfully built and operated.
The original Trimotor aircraft produced by Stout was designated as the 3-AT (AT standing for air truck). Due to the all metal construction, and many of the features that were incorporated into it, Henry Ford promoted it as the airplane of the future. Unfortunately, this claim was made before the
3-AT could be properly tested. One pilot refused to take off in the airplane after his initial flight demonstrated that it was underpowered and could barely circle the airfield, at which time he recommended to Ford to "Forget the plane." Further tests witnessed by Ford resulted in him angrily leaving, after which he ordered that Stout be reassigned, kept out of the design room, and away from engineering.
Ford placed Tome Towle in charge of engineering, and on January 16, 1926, Towle requested that all the documentation and drawings for the 3-AT be brought to the Engineering Laboratory so that they could be re-evaluated. At approximately 6:00 the next morning, a fire mysteriously began in the brick building, which not only destroyed the Stout Factory, but the aircraft that were housed within it. Tome Towle hired a new team of designers which included James McDonnell (future co-founder of McDonnel Douglas) to redesign and engineer the Trimotor. Their efforts resulted in the form that is recognized today in the 4-AT.
Encouraged by what he saw, Ford had an even better facility constructed, consisting of two buildings with, at the time, the largest doors in the world. Utilizing his experience in the auto making industry, the Ford Aircraft Division became the first company to use an assembly line to produce aircraft, and was reportedly the world's largest manufacturer of commercial aircraft.
The Ford Trimotor was primarily designed as a passenger aircraft, capable of flying up to 10 passengers, and was used by over 100 newly formed airline companies, such as Transcontinental Air Transport (later to become TWA), and Pan American Airways (Pan Am).

One of the unique features of the Ford Trimotor was the fact that the seats could be removed to expand the cargo hauling capabilities, which made it a popular choice for new airlines serving airmail contracts following the passing of the "Kelly Act" which required the transition of government operated aircraft to commercial carriers to fly them over Contract Air Mail (CAM) routes.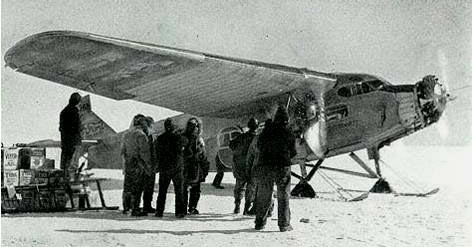 Another unique feature of the Ford Trimotor was the ability to employ different types of landing equipment, such as pontoons and skis which would allow it to travel to even the most remote parts of the world. This key feature coupled with Commander Byrd's relationship with Ford, were part of the reason that a Ford Trimotor was selected to be used on his expedition to the South Pole. Charles Lawrance, president of the Wright Company, had developed a 525 hp engine, which was mounted in the nose, and the two outboard engines were Wright J-5, which had been previously used by Byrd on his trans-Atlantic flight attempt. The
J-5s were rated at 220 horsepower, resulting in nearly 1,000 horsepower. This allowed a top speed of 122 mph and a load capacity of 15,000 pounds. The airplane was christened the Floyd Bennet, after his friend and pilot of choice who had died during a previous expedition.
In 1930, several Ford Trimotors were built with various engine configurations for the Army Air Corps. The initial entries were outfitted with Wright
J-4 engines (200 hp), and were designated as C-3s. Later models used Wright R-790-3 engines (235 hp) and were as designated C-3As. Five of the 5-AT configured Trimotor aircraft were also delivered and were designated as C-4 and C-4As respectively.
The heyday of the Ford transport was short lived. By 1933 aircraft such as the DC-2 were hitting the market and pushed the Trimotor out of the way. Fortunately though, the Trimotor had gained a reputation for durability that was backed by ads proclaiming, no Ford plane had yet worn out in service. The 4-AT and subsequent 5-AT were used by second and third-tier airlines, with a large number being converted into cargo transports. Sales of the Ford Trimotors continued to lag as the depression set in, and used Trimotors were selling as low as $10,000, a far cry from the initial $40,000 price tag. In 1936, at the height of the Great Depression, Ford closed the aircraft design and production division.
When World War II began, many commercial versions were modified for military applications. This would not be the only venture in aircraft during the war years, as the largest aircraft manufacturing plant in the world was built at the Willow Run, Michigan plant, where Ford produced thousands of B-24 Liberator bombers under license from Consolidated Aircraft. Ford would further aid the war effort with the productions of Waco CG-4 gliders at various plants under other licenses.
Historical Tidbits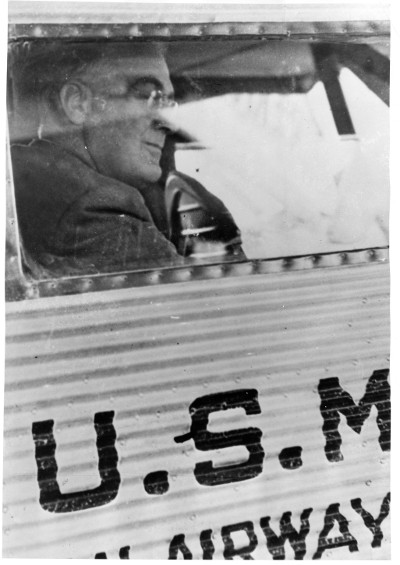 In July 1932, a Ford Trimotor carried Franklin Delano Roosevelt, the newly nominated Democratic candidate for President of the United State, on the first aerial version of a Whistle Stop Tour from Albany NY to Chicago IL. Roosevelt's lower body paralysis was not generally known to the public, and it was felt by all parties that the act of flying to Chicago to deliver his acceptance speech would promote him as a daring and forceful leader.
American Airlines had the honor of transporting Mr. Roosevelt, and went to great lengths to convert the 15-passenger airliner into a 1930's version of what would be considered Airforce-1. They removed several seats to increase leg room, fashioned a writing desk and a typing table for Mr. Roosevelt and his staff's use. They made two stops along the way in Buffalo and Cleveland. At both locations, FDR did not exit the plane, but did entertain newsmen, politicians, and friends onboard while the plane was being serviced and the rest of the party stretched their legs.
Despite a turbulent ride through a series of storms, FDR passed a note to be radioed to Chicago's Mayor, Anton Cermak: "Sorry, strong headwind makes us a little late but it is a delightful trip and we are getting a fine view".
The flight arrived at Chicago Municipal's Airport approximately 2 1/2 hours later than scheduled. Despite a rain squall, FDR was greeted by the Mayor, a welcoming committee, and a crowd that had swelled to an estimated 25,000 people. Everyone anxiously waited as the passengers exited the plane. The last to emerge was FDR, his elder son Elliot and Gus Gennerich (one of FDR's Bodyguards) somehow maneuvered him skillfully through the cabin door and he stood erect, making in his son's words, "A conqueror's appearance".
Mrs. Roosevelt was later asked if she thought that flying "Should appeal to women?" to which she diplomatically replied, "I think it should appeal to everyone."
Will Rogers had the last word regarding FDR's trip: "Roosevelt gave a good speech yesterday. And he gave aviation the biggest boost it ever had..."
The flight to Chicago truly gave Franklin Delano Roosevelt a flying start in the race toward the White House.
---
Serial number 10 Ford Trimotor 4-AT (#C-1077), is rich with history. In February 1929, it made the first international flight between the United States, and Mexico City, Mexico. What could make it an even more historical flight? How about the fact that it was piloted by Charles Lindbergh. It's arrival drew a crowd not only for the famous pilot but for the new airplane as well.

But that's not where the history making stops, C-1077 would later be the first airplane to make a commercial flight over the Canadian Rockies, and would garner additional distinction of being piloted by America's Sweetheart and adventure pilot, Amelia Earhart.

Unfortunately, a rough landing in 1936 grounded this history making plane in Carcross, Yukon, where it sat until 1956, when it was salvaged and preserved. During the 1980s, it was purchased by Greg Herrick, who began restoration efforts and brought it back to flying condition as it initially appeared when she rolled off the assembly line in 1927.
---
Question: When was the first aerial refueling accomplished?
August, 1937. The long-range capabilities of the Ford Trimotor were exploited in a search attempt for the Sigizmund Levanevsky and his crew who were attempting a Trans-Polar Flight from Moscow to San Francisco. A stripped-down Trimotor had been donated by Superior Oil Company. With 1,800 gallons of avgas and 450 gallons of oil, the Trimotor acted as the "tanker" for the expedition. An Electra was able to transfer fuel in the air from the Trimotor, through a hose cast out the 4-AT's door. With the first aerial refueling test successful, the pilots set out for Fairbanks, landing first at Burwash, Alaska on August 15, 1937. Ironically, the Trimotor ran out of fuel and crashed in inclement weather the following day.
---
Stout was later to say, "The greatest single thing I accomplished for aviation was to get Mr. Ford interested in it."
---
The Model - Aaron has done a fantastic job in bringing the Ford Trimotor to life, and at 1:48 there is a lot of detail with plenty of room for you to dress it up even more. With it's 18 1/2 inch wingspan there's plenty of room to scale it up or down. For even greater flexibility, the kit includes three different liveries: The US Army Air Corps C-4 pictured below, Commander Byrd's Antarctic Expedition, and Eastern Airlines.
A longtime friend of Fiddler's Green, and to a great number of our designers, a Golden Age Aircraft buff, Pericles leapt at a chance to do the test build of this wonderful kit that Aaron has put together. And as you can see, even when reduced to 1:100, it makes a wonderful model.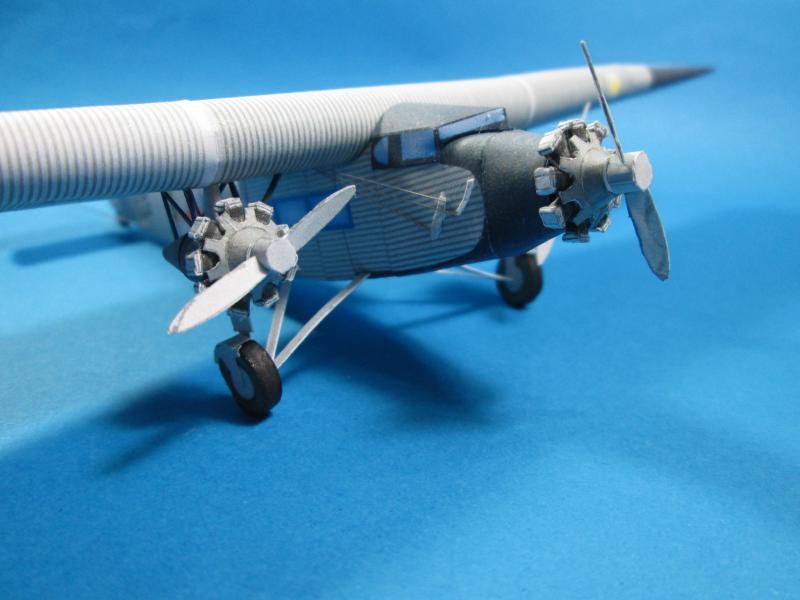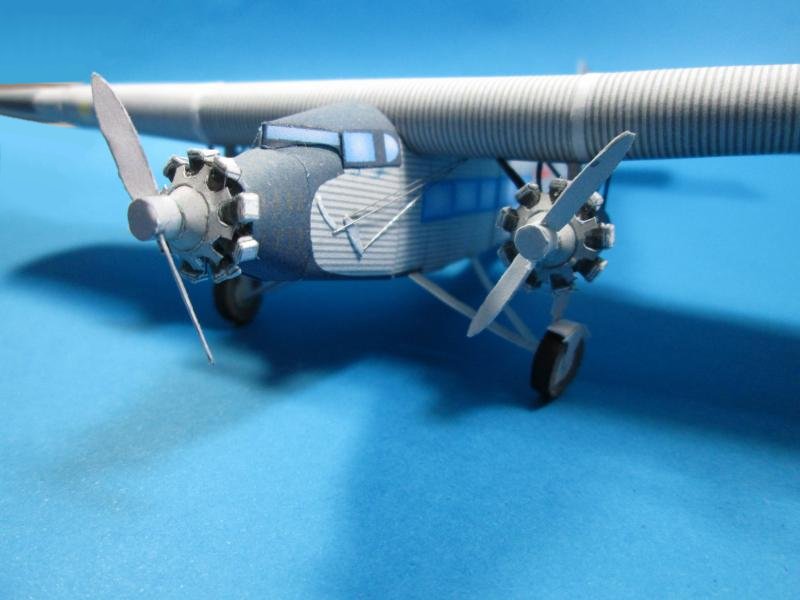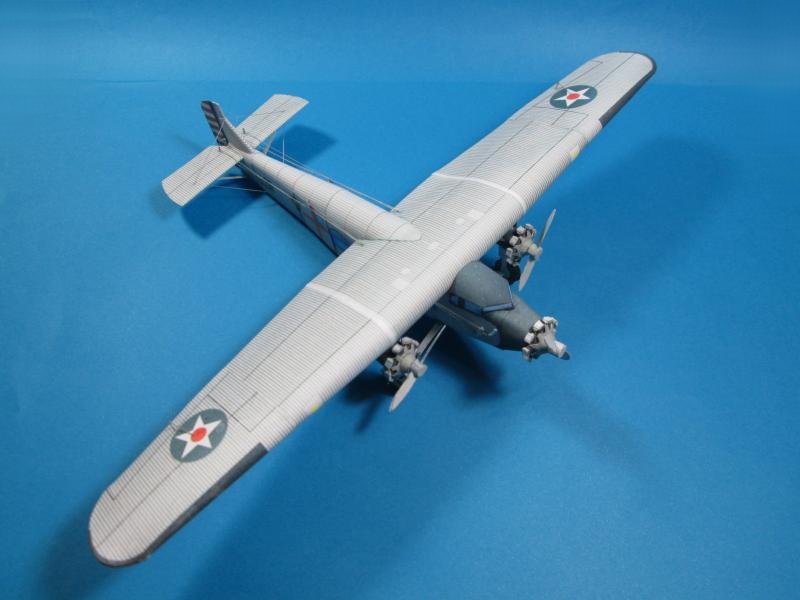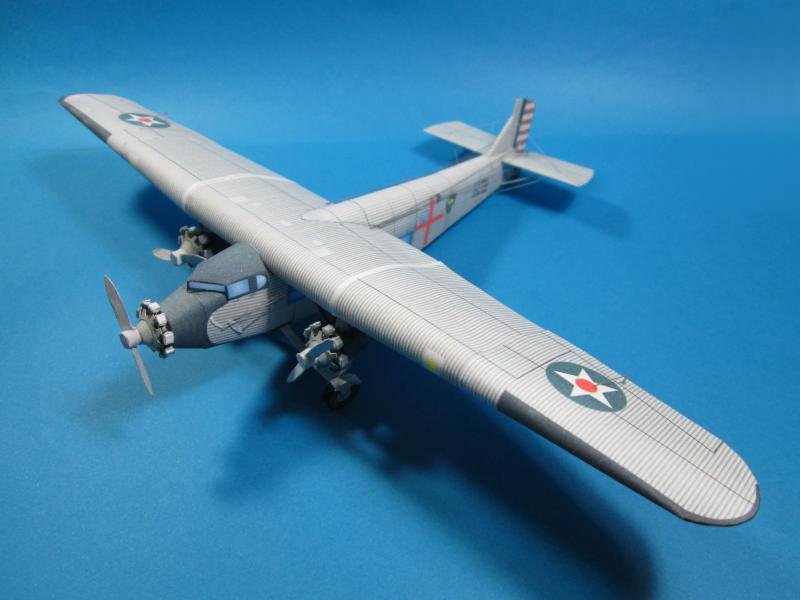 What People Say!
---
| | |
| --- | --- |
| Bob Martin: | Not a build you can do in a few hours. I've been workin on it for about 4 days. It's kinda rough, the instructions are not real clear and takes a while to figure out exactly how the parts are suppose to go. Not a lot of markings on the plane to show exactly where the parts go. That seems to be the biggest problem with the build. The pictures on the plans on some of the individual parts help a little. |
| ModelFanatic | This is a wonderful model, I LOVE IT!! |
| OleChap | This is a must have. |
| Ponduca | This is a great airplane with a long of history. I'm looking forward to this one. |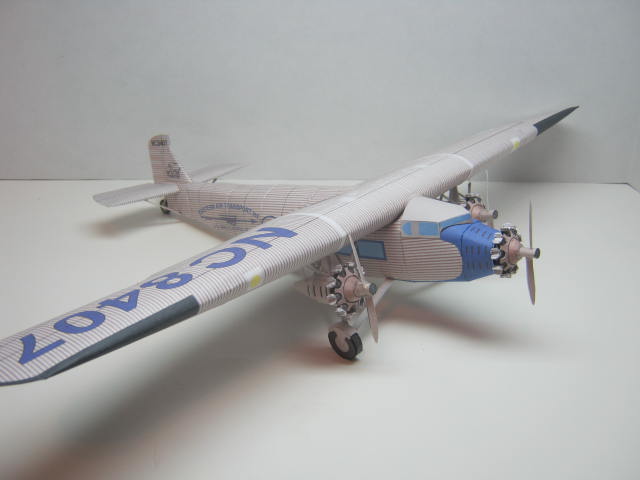 Bob's Build

---
Specifications
4-AT-E
5-AT-B

Original Engine
Gross Weight
Cruise Speed
Stall Speed
Range
Rate of Climb
Ceiling
Wing Span
Wing Area
Length
Height
Cabin Width
Cabin Height
Cabin Length
Max. Seating
Fuel Capacity

Wright J6-9 (300hp)
10,130 lbs
107 mph
57 mph
570 miles
920 fpm
16,500 ft
74'
785 ft2
49' 10"
11' 9"
4' 6"
6' 0"
16' 3"
11
231 gal

P &amp W Wasp (420hp)
13,500 lbs
122 mph
64 mph
560 miles
1050 fpm
18,500 ft
77' 6"
835 ft2
50' 3"
12' 8"
4' 6"
6' 0"
18' 9"
15
277 - 355 gal

---
The Byrd Trimotor
We have a special model devoted to the Byrd Exploration version of this aircraft.The Byrd Trimotor Workshop has status updates on the progress and latest version of this model (which will be included in your Trimotor folder for now)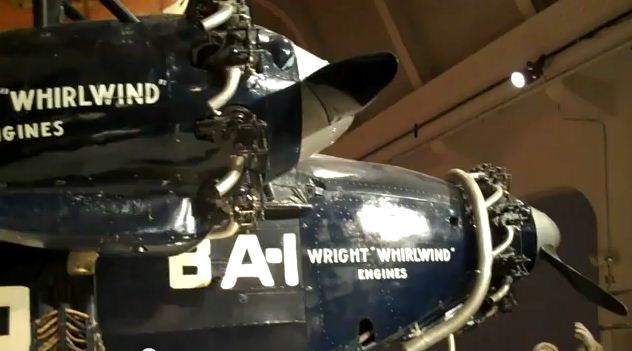 Nice view of the Ford Trimotor engines on the Byrd Plane
What H.G. Frautschy says:
My son and I were cruising the website today, reminiscing about how many FG models he built as a little fellow (and me right alongside) and I noticed something you should be aware of - on this page:

The photo captioned for the Ford engines is, in fact, a shot of the engines/nose of the Fokker Tri-Motor "Josephine Ford" housed in the Ford museum at Greenfield Village in suburban Detroit. Just thought you'd like to know!

We were both happy to see the site flourishing, and wish you the best of luck in the coming years. - H.G. Frautschy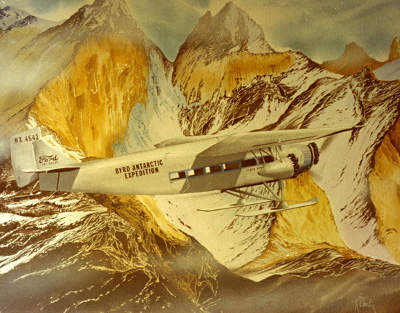 Artist's rendition of Admiral Byrd Flying over the Antarctic Peaks.
---
Flying the Trimotor
This video gives you a good feel for what it would be like to be inside A Ford Trimotor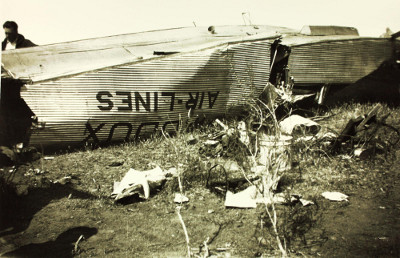 Accidental damage done to Maddux Ford Trimotor