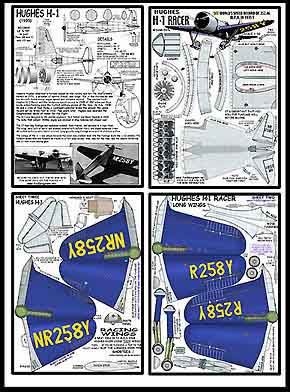 Hughes H-1 - $$4.95
Comes with TWO sets of wings. This is the plane you saw in the movie. During his work on his movie Hell's Angels, Howard Hughes and Glenn Odekirk hatched a plan to build a record-beating aircraft. The plane was given many names, but is commonly known as the H-1. It was the first aircraft model produced by the Hughes Aircraft company.

Howard Hughes H-1 Racing Airplane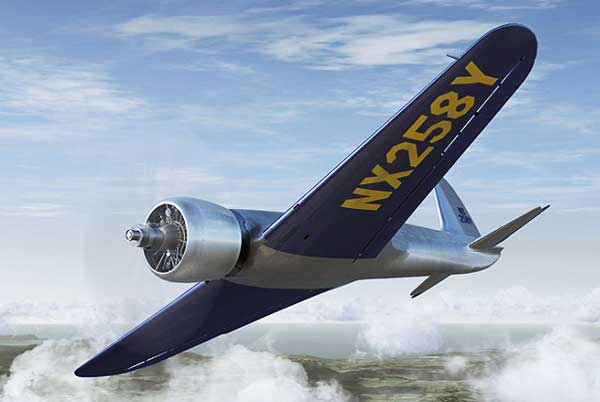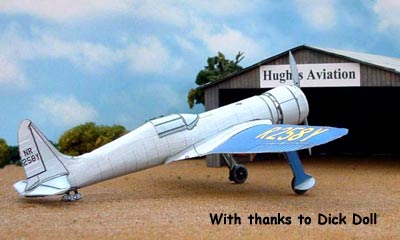 The Hughes H-1 World Record Breaker-as seen in the hit movie "Aviator"
The Hughes H-1 Racer-1935:So important is the H-1 in the history of flight technology, that it is now enshrined at the Smithsonian's Air and Space Museum in Washington Dc....
Where the plaque reads: 'The Hughes H-1 racer was a major milestone on the road to such radial engine powered WWII fighters as the American Grumman F6F Hellcat and Republic P-47 Thunderbolt, the Japanese Mitsubishi Zero and the German Focke Wulf FW-190.

This unique model is basically quite easy to build and comes with a few 'optional' more fiddly parts. It's available in the super size format as well as the usual one page 8 X11 format. There are several other 1930's racing planes in the WSAM collection.
---
What people say...
This is an excellent example of the way card models can be used as fascinating dioramas. Chauncy cleverly 'captured the Howard Hughes from an old time photo, tinted it, and uses it to set off the H1. He' offers it to you as a free download.
---
Record-Breaking with the H-1



In August 1935, after eighteen months of secret effort, they rolled their creation out It into the California sunshine. A closely cowled, superbly streamlined monoplane, the H-1 looked like a winner. Despite some opposition from the others, Hughes did the testing himself; thus it was to be with every plane Hughes ever built. (Later, in the case of the XF-11, this practice would nearly cost him his life.)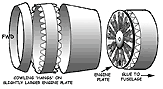 The H-1 flew beautifully and was far faster than any aircraft previously built. Hughes determined to try to recapture the world land plane speed record, which had been taken for France the year before by Raymond Delmotte in a Caudron C-460 built in French Air Ministry facilities at a cost of over a million dollars. They tuned the Twin Wasp Jr. for maximum output using newly developed 100 octane fuel especially shipped in five-gallon containers from the Shell refinery in New Orleans. In this way they got nearly 1,000 horsepower from an engine nominally rated at 700.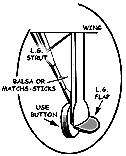 On September 13, 1935, at Santa Ana, California, representatives of the National Aeronautics Association and the International Federation Aeronautique, including Amelia Earhart and Hollywood stunt pilot Paul Mantz, clocked Hughes and his racer at 352.39 miles per hour, nearly forty miles per hour faster than the in existing record set by Delmotte.i' The speed runs that day nearly ended in tragedy. As Hughes completed his final mg so pass along the measured three-kilometer course, the engine quit and the little silver monoplane dropped out of sight into an adjoining ploughed field. When Odekirk and other observers got there Hughes was climbing down from the cockpit. Fortunately, the plane was scarcely damaged; a crash would have voided a new record. Later they found a wad of steel wool in a fuel line. But according to Odekirk that did not stop the flow of fuel-Hughes had run out of gas.
Odekirk had warned him to watch the time because he was only carrying a minimum fuel load to keep his weight down. But Hughes had been so intent on breaking the record that the engine quit before he could switch to an auxiliary tank containing a small reserve supply.
---
The Coast-to-Coast Record Falls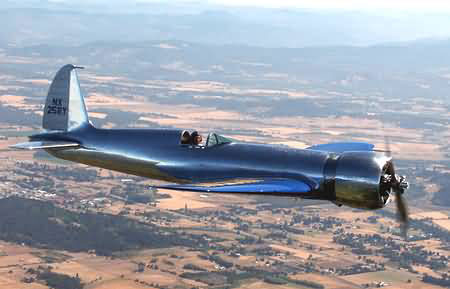 Hughes's next goal was to better the ten-hour coast-to-coast record set by Roscoe Turner in the 1934 Bendix Trophy Race. But it would be months before the H-1 could be repaired and fitted with a longer wing for distance racing. So Hughes looked with renewed interest at the new Northrop airplanes.
Famed aviatrix Jacqueline Cochran had recently purchased a Northrop Gamma, a sleek advanced monoplane she was readying for the Bendix race. Hughes calculated that if he replaced the 1535 engine Cochran had on the plane with the latest Wright Cyclone R-1820G 850 horsepower engine coupled with a Hamilton Standard variable pitch propeller, he could easily better Turner's record. At about eleven thirty one night the telephone rang in Cochran's hotel room. She groped sleepily for the phone at the bedside table.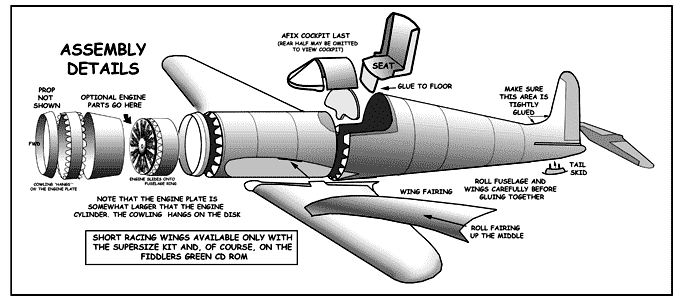 Dan Reno Shippey writes
... I have a bit of a problem. Beautifully printed Hughes H-1 racer, half on silver paper and half on glossy paper. Ahhh the glossy paper- THAT WON'T STICK TO ITSELF! Tacky glue isn't acting very tacky so what do you all recommend? The printing is so nice I'd hate to lose it and go back to regular paper.
---

Mark Lardas answers...
Cyanoacrylate -- super duper glue Get some model quality -- the thick stuff, gap filling or slow cure (20 second). Use tweezers to hold the surfaces together until they dry.

If you want it to set *fast* get some accelerator, too. Put the cyano on one surface, accelerator on the other and match surfaces. Be real careful matching, however -- with paper you get one chance.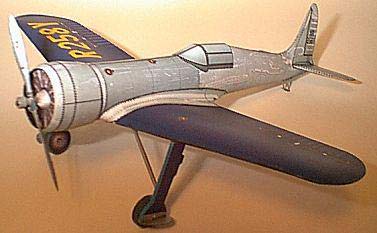 A great looking H-1 model by Chauncy in it's larger, long distance wings. These wings can be slid over the 'short wings' for a change of display.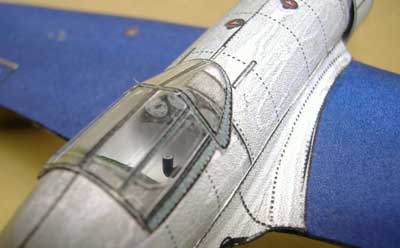 "Clear Cabin" Hughes H-1 Racer submitted by Bob Martin,Thanks Bob!
"Hello."
"Jackie, this is Howard."
''Howard who?"
"Howard Hughes. "
She was tired and in no mood for practical jokes at what for a working girl was a
late hour. "Aw, come off it. It's late and I'm tired."
"No, really. It's Howard. I want to buy your airplane."
''Well, it's not for sale," she said. "I'm going to fly it in the Bendix."
"I don't want to fly it in the Bendix, I want to fly it transcontinental."
"So do I,'' said Jackie. Hughes wouldn't be put off. "Come on out to Mines Field tomorrow, look at the racer and we'll talk about it some more."
The offer to inspect Hughes's "fabulous" racer was irresistible. She hadn't been able to keep her eyes off it whenever she had seen Hughes exercising it. "Aero-dynamically," Cochran says, "the plane was as far apart from the then-accepted airplanes as the jets are from the planes of World War II. I had been looking at this racer with my mouth watering." She got to sit in the airplane-she didn't get to fly it. Hughes, with his usual persistence, kept trying for weeks to work out a deal for the Gamma that she could not refuse. At that time Jackie was unmarried and supported her aviation activities through her efforts in the beauty and cosmetic business. Hughes knew that she was terribly short of funds. Finally he offered to rent the Gamma from her for nearly as much as she had paid for it. "I couldn't afford not to rent it to him," she says. Meanwhile, Hughes made eleven flights as a Douglas DC-2 copilot on TWA's his transcontinental runs during 1935, apparently to build his transcontinental experience in preparation for the record attempt.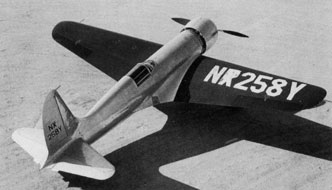 On January 13, 1936 Hughes flew the modified Gamma from Burbank to Newark in nine hours and twenty-seven minutes at an average speed of 259.1 miles per hour for a new record. Then he went on to set intercity records for New York-Miami and Chicago-Los Angeles.

"It just broke my heart," said Cochran, "but I couldn't afford to do otherwise. Then the deadline was up for him to either return the Gamma or to purchase it. So he sent me a purchase check because he was in Chicago and too busy to return the airplane, I guess. Then he turned around and sold it back to me for much less a few days later-and he did a lot of work on it for me for practically nothing, which was interesting. He has a very interesting streak."
For his achievements Hughes was awarded the coveted Harmon trophy. On January 20, 1937 en route to the presentation ceremony he flew a revamped H-1, now fitted with a longer wing and a new Pratt and Whitney R-1535 Wasp engine of 700 horsepower, from Burbank to Newark in seven hours, twenty-eight minutes and thirty-five seconds. (Hughes built two sets of wings for the H-1, one with a span of only twenty-five feet-that he used to set the closed course record, and the other with a span of thirty-one feet nine inches that he used for his long-distance runs. The wings were of wood and the fuselage was aluminum.) The little racer averaged 327.15 miles per hour over the 2,490-mile course for a record that was to stand for ten years. And he did it using only forty-eight percent power because he to be sure and make it nonstop.
---
A Major Milestone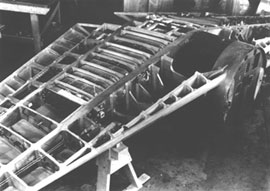 H-1 had a great impact on the design of high performance aircraft. Noteworthy were the close-fitting, bell-shaped engine cowling, the gently curved wing that molded the wings to the fuselage, the retractable landing gear, the extra smooth surfaces with countersunk rivets and flush joints, ailerons that drooped 15 degrees when the flaps were fully extended (thus increasing the lift along the full span of the wing during takeoff and landing), and the smoothly faired canopy for easy entrance and exit. The landing gear was so perfectly fitted that the gear fairing's and doors were difficult to see when the gear was retracted.
So important is the H-1 in the history of flight technology that it is now enshrined at the Smithsonian's Air and Space Museum in Washington, D.C., where a plaque reads: "The Hughes H-1 racer was a major milestone on the road to such radial-engine powered World War II fighters as the American Grumman F6F Hellcat and Republic P-47 Thunderbolt, the Japanese Mitsubishi Type 0 (Zero), and the German Focke-Wulf 190. The H-1 demonstrated that properly designed radial engine aircraft could compete with the lower-drag inline designs."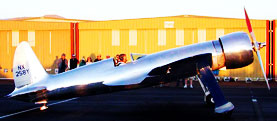 Hughes's development of the H-1 racer made another vital contribution to American aviation, according to Jacqueline Cochran. "He had a group of young engineers working on that racer who became the backbone in the development of our wartime aircraft. And at that time they probably couldn't have gotten a job as a busboy in a cafeteria. We were in the heart of the depression in our country, and great talent would have just gone by the wayside if he hadn't put up the money for the development of that and many other things in aviation.... I have a lot of respect for him, frankly, in spite of his eccentric attitudes.''
While Hughes was still on the East Coast after his record-breaking transcontinental flight in the H-1 he was telephoned by General O. P. Echols, Commander of the Army Air Corps' Wright Field in Dayton, Ohio, a center for Air Corps testing and procurement. Echols told Hughes that the Air Corps was keenly interested in the H-1 because it was faster than anything they had at the time. "Can you stop by and let us see it on your way back to California?" Hughes agreed and Echols arranged for a group of top brass to be on hand to meet him.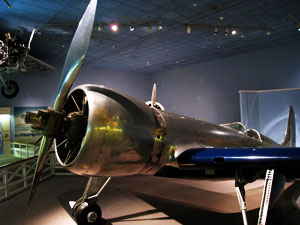 According to Noah Dietrich, there now occurred the first of several incidents that would poison the minds of key Army Air Corps officers against Hughes for years to come. He over flew Wright Field, gassed up in Chicago, and continued on to California. Echols, who later became Chief of Air Corps procurement, never forgot the snub. He vowed that Howard Hughes would never get a "dime's worth of business" from him. Hughes told Dietrich that he just forgot to stop in Dayton. Dietrich thought the snub was intentional, that Howard simply "didn't want those generals snooping around his airplane and stealing his ideas."
Such an incident did occur, according to the testimony given in the 1947 Senate hearings, but not in the way Dietrich recalls in his book. According to information in Hughes's logbooks Hughes did not fly the racer home. The plane sat in Newark until Allen Russel, corporate pilot for William Randolph Hearst, flew it back to Burbank.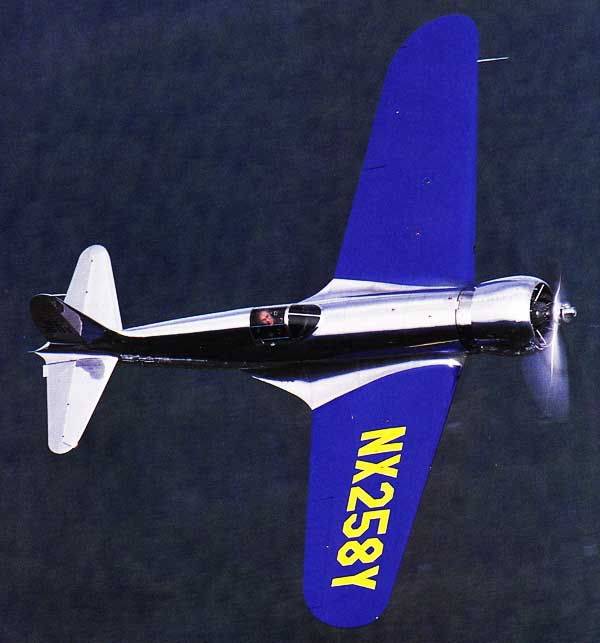 ---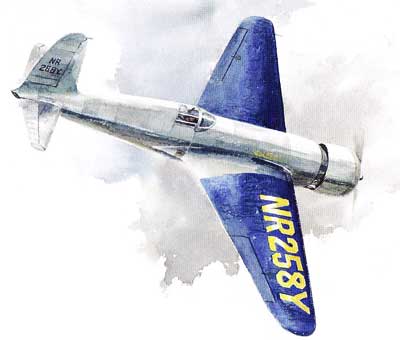 | | |
| --- | --- |
| Fellow modeler, Joe Cangero, sends us these photos of his H1 printed in silver. BOTH pages of the Super sized H-1 should be printed on silver paper to get the wing fillets and landing gear silvered. | |
| | This is the famous photo of Howie standing by his H-1 Racer. |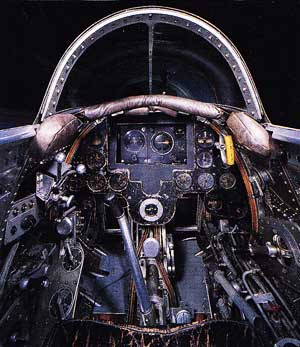 Cockpit of the Hughes H-1.
Specifications
Length: 27 ft
Wingspan: 31 ft 9 in
Height: 8 ft
Wing area: 138 ft²
Empty weight: 3,565 lb Loaded weight: 5,492 lb Powerplant: 1× Pratt &
Whitney R-1535 radial engine, 700 hp


Performance
Maximum speed: 352 mph Wing loading: 40 lb/ft² Power/mass: 0.13 hp/lb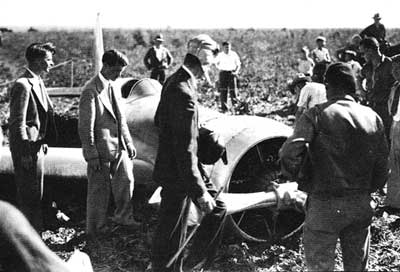 Howard Hughes Crashes his Hughes H-1 Racer.
---