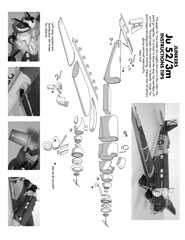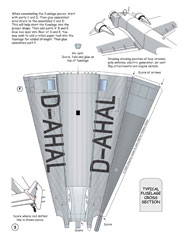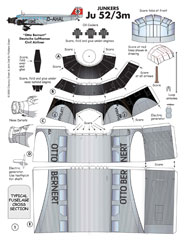 Junkers-Ju52 - $$15.95
It flew with well over a dozen air carriers including Swissair and Lufthansa as an airliner and freight hauler. In a military role, it flew with the Luftwaffe as a troop and cargo transport and briefly as a medium bomber. The Ju 52 continued in postwar service with military and civilian air fleets well into the 1980s.

Junkers Ju-52 Versatile Workhorse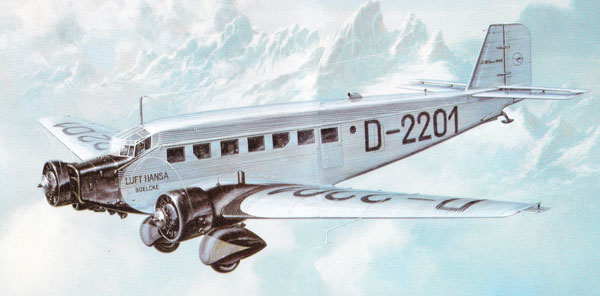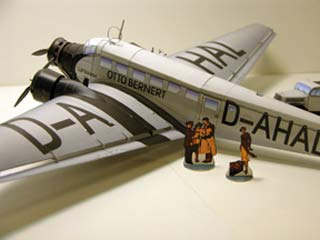 The Ju 52 was obsolete as a bomber by 1939, but because of its durability, simplicity of design, and handling characteristics it continued to serve throughout WW II as a versatile workhorse of the German transport fleet.
For a period, Adolph Hitler used a Ju-52 as his private transport. Ju-52s delivered the attacking forces and their supplies during the German invasion of Norway, Denmark, France and the Low Countries in 1940.
Almost 500 Ju-52s participated in the historic airborne assault on the island of Crete in May 1941 and Junkers later supplied Rommel's armored forces with them in North Africa.
---
What people say...
Thank you very much for the JU-52. I have just started the download and it sure looks very good!!!!!!! I think this is an outstanding job, one of a kind!!!!!! I will be putting an article of it in my site this weekend for sure, plus letting everyone in the forums know. The last ju-52 I built was back in the 70´s, a plastic one, am sure yours will be impressive. Molto Grazzie. Gerardo
---
Absolutely magnificent. Thank you for making it available. Scott McKie--Gamma Star Models
---
Thanks for the great JU52 models. I didn't know that when I bought something from you, you would just keep on sending me stuff. It's great! Love FG! Ken King
---
Bonjour tout le monde!
When I saw the pages of John Dell's Junkers Ju-52 unfolding in Acrobat, I was outspoken and in need of a dictionary... I found the word FLABBERGASTED! Being a painter, I am impress by the subtle rendering of the colors. I printed John's picture from your site and framed it in gold. It's in my House of Fames with Rigby, Roberts, Currell...Mon cher Chip, you have quite a team! Merci encore. Jacques de Quebec.
---
Thank you! Thank you! Thank you! Thank you! My hat is off (again) to John Dell! --David
---
The wait looks worth it! The first two 52's look great. I'll be getting to work right away. ...Dick D
---
I see that you are developing a paper model of the JU 52. I was just wondering if you knew that up here in Winnipeg, the Western Canada Aviation Museum has a replica of a JU-52/1M. This is one of only 3 (or 7, depending on who's website you believe) Ju52s that were built in this configuration. For a time it was the largest aircraft operating in Western Canada. My father still can recall the racket it made when it took off from the Red River. This version has only one engine, in the nose. It was a rolls royce inline that drove a 4 bladed prop. I just mention this because I thought you might be interested.
I just wanted to pass this on incase you haven't seen it. Hopefully the JU52 will be done soon, as I would love to get it. I may even try my hand at converting it to the 1M version. It would probably be a good project for me, as I have just gotten Photoshop, and am trying to learn how to use the dang thing. [And I was just there this summer, but didn't take any pictures of it! I was focused on the avrocar replica they had at the time. Darn, looks like I'll have to go back and take more pictures. What a shame.] :)
Wow! I can't wait to see that bird all colored up! How about a Russian Front snow camo job? Or a Lufthansa version, look great in silver paper with the red banded swastika on the tail. As an aside, I am glad that FG still put those on their Luftwaffe warbird's. As an ex-plastic modeler I was really annoyed when that symbol got banned from the kits. The aftermarket decal companies made a killing out of that one, and whatever happened to historical accuracy? But I digress ......Onwards and upwards indeed :-).....G
---
Where did the Ju52 come from?  That's one of the best yet.  It will be fun putting it together. Scott McKie
| | |
| --- | --- |
| Deutsche Lufthansa operated over 200 Ju 52's during the 1930's. For a time they were named for World War I fighter aces. This plane was named Otto Bernert who scored 27 kills. | |
| This Ju 52 served as an auxiliary bomber during the Annexation of Austria in 1938. At this point the Ju 52 bombers were being phased out in favor of more modern types. | |
| This Ju 52 was one of the first to arrive with the Germans during the Spanish Civil War. As more modern bombers became available, this place was passed to the Spanish 2-G-22 Night Bombing Squad. | |
| Ju 52 from 2. Staffel, KGzbV 1 based at Milos, Greece during Operation Merkur (Mercury), the invasion of Crete. Crete was taken, but at a high cost. 170 Ju 52's were lost or seriously damaged. | |
| Ju 52's were used extensively on the Eastern Front. This aircraft served with the 7th Air Corps during 1943/1944. The Ju52 was many times the only way to get supplies across the endless Russian steppes. | |
| The Germans placed a great deal of importance to the evacuation of wounded. This ambulance served in the Mediterranean Theater during the later stages of the war. | |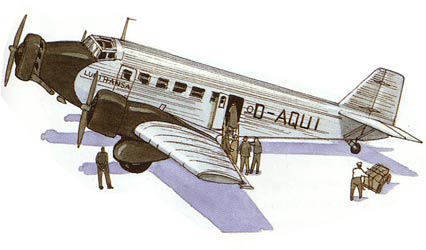 ---
Junkers Ju-52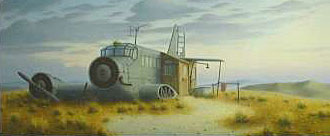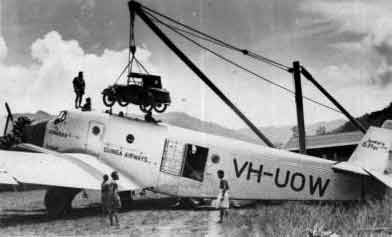 ---
Ju-52 History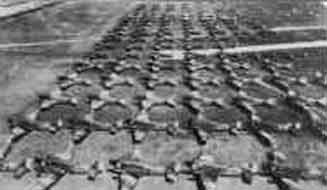 Nicknamed "Tante Ju" (Auntie Ju) and "Iron Annie" by Axis and Allied troops, the Junkers Ju-52 was the most famous German transport of the war. The Ju-52 was built of corrugated metal skin and paid little attention to beauty, features of a typical Junkers design. Parts and pieces stuck out of the airframe, and the corrugated skin, though much stronger than fabric and metal tubes, created stronger air resistance.

In April 1931, the originally single-engine Ju-52 prototype was fitted with three engines. Performance improved tremendously and production of the new model immediately began. The Ju-52 served as an airliner for many nations. Finland, Spain, Sweden and Germany were just a few.
It served as a mail carrier in China, and, fitted with floats, hauled lumber in remote places in Canada. Its most common work, however, was done with the German Lufthansa. Equipped with luxuries like a typewriter and oxygen masks, the Ju-52 could fly from Berlin to Rome in eight hours over the Alps, an impressive feat for contemporary aircraft, let alone an airliner.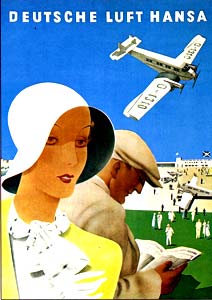 The military potentials of the Ju-52 was not overlooked by the Luftwaffe. It entered service as a troop transport and bomber. In the Spanish Civil War, the Ju-52 ferried some 10'000 Moorish troops from Morocco to Spain, and bombed Madrid while, quite embarrassingly, some Lufthansa Ju-52s were in the airport serving as airliners. Later in World War II, the Ju-52 served in every theater in which Germany participated. It dropped paratroopers in the Netherlands, Crete and later the Ardennes. It carried supplies to be leagued troops in North Africa, Stalingrad and the Baltic states. The Ju-52 was slow and very lightly armed against fighters.
As a result, it suffered horrible losses in almost all actions, especially over Crete, the Mediterranean and Stalingrad. Many types of replacement were built, but none was as popular or reliable as good old Auntie Ju. Right until the end of the war the Ju-52 was still soldiering on to help stave off defeat. The last Ju-52s went out of service with the Swiss Air Force in the late 1980s over 50 years after the first of these durable aircraft first took to the air. Some Ju-52s are still flying today.
The Ju52/3m became a very successful aircraft from its beginnings. Following LAB, further orders were placed by Finland, Sweden and Romania, where the Federation Aeronautica Internationale (FAI) ordered perhaps the world's first VIP aircraft with an exclusive and highly comfortable cabin for the FAI president. Lufthansa's first Ju52/3m flew first in May 1932. The Ju52/3m became the backbone of Lufthansa's fleet until the end of WWII and the dissolve of the airline itself. On August 25th 1932 Lufthansa's first Ju52/3m D-2201 participated at the Alp Round Flight. Lufthansa itself used this competition to compare the three major airliners of these days, the Dornier Do K, the Fokker F XII and the Ju52/3m.
The Ju52/3m was the absolute winner of this roundtrip. During the following months Lufthansa checked the reliability of the Ju52 en route the difficult Alproute from Munich to Milano and Rome. Following these successful tests numerous of orders were received from airlines all over the world. The Ju52/3m passenger airliner was sold to Argentina, Brazil, Uruguay, Ecuador, Peru, Mexico, South Africa, Denmark, Norway, Italy, UK, Belgium, Hungary, Estonia, Greece and Spain. A total of 400 passenger airliners were sold until the breakout of WWII. Hugo Junkers himself was only able to influence the Ju52 development during the first two years. In 1934 he was pushed out of his own company by the Nazi government. However the Ju52 production survived Hugo Junkers for years. Still in the final phases of WWII and after the end of WWII in France and Spain Ju52s were produced in large quantities.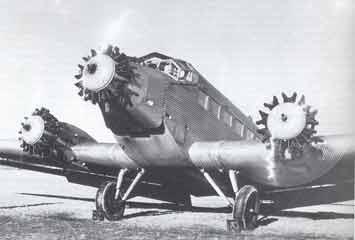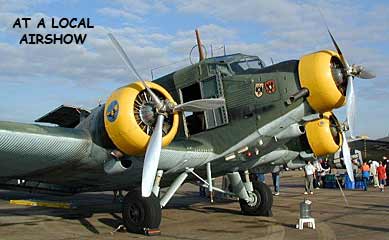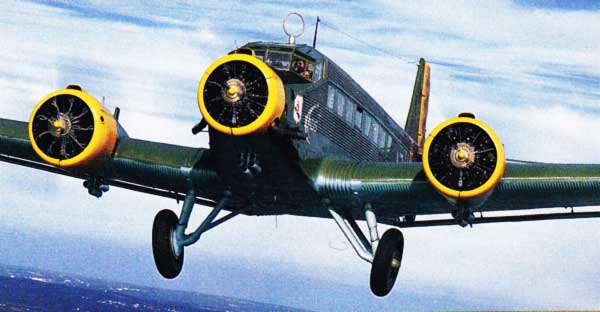 ---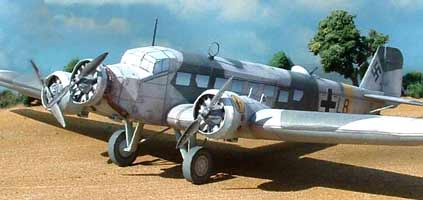 Chip / Nick,
Here's two shots of the Eastern front JU52. I started with this one because I wanted to shoot it in the snow to get a scene representing the Russian front. My plans were thwarted last week when we got a one day thaw that got rid of the snow before I was finished with the model! Had to settle on this setup.
I think everyone did a great job on this set, including Messrs. Dell & Green and all at Fiddlers. I sent John an E-Mail praising the effort. Dick D
---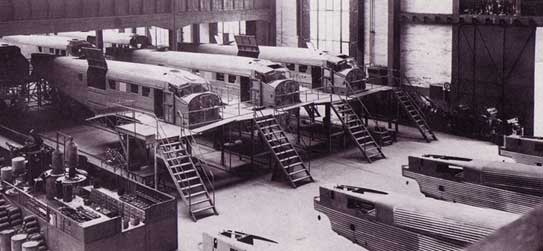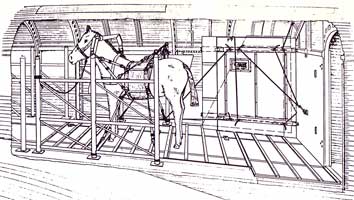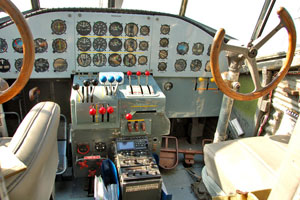 Cockpit of the Junkers Ju-52.
Specifications
(transport version)
Span: 95 ft. 11 1/2 in.
Length: 62 ft. 0 in.
Height: 18 ft. 2 1/2 in.
Weight: 24,250 lbs. loaded
Engines: Three BMW 132T-2 engines
of 830 hp. ea.
Serial number: T.2B-244
(CASA 352L)



Performance
(transport version)
Maximum speed: 178 mph.
Cruising speed: 134 mph.
Range: 810 miles
Service Ceiling: 19,360 ft.

Armament
Four 7.9mm machine guns

1. Rudder
2. Tail fin
3. Elevator
4. Horizontal stabilizer
5. Strut for stabilizer
6. Tail skid
7. Vent for remote-reading compass
8. Fixed antenna
9. Fresh air inlet
10. Freight compartment
11. Starboard flap
12. Starboard aileron
13. Wing
14. Landing lights
15. Starboard navigation light
15a. Port side navigation light
15b. Tail light
16. Effective area of antenna
17. Antenna conduit
18. Main wheel
19. Wheel spat
20. Trailing antenna
21. Air cooled radial engine, 650 hp
22. Engine cowl
23. Twin-bladed propeller
24. Propeller hub
25. Fuel vent dome
26. Central engine exhaust pipe
27. Cabin air heating pipe
28. Engine mounting
29. Oil tank
30. Townsend ring
31. Pilot
32. Radio operator
33. Control wheel
34. Cockpit (closed)
35. Mast for fixed antenna
36. Cabin door
37. Smokers' compartment
38. Sliding door
39. Luggage compartments
40. Seat, adjustable
41. Roller blinds
42. Individual fresh air hoses
43. Boarding hatch
44. Lavatory door
45. Altimeter
46. Freight compartment door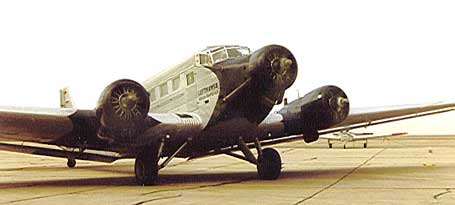 Hi,....With the advent of your new model I thought you might to see these pictures. I took them at Litchfield Az, in Dec 90. Lufthansa Airlines was going to all of their facilities around the country and giving incentive rides to their employees. A friend went with me and while talking to the person in charge, I told him that we were a couple of Air Force flight engineers and were very interested in WWII era airplanes. Very shortly afterwards, we were invited to fly with them. What a great thrill that was. This was an especially memorable day in my life as when I got home, there was a phone call waiting for me from my Air Force Reserve unit, the 71ST SOS at Davis-Monthon AFB, telling me that I had been activated to go to what was to become Desert Storm. That was also quite an experience. Roger 3/13/05
| | |
| --- | --- |
| | Last fall Annie and I tracked John and his lovely wife Mary down in a small town called Alden, in SE Pa. John is an artist working for TV Guide and Mary is a lawyer representing death row inmates. A great time was had by all and the day finished way too soon. |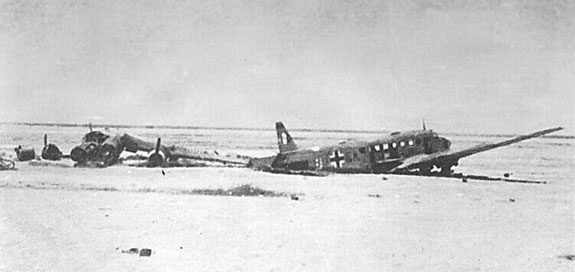 ---