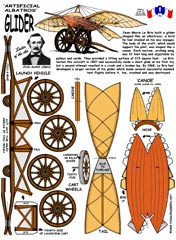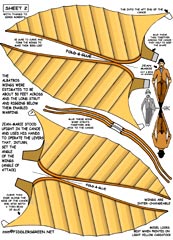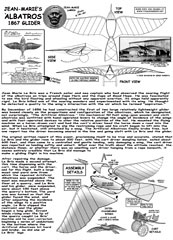 LeBris Albatross Glider - $$4.95
A sailor and sea captain, Jean-Marie Le Bris sailed around the world observing the flight of the Albatross bird. Although he sailed around the world, his true ambition was to fly. Le Bris caught some of the birds and analysed the interaction of their wings with air, identifying the aerodynamic phenomenon of lift, which he called "aspiration".

Jean-Marie Le Bris and his Artificial Albatross glider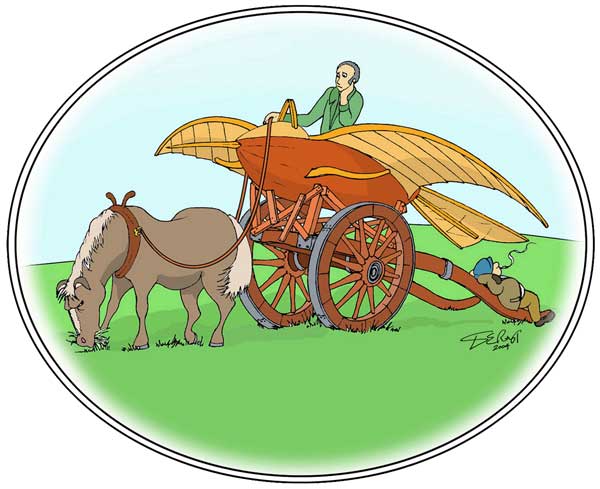 This original artwork by Derek Roberts is available in much higher quality (suitable for framing), on the Full Collection DVD.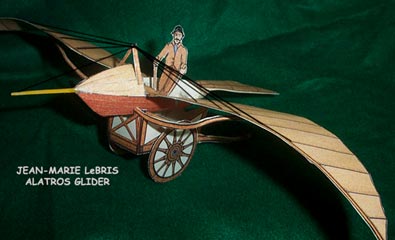 Jean-Marie Le Bris built a glider shaped like an albatross, a bird he had studied on his sea voyages. The body of the craft, which would support the pilot, was shaped like a canoe. Each narrow, arching wing was 23 feet long and adjustable by pulleys and cords. They provided a lifting surface of 215 square feet (20 square meters).

Le Bris tested this aircraft in 1857 and successfully made a short glide on his first try, but a second attempt resulted in a crash and a broken leg.
By 1868, Le Bris had developed a larger version of his glider which made several successful manned test flights before it, too, crashed and was destroyed.
---
What people say...
We never know if we should believe 'eye witness accounts' of these really early flights but because there is an actual photograph of this glider we can decide for ourselves a little easier. A couple things work in LeBris' favor. The lavish 50ft wingspan and the ability to play with the angle attack of the wings. It looks to be pretty well balanced fore and aft but with a dangerously high CG due to the pilot standing upright. It's a bit troubling to see no vertical tail surfaces and extremely short fuselage that would certainly cause stability problems at the presumed slow launching speed. Like the stories say, it flew but crashed often. chip
---
A Le Bris! You did a Le Bris! Good on you. In the other part of my life--when I'm not building paper models--I build and fly big (usually) show kites. I have a great interest in pioneering gliders that can be designed to fly as kites, and the Le Bris has been on my mind. All I could find anywhere on it is the same photo you found, and the rough three views. OK, so it was enough for you, maybe it is enough for me. Now my head will be working overtime again. Thanks for this--and everything else...John F
---
Jean-Marie LeBris and his Albators Glider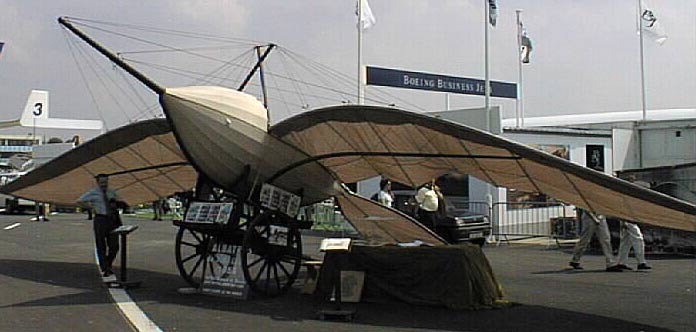 Jean Marie Le Bris was a French sailor and sea captain who had observed the soaring flight of the albatross on trips around Cape Horn and the Cape of Good Hope. He was fascinated to see the bird floating and wheeling without any apparent exertion, its wings held apparently rigid. Le Bris killed one of the soaring wonders and experimented with its wing. He thought he detected a quality to the wing's interaction with the air which he termed "aspiration."
By December of 1856 he had constructed the first of two large relatively lightweight gliders based closely on the proportions and configuration of the albatross, which he designated, not surprisingly, "The Artificial Albatross." His mechanical 50 foot wing-span wooden and cloth albatross was outfitted with hand-operated levers to change the angle of incidence of the wings and with foot-operated devices to alter the relative position of the tail. He mounted the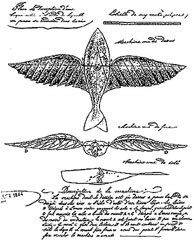 flying machine on a horse-drawn cart and had the cart's driver head the horse down a road, into the wind.
When Le Bris attempted to slip the restraining rope and his craft began to lift into the air, but it hesitated, still attached by a snag. The Artificial Albatross finally broke free, but one report has the driver becoming snared in the line and going aloft with Le Bris and the glider. The original written report of this event, proclaiming itself to be true and accurate, stated that Le Bris and the glider rose to about 300 feet, with the cart driver dangling below, sailed about 600 feet, and then came to a controlled and gentle landing, only damaging a wing, the cart driver landing softly and unhurt. What ever the truth about the altitude reached, the distance flown, or whether there was an unwilling cart driver hanging from a rope beneath, it seems entirely credible that Le Bris did manage to make a gliding flight in his machine.
After repairing the damage, Le Bris made a second attempt, this time dispensing with the cart, the horse and the driver, and for this flight, built a large mast and yard arm from which the repaired Artificial Albatross was suspended. The mast was mounted above the floor of a quarry, and Le Bris and his glider, once suspended, were about 100 feet above the quarry's bottom. The yard arm was turned so that the glider faced the wind, and after adjusting the incidence of the wings to a positive angle, Le Bris slipped the restraint and the glider began a long glide. Errant winds rising over the lip of the quarry caught Le Bris' machine and he over-corrected , beginning a series of undulations to the bottom where the Artificial Albatross hit hard and broke, as did one of Le Bris' legs.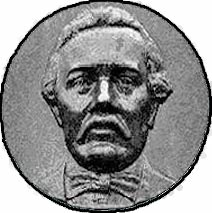 Jean-Marie Le Bris (1817 - 1872)
His next attempt came in late 1867 or early 1868 at Brest, where he had raised funds to build the second Artificial Albatross, which was almost a duplicate of the first with the exception that it was somewhat lighter and carried a weight meant to provide some additional stability. This time he launched from a stationary cart, caught a rising wind by adjusting the incidence of the wings and managed to lift to about 35 feet and glide about 70 feet. He then tried glides with only ballast aboard and managed one flight of some 600 feet which reached an altitude of some 50 feet and finally landed gently.
Subsequent attempts (absent Le Bris) resulted in damage, until finally the machine was severely damaged. Thus ended Le Bris career as a sailor of the air. About five years after this last series of aerial tests he was murdered by gang members. Le Bris' dedication to the cause of soaring flight, his innovative derivation of design and function from nature, and his translation to mechanical device, rather than merely being a copying of a natural form, was in itself a remarkable achievement.
Le Bris was a pioneer and an innovative designer who drew on the familiar aspects of naval architecture to build what he hoped would be a ship of the air. He persevered with his experiments, succeeding in a fashion, despite personal injury and insult, and despite being relatively poor. The circumstances, dedication and achievement of Le Bris merit considerable recognition.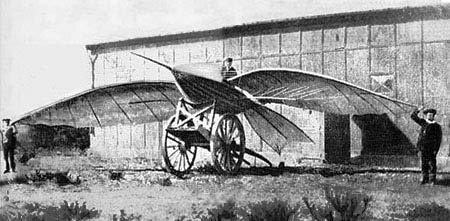 Photograph Of The Le Bris Artificial Albatross at Brest, France - 1868
---
Le Bris tested his first aircraft in 1857 and successfully made a short glide on his first try, but a second attempt resulted in a crash and a broken leg. By 1868, Le Bris had developed a second, larger version of his glider, which made several successful manned test flights before it crashed and was destroyed.
Le Bris's first experiment was conducted on a public road at Trefeuntec, near Douarnenez. Believing, like Count D' Esterno that it was necessary that the apparatus should have an initial velocity of its own, in addition to that of the wind, he chose a Sunday morning, when there was a good 10-knot breeze from the right direction, and setting his artificial albatross horizontally on a cart, he started down the road against the brisk wind, the cart being driven by a peasant.
The bird, with extended wings, 50 ft. across, was held down by a rope passing under the rails of the cart and terminating in a slip knot fastened to Le

Bris's wrist, so that with one jerk he could loosen the attachment and allow the rope to run. so that the wind should press upon the top only and hold them down, their position being, moreover, temporarily maintained by assistants walking along on each side."
Once only did he obtain something like an ascension, by starting from a light wagon, which was not in motion. He was on the levee of the port of commerce at Brest, the breeze was light, and the gathered public was impatient, through failure to realize that success depended wholly on the intensity of the wind.
Le Bris was hoping for a gust which should enable him to rise; he thought it had come, pulled on his levers, and thus threw his wings to the most favorable angle, but he only ascended a dozen yards, glided scarcely twice that distance, and after this brief demonstration came gently to the ground without any jerk."
---