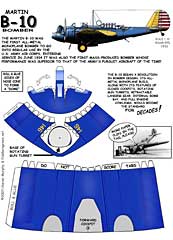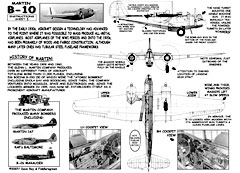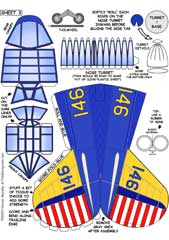 Martin B-10 Medium Bomber - $$12.95
At the time of its creation, the B-10B was so advanced that General Henry H. Arnold described it as the air power wonder of its day. It was 1.5 times as fast as any biplane bomber, and faster than any contemporary fighter. The B-10 began a revolution in bomber design; it made all existing bombers completely obsolete

Martin B-10 Monoplane Bomber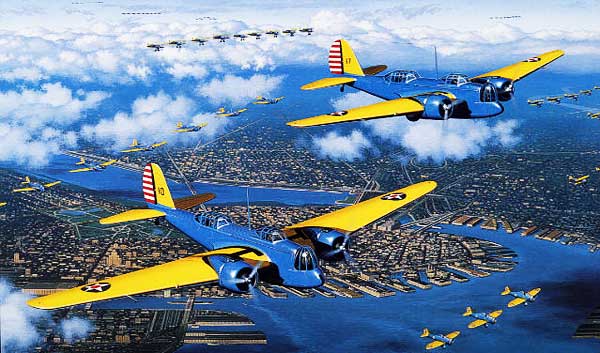 ADVENT OF THE ALL-METAL AIRPLANE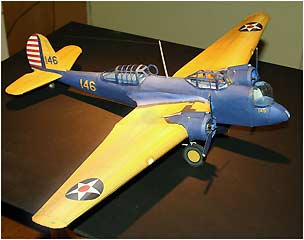 By the early 1930s, aircraft design and construction technology throughout the world had advanced to the point where it was possible to mass-produce all-metal airplanes. There had been an all-metal plane as early as World War I, but it was an exception.
Most airplanes of the WWI period and the 1920s had been primarily of wood and fabric construction, although many later ones had tubular steel fuselage frameworks.
The Air Corps' first all-metal monoplane bomber was the Boeing B-9. Produced from 1932 to 1933, the B-9 was outclassed by its contemporary all-metal Martin B-10 and only seven were purchased. The Air Corps' first all-metal fighter was the Consolidated P-25 of 1933.
Although only two were procured, the P-25 design was modified into the P-30, later redesignated the PB-2, of which 54 were purchased in 1935. The first all-metal fighter ordered in quantity was the Boeing P-26; 139 were purchased from 1932-1936.
---
See it fly and drop a bomb. WoW!! ...Film on You Tube
---
B-10 ---- 5 stars. Great job. David Jackson
---
There was a mismatch of the wing center section on the regular version. It has been fixed (August 9) Sorry for any problems it might have caused. chip

Here are three shots of the B10
(one chosen)
. I had a busy summer and couldn't finish it and photograph until today.
I know it's too late to comment, but I had some alignment problems--nothing that a little mucketing couldn't fix.
Dick D ....PS. These were shot against an open sky.
---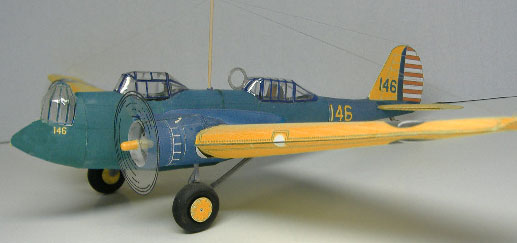 Martin B10-clear canopies submitted by modeln' pal Bob Martin. Simply made using clear packing tape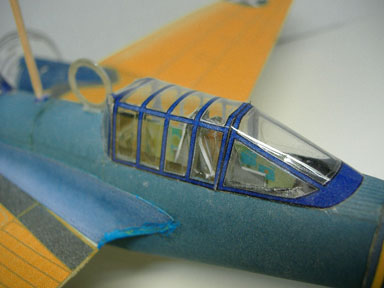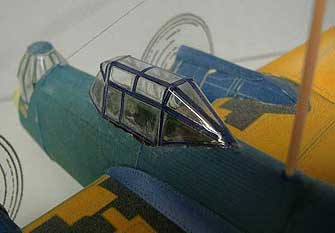 ---
Martin B-10 Medium Bomber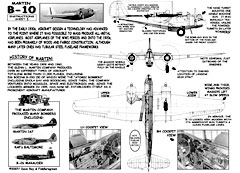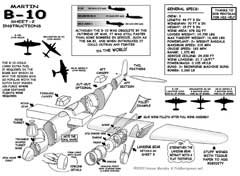 The Martin B-10, like many Fiddlersgreen Bombers, has additional instructions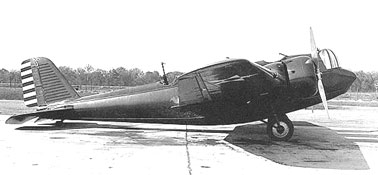 Bob Penikas' Beta build parts inventory- June 15, 07. He chose to do the canopies and turret in
plastic and said it was somewhat difficult. The model comes out pretty good with the
paper canopies provided. 10/14/07...lower fillets added

Bob exhibited his Martin B-10 at the plastic model show and had a stack of the free

(of course!), downloadable FG business cards for visitors.

Since Bob built this model a few small changes were made to the engines. Thanks Bob,

for all your help getting this B-10 finished
---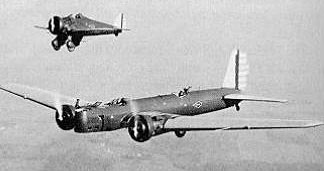 The Boeing B-9 bomber and the P-26 Peashooter
The operational career of this aircraft, however, was relatively brief due to the development and appearance of more modern bombers, amongst which was the Boeing B-17, which immediately made the B-10 appear obsolete. The Martin B-10 was directly derived from the B-9 which had been the first all-metal American monoplane bomber. In March 1932 the prototype was delivered to the USAAC for proving trials and made a good impression, mainly by virtue of its speed, which was 197 mph, faster than that of the best contemporary fighters.
In 1933 Martin received an order for 48 series models, to be built in several variants differing in their engines and fuel tank capacity. First deliveries were made in the summer of 1934 and at the beginning of the following year the new bomber became operational.
The variant produced in the largest numbers appeared in 1935, being the B-lOB, of which 103 were built, which apart from numerous detail changes finally adopted the Wright Cyclone 775 hp engine. The assembly lines were kept busy until 1939 and apart from the USAAC orders, the B-10 was successful in export markets: about 190 of them were sold to Argentina, China, the Netherlands East Indies and Turkey.
---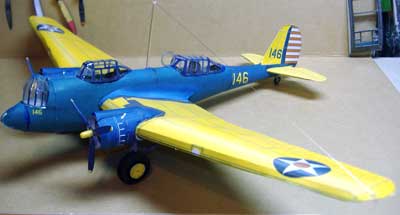 Clear Cabin Martin B-10 submitted by Bob Martin. Thanks Bob!

Specifications for the Martin B-10B Bomber

Crew: 3
Length: 44 ft 9 in
Wingspan: 70 ft 6 in
Height: 15 ft 5 in
Wing area: 678 ft²
Empty weight: 9,681 lb
Loaded weight: 14,700 lb
Max takeoff weight: 16,400 lb
Powerplant: 2× Wright R-1820-33
(G-102) "Cyclone" radials,
775 hp each

Performance
Maximum speed: 213 mph
Cruise speed: 193 mph
Range: 1,240 mi
Service ceiling: 24,200 ft
Rate of climb: 1,380 ft/min
Wing loading: 21.7 lb/ft²
Power/mass: 0.105 hp/lb

Armament
Guns:
3 × .30 in (7.62 mm)
Browning machine guns
Bombs:
2,260 lb


The Martin B-10 Bomber-Dutch version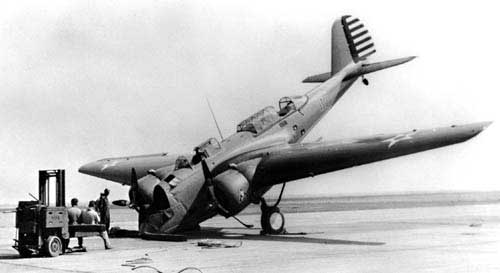 Nose-over was one of the less common occurrences, Aircraft is from the 31st Bombardment Squadron.